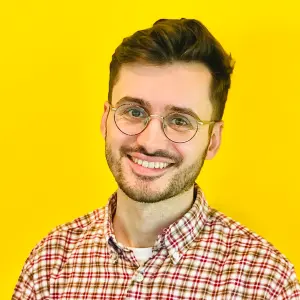 Online Academic Writing Tutor Jonathan
Jonathan 5.0

284 classes
University of York - History of Art / Academic Writing - PhD
Dr and fully-qualified teacher, with experience in enthusiastically teaching History, History of Art, Education and Academic Writing across a variety of subjects and disciplines.
Recent Students:

2

Total Hours:

369

Last Online:

07 Jun 2023

All-time Students:

25

Total Classes:

284

Signed Up:

27 Oct 2020
About Me
Having just completed my PhD, I work as a freelance researcher and educator. I have previously had roles in school teaching, university teaching, gallery volunteering, and youth work. I am a hard-worker and high-achiever, with the additional ability to transfer knowledge and expertise in an engaging, accessible, and friendly manner.

I found my way into teaching through my love of sharing knowledge, and encouraging discussions that develop the understanding of both the student and myself. No longer teaching full-time, private tutoring is the perfect way for me to continue teaching while flexibly working alongside my post-doctoral research projects.

My ambition is to become a university lecturer and academic, publishing books and continuing my teaching practice.

I am very honest and fair, and I take this quality to my tutees!
Tutor Experience
I have delivered over 1,500 hours of secondary teaching, university teaching, and online tutoring for over 5 years.

Between 2016-2018 I taught ages 11-18 at three different state secondary schools, and in 2019 taught undergraduates in the University of York's History of Art department; receiving 100% positive feedback from students. Since tutoring on Spires in 2020, I have also helped many A Level, undergraduate, and postgraduate students with their Academic Writing across a variety of subjects such as Politics, Education, PGCE, Business, Marketing, and History of Art.

My approach to tutoring is to help students become self-learners, and I do this by offering valuable resources and asking probing questions. I set meaningful tasks that are carefully levelled to the student and prior knowledge, presented in a structure that makes the most of the lesson time, and go through written pieces of work to offer valuable feedback. I believe it's crucial to have fun while learning, and that there are no stupid questions!
Topic Expertise
Academic Writing (across all arts and humanities subjects).

History of Art (A Level): Edexcel, EPQ (all periods and both papers).

History of Art (Undergraduate and Postgraduate): dissertation; art and visual theory; critical readings in art history; photography and its theories; Victorian art and sculpture; Arts and Crafts; modern and contemporary art; Postmodernism and Pop Art; Modernism and its movements (across Europe); museology and curatorship; classicism and neo-classicism; London and Paris circa 1840-1920; British art history.

Education (Undergraduate and Postgraduate): PGCE, Essay/Assignment.
Client Reviews
Jon was incredibly helpful, as always. We looked at breaking down my workload into smaller, more manageable tasks, and ways to combat learning difficulties. Jon's approach is incredibly flexible to meet my learning needs. 5 stars all around!
Desiree

-
History of Art
Really productive and helpful!
Desiree

-
History of Art
Always an absolute pleasure !
Eman

-
Academic Writing
Jonathan is very patient and understanding. Highly recommended
Eman

-
Academic Writing
Very helpful, informative, and I really like how Jonathan asks questions that probes me to think through the parts of my thesis that are difficult.
Marina

-
Dissertations
The session today was really helpful, I feel motivated and inspired to continue- and I really appreciate the amount of effort you put in to every class!
Marina

-
Dissertations
Extremely productive
Emilia

-
Dissertations
The class was very informative and I gained a lot of understanding around the structuring of paragraphs and layout.
Joanne

-
Dissertations
Fantastic. Gave detailed and improvement focused feedback on an essay and I left with a very clear idea of what I needed to do to improve my marks.
Helen

-
History of Art
Jon has been so helpful, thorough and understanding, feeling so much more confident.
Aaron

-
Dissertations
Testimonials
"Jonathan is clearly a seasoned teacher who understands the structure and delivery of a good lesson, centred on thoughtful discussion and dialogue. The lesson started with a choice made by the pupil who selected which artwork they'd like to discuss; this tailored the lesson to their interests. Jonathan demonstrated terrific use of detailed questioning and had the pupil use a spider diagram to expand on their own questions and to use as a reference throughout the lesson. Jonathan possesses in-depth subject knowledge and elaborated on the relevance and context of the chosen artwork. He regularly checked the student's understanding as the lesson progressed and, at the end, asked the pupil to complete an exit slip which asked them to reflect on: what they've learned, what they'd like to know more of, etc. A wonderful lesson and I'd be happy to recommend Jonathan as a tutor!" - Cheryl Moss, Tutor Assessor.
"The atmosphere was very supportive and students were quite willing to speak. There was a good variety of exercises, and Jon returned frequently to the central question of the session which worked really well." - Teresa Kittler, Peer Observer of Teaching, University of York.
"A natural in the classroom!" - Elizabeth Morris, PGDE Tutor, University of Sheffield.
"Jon's humour, positivity and creative flair have made him a fabulous contributor to history sessions." - Sally Davies, PGDE Tutor, University of Sheffield.
"Jon's earlier experience of teaching in schools led to lots of good classroom practice at the University of York, and I'll be forwarding Jon's really helpful mark-sheet revisions to the department, because they are sure to be more useful across the History of Art degree." - Jason Edwards, PhD supervisor, University of York.