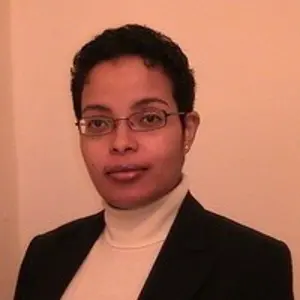 Online Dissertations Tutor Dr Aster
Dr Aster 0.0

14 classes
The Open University Business School - Marketing Strategy - PhD
Doctorate in Marketing and Strategy - The Open University Business School (OUBS); MSc in Marketing & BA Hons in Business Economics - University of Leicester; PGCHEP Higher Education in Practice – University of Plymouth; Digital Marketing Diploma – Digital Marketing Institute.

I have over 15 years of experience in academia with a strong knowledge of excellent academic practice. My goal in tutoring is to support learners to achieve their goals by enabling them to understand complex subjects, think analytically, and communicate their ideas effectively.

I am also an award recipient for the Academy of Marketing (2019) Teaching Research and Development Grant.

Recent Students:

2

Total Hours:

15

Last Online:

25 May 2023

All-time Students:

8

Total Classes:

14

Signed Up:

04 Feb 2020
About Me
I have a PhD in Affinity Marketing, I hold an MSc in Marketing and a BA Hons in Business Economics. Research informed teaching (RIT) and Marketing Management is my passion. I am an active researcher and have published in Journal articles, Book Chapters and Conference Proceedings.

My aim is to understand what my students' goal is first in order to assist them in planning and setting a realistic program to achieve their aspirations. I am approachable and happy to respond to students' questions anytime.

I am a qualified Higher Education teacher (PGCHEP), Member of the Tutors Association (MTA), qualified in Supporting and Leading Educational Change (SLEC – SEDA Fellow) and Enhanced DBS Certified.

Tutor Experience
With over 15 years in academia, I have a clear understanding of what is expected from students in relation to demonstrating knowledge, understanding and transferable skills. I have specialist knowledge and qualification acquired through my PhD, Masters and professional teaching related qualifications as well as practical work experience which I often utilise to enrich students learning.

I have several years of experience tutoring one-to-one, small groups as well as lecturing large groups. I have gained extensive experience from the Universities I have been involved in (past and present): University of the Arts, The University of West Scotland, University of Plymouth, The Open University Business School.

I am well versed in curriculum development and assessment frameworks. I support students in preparing for exams, Viva, academic writing, and proofreading.


Topic Expertise
Undergraduate and Postgraduate: Marketing (inclusive of Branding, Advertising, Digital Marketing, Promotion, and more…), Management (Strategic and Business), Business Studies, Academic Writing, Study Skills.

I have extensive experience in dissertation and research tutoring for both undergraduate and postgraduate students including doctoral students. I have been involved in led, taught, and supervised research for over 15 years. I can engage with students from different discipline and guide them through the key principles:

- Identifying research problem / gap / opportunity
- Transforming it into a research question
- Conducting an effective literature review
- Designing/ constructing an appropriate methodology
- Critically analysing and presenting the findings
- Consolidating learning from the findings into conclusions and recommendations

My aim is to guide students to achieve their academic goal and enable them to gain transferable skills that will help them grow in their future careers.

Testimonials
"Hi Aster, I hope you have been keeping well. I just thought I'd let you know that I got my dissertation mark back today and got 68%, so a 2:1!! I'm over the moon; there was a time I didn't think I would get more than a pass mark for my work. Thank you so much for all your help, I couldn't have gotten through it without you. Kind Regards, ......"
MESSAGE SENT TO ME REGARDING A TUTORIAL I DELIVERED : "Hi Aster, I hope you're well! I just wanted to pass along some fantastic feedback from Michael. He was quite stressed yesterday about how he was going to sort out his assignment and he says that in only one hour of tutorial with you, he is feeling way better about everything and heading in the right direction. He's really really happy! Thank you so much for your urgent help! "