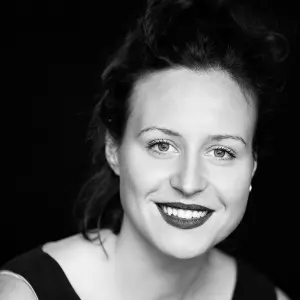 Online English Literature Tutor Ella
Ella 5.0

2545 classes
University of Oxford - English Language and Literature - MA
Qualified, professional tutor with upwards of five years experience. Specialises in English Literature, Oxbridge University entrance and exam study skills. A top five star rated tutor with a warm and generous tutoring style.
Recent Students:

19

Total Hours:

2490

Last Online:

06 Jun 2023

All-time Students:

163

Total Classes:

2545

Signed Up:

02 Dec 2016
About Me
When I am not tutoring I work as a writer and theatre maker. I also work to deliver drama workshops in schools. I am involved in various improvised and scripted drama groups and will be going to the Edinburgh Fringe Festival this summer with our work. I am a big theatre fan and have been lucky enough to do some training with Complicite Theatre Company and complete The Royal Court Young Writer's Programme. I have won awards with my playwriting at University and directed the Oxford Revue. I now continue to engage in theatre work in addition to my role as an educator.
Tutor Experience
I am an English Literature graduate from Oxford University. I am passionate about educating young people and ensuring they reach their highest potential. To date I have worked as a private tutor, mentor, workshop facilitator and coach. As a private tutor I have taught English at GCSE and A-Level and IB and have prepared Ox-bridge candidates, most of whom have been offered a place at Oxford or Cambridge. I have worked with Eton and Mactrac Digital Education to deliver the Eton X language programme, specialising in leadership and management skills for young students. In this role I have also interviewed and prepared prospective tutors, ensuring that tutors deliver the best in digital education. I continue to find new ways to encourage students to perform as their most confident selves when faced with an academic challenge or when trying to reach a specified goal, such as entry into a desired college or university. I have a body of experience as a workshop facilitator, including using creative writing and drama to help unlock student's potential. I do this work on a voluntary basis and have used it to help foster confidence and initiative in young people and adults. My focus is goal orientated whilst maintaining a commitment to a highly individualised approach. This is powerful because the student is met on both an educational and personal level, providing an individual , allowing and em...
Topic Expertise
IB English

IGCSE

11 plus, verbal reasoning, creative writing

13 plus, verbal reasoning, creative writing

Undergraduate, dissertations and essay submissions


Client Reviews
Thank you so much for accommodating Amelie at such short notice
Daniela

-
English Literature
ella = a queen
Amaara

-
Oxbridge Entrance
As always, Ella exceeds expectations! Highly recommend.
Kim

-
ELAT
Brilliant thank you Ella!
Daniela

-
English Literature
Declan received an incredible amount of information during the session. He is inspired to stay the course and work hard. Ella is absolutely amazing!
Kim

-
ELAT
Once again Ella was amazing and we made the most out of the time we had!
Mariana

-
English
Ella was an amazing teacher to say the least. She was understanding, focused on the task and beyond helpful. My purpose was to improve my English piece and not only did we do that but she kindly boosted my confidence by pointing out what I did that impressed her! I would most definitely recommend Ella as an English tutor.
Mariana

-
English
Great class, once again, efficient use of time!
Paul

-
English
Ella is a very patient and strongly positive tutor. Even though we have only had one lesson thus far, I have learnt so much from her and I cannot wait to achieve my goal grade in my IO!
Tara

-
English
Ella is such an amazing tutor! She's super kind and is really resourceful when it comes to questions!
Sophia

-
ELAT
Testimonials
Ella is absolutely outstanding! She is not only brilliant, but her way of communicating material effectively and efficiently is unparalleled. She is the GOLD standard of tutors. Highly recommend her! Kim, mother of a high school student studying in America
"Ella Evans is not only a phenomenal tutor, but a phenomenal human. Considerate, conscientious, motivating, and extremely organised, Ella was instrumental throughout the UK admissions process. Serious yet possessing an incredible sense of humour, Ella was extremely enjoyable to work with. I recommend her to anyone preparing for the ELAT and anyone fascinated by the wonderful world of English Literature". Declan, an Oxbridge applicant awarded a place at Oxford and an unconditional offer from UCL
Ella is simply fantastic. Gushing reviews rarely seem authentic, but in Ella's case the praise is well placed. Ella has a light, engaging yet challenging way of bringing a subject to life. She will work with you and fine tune her teaching to our specific needs. I think Ella's main subject for teaching tends to be English, but I can highly recommend her for French. A native teacher would probably encourage a student to learn by ear or by melody, while Ella is able to add another dimension. She understands what it means to learn to love a language. She builds her classes on a strong foundation of grammar and yet "how to learn" also forms an important part to her classes. Listening to French radio, using the language and enjoying the language as something alive and contemporary. We had the quirky situation of my child's school language being German, but Ella handled this perfectly, leading the class in English, then linking all three languages and enjoying the bridges. It's a rare thing for a thirteen year old to enjoy having a tutor during his summer holidays. Ella makes it possible. Thank you.
"Got an offer this morning for History and English at St Hugh's. Thanks so much for all of your help with my application, genuinely had no chance without you" Oliver, applicant for History and English at Oxford University.
'Ella's enthusiastic approach to teaching Shakespeare definitely brought his writing to life for me. Ella helped me to uncover many hidden meanings in Macbeth that hadn't been covered in class. Moreover, I struggled with how to plan my essays for GCSE English Literature, yet Ella taught me a clear game plan that enabled me to write confidently under time pressure. Ella helped me to achieve a level 9 in GCSE English Literature and with her action plan, I managed to obtain almost full marks in all of my essays! Thank you Ella!' Simon, GCSE student