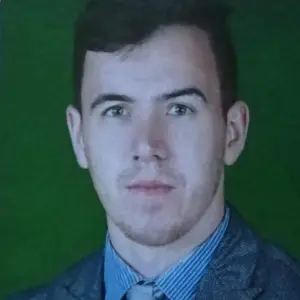 Online English Tutor John
John 5.0

262 classes
Edge Hill University - Postgraduate PGCE in Secondary Education with Qualified Teacher Status in English and History - Postgraduate Degree in Education, B.A in English and History
2.1 Fully qualified and experienced English Language and Literature Teacher for GCSE, AS and A Level exams for over 120 students online and face-to-face.

Teaching style focused on your individual specifications and tailored for your individual preferences.

My aim is to help you enjoy learning and progress from the very first lesson!
Recent Students:

6

Total Hours:

249

Last Online:

07 Jun 2023

All-time Students:

28

Total Classes:

262

Signed Up:

04 Mar 2022
About Me
Good afternoon students and future stars,

My name is John, a qualified English teacher with over 7 years teaching experience. My focus will always be on you- the student-when aiming to help you improve your level of English. My lessons are very interactive and tailored to your individual preferences. I create and adapt lessons on what YOU wish to focus on.

You choose your level, you choose the pace you learn at, you progress rapidly. My aim is to ensure you progress from a beginner to an affluent learner and lover of the English language. Whether you wish to simply learn basic grammar, punctuation and the vocabulary of a native speaker or you wish to learn the intricacies and connotations evident in the English Literature and Language curriculum.

Tailored to your particular needs and interests, I am a dedicated, qualified professional teacher from Ireland who has over 6 years of experience teaching in the UK and overseas across a variety of curriculums, including Scottish Nationals, and English Cambridge, Pearsons and Edexcel.
Tutor Experience
Highly motivated and enthusiastic results orientated teacher. As an engaging, insightful and energetic teacher I am dedicated to helping students here on this platform to identify and enhance their unique potential for academic and personal achievement.
• Over 7 years of invaluable teaching experience (including KS3, KS4 and KS5) a wide variety of curriculums and international schools.
• 3 Years of KS4 Pastoral Leadership.
• 2 Years of English subject leadership.
• Staff training and development experience.
• Transition leadership experience.
• Experience in delivering Nationals and Highers in Scotland and iGCSE, AS Levels and iELTS in the UK, Spain and Qatar (where I have previously taught).
• Extensive experience of working with children who have English as an additional language.

Experienced Tutor with the following exam boards: iGCSE, GCSE, AS Level, A Level for 7 years:
AQA
Edexcel
OCR
CIE
Topic Expertise
GCSE and iGCSE: Cambridge and Edexcel English Language and English Literature
AS and A Level: OCR, AQA, Edexcel
AS Level: English First Language, AQA, OCR
iGCSE: Cambridge English as a Second Language
Nationals and Highers: Scottish Curriculum: English Language and Literature
iELT exam preparation
Client Reviews
Focused on English language paper 2 question 3 and found it really useful.
Ann

-
English Language
Went over English literature paper 2 (including power and conflict, AIC, and unseen poetry) in preparation for my mock on Monday and found it very useful.
Ann

-
English Language
Extremely helpful to Ed! Ed really enjoys his lessons with you which is amazing as he has never enjoyed English before!
Suzanne

-
English Literature
Brilliant as always
Suzanne

-
English Literature
Excellent feedback. Really nice and helpful. I highly recommend John as an English tutor.
Elsa

-
English Language
John provided great feedback on my work and helped me understand a lot of things which had bothered me for a while. He also gave me lots of tips which were incredibly useful during the exam.
Elsa

-
English Language
Very helpful
Naomi

-
English Language
Testimonials
John is a fantastic teacher who really cares about his students and wants them to do well. As a student at the French Lycée, English is not my first language and I had difficulty with exam techniques and time management for the Cambridge iGCSE First Language exam. John's help was invaluable. He reviewed my work and provided me with great tips and advice which made a real difference to my grades in just a few sessions. The exam results just came out and I am very grateful for John's help in securing my A*. Elsa IGCSE-English Language Results: 2021-22'
Hi John! I got an A! Thank you so much for helping me achieve this and giving me great lessons and prep so short in advance :) appreciate it! Ellie- GCSE English Language Results: 21-22'
Both Harry and James are doing very well with their GSCE results all reached top 9 so many thanks for your help. GCSE-English Language and Literature Results: 2021-22'
I received my GCSE results earlier today and wanted to let you know as you were a great help in me getting these grades, so thank you. In English Language I got an A-/7, and in Literature I got a B+. I cannot stress enough how much your lesson really helped me and I can only imagine if we had had more time together I would've gotten a higher grade. David GCSE- English Language English Literature 2021-22' results
John you have helped, ** got a grade 3 on 2 attempts. After being with you for such a short time you had mangaed to get him to a 4. With this, *** no longer needs to do his english and has the requirement for what he is looking to do. Sam GCSE English Language Results 2021-22'