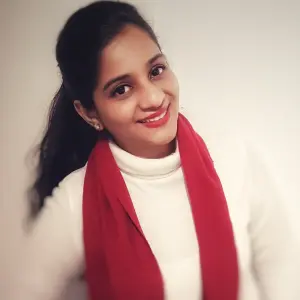 Online Psychology Tutor Paulomi
Paulomi 5.0

309 classes
University of Mumbai - Psychology - Masters in Psychology
Qualified and experienced Psychology tutor with 8 years of high school teaching ( IB and AP Psychology) experience. I have taught 350+ students over 9 years. I am also an IBDP Examiner. I provide personalized and effective lessons to help students improve their grades, develop strong conceptaul clarity and exceed their academic goals!
Recent Students:

11

Total Hours:

294

Last Online:

26 May 2023

All-time Students:

29

Total Classes:

309

Signed Up:

02 Oct 2020
About Me
👉I am a passionate high school educator, career counselor and research guide to high school students.
👉I enjoy working with young adults who are in high school pursuing Psychology.
👉I enjoy teaching the subjects I love - inculcating in students a love for Psychology, curiosity and ability to think critically.

When not teaching, I love spending time with a good book- I love fiction! I also enjoy dancing and watching Comic TV shows!
Tutor Experience
⭐I have 8 years of experience teaching IB DP Psychology, AS/A levels Psychology as well as AP Psychology.
⭐I am an Examiner for IB with extensive experience in marking answers as well as Internal assessments.
⭐I believe in creating an engaging and academically supportive environment in my classes, so that students can achieve their highest potential.
⭐ I provide differentiation and scaffolding to help students master the skills for academic success!
Topic Expertise
📗My area of expertise is Psychology.
📗I have taught IBDP Psychology for 6 years in an IB World school and also been Head of the Department. Since 2020, I have been tutoring full time.
📗I tutor full time and have tutored students over 14 countries and across 3 different curriculum : IB Psychology (HL and SL), A levels and AP Psychology.
📗 I also have experience in being an Extended Essay supervisor and Theory of Knowledge supervisor.

I can provide expert guidance with :

👉Lessons for IB Psychology (HL & SL)
👉Improving essay writing skills for IB Psychology
👉Intensive revision for Examinations
👉Internal Assessments in Psychology( IBDP)
👉Extended Essays in Psychology(IBDP)




Client Reviews
She really helped me a lot with understanding concepts and working through my problems with answer writing. Even my grade has improved significantly. A great pick for any sort of help you require with psych!
tara

-
Psychology
So organized and such a godsend
Zoe

-
Psychology
Overall, she has helped me so much in really understanding the criteria needed for IB Psychology and an idea of how you will be marked. She also gave really good advice on writing a good internal assessment. I struggled with learning from Pamoja, but she was there to give me really good advice for the final exams, provide with me appropriate, updated studies with good evaluation points, which is something I would have never had from my Pamoja class. She makes sure you understand the class down to its finest assessment criteria and would really recommend her even if you don't feel like you're struggling in Psychology, but want an extra push for a 7, because she provides you with the learning you need to get a 7.
Julia

-
Psychology
Ms. Paulomi helped me understand all of the topics that will be on the biological section of the exams and helped me choose studies to learn for the final exams. She really helped me figure out how I should start studying for the exams and also gave me resources so I could understand all the studies. Thank you !!
Trisha

-
Psychology
Very efficient and helpful, has a lot of in depth resources
Tiffany

-
Psychology
Overall, Paulomi provided very helpful feedback on the structure of abnormal psych erq and how to improve knowledge & understanding. She also gave me notes to expand my essay, which gave me a clearer path and resources to use when writing. However, I think time could have been used more effectively when sharing notes and documents. Specific comments marked on the document prior to class like on the IA would have also been helpful as we were only able to get through one question during class...
Sabrina

-
Psychology
The class was great!!! A very helpful teacher.
Andrea

-
Extended Essay
Ms. Paulomi helped me make a plan to get ready for my mock exams and my IB exams. She is a very friendly teacher who teaches in very funny ways and gives me goals to help with managing my study time better. Thank you!
Trisha

-
Psychology
A life saver!!! I was in trouble because I didn't understand my teacher's comments on my psychology IA and she had a zoom with me last minute. She explained the comments well and was friendly. Honestly if you need help she's the one. I'm so grateful! Great!
Nayla

-
Psychology
Paulomi saved me for my psych exam, and she was there every step of the way, she's both an emotional and academic support!!
Margaux

-
Psychology
Testimonials
UWC-Singapore (Parent testimonial): I would like to share my wonderful experience that I had as a parent and my daughter too as the student of Ms. Paulomi. My daughter S****** studying in grade 12 in UWCSEA, Singapore had to take psychology as her HL due to the combination. She was never interested in that subject and in the process neglected it landing in the danger zone close to her exams and IA submissions. I am so glad and relieved that I found Ms. Paulomi through the reference of a friend. Through her systematic and motivational approach Ms. Paulomi brought S*****a's interest to psychology in time for her successful submission of IA's and for the final exams. Ms. Paulomi's approach towards the subject and towards handling the student through a very structured calendar has immensely helped S*****a in regaining her lost confidence and interest in the subject. I am thankful to the tutoring of Ms. Paulomi immensely.
Parent testimonial (France): In regards to M******'s progress, our impressions are nothing but positive, She seems to be embracing the subject and maintaining a high level of enthusiasm and organization skills with a real intent to study some for of the subject at college. Her report card score was a 6 and she was said to be highly engaged. I know the she relishes working with you and is grateful that you helped prepare her for her exams thus far. Please keep up the good teamwork! Best wishes and thank you for everything you are doing for M******.
Parent testimonial (Australia) : I found Ms Palomi through my search for IB Psychology tutor. She has been helping my daughter since last couple of months with her IB Psychology Her style of teaching is incredibly impressive and commendable. My daughter took Psychology in mid term and Ms Palomi has helped her achieve high grades. Her way of teaching is super organised and she is always prepared in advance of the tutor sessions which is of great benefit as no time is wasted. She is very helpful and always available even outside of sessions . Ms Palomi's ease of approach makes the classes smooth and comfortable. She even guided her how to attempt the paper, and also marked her answers . All in all I would strongly recommend Ms Palomi .
Student testimonial : I choose psychology as one of my HL subjects for IB after finding interest in it during a summer school experience. The course was more complicated than I expected and I found it difficult to cope. So my parents and I decided it would be best to seek additional help. Ms Paulomi made a big change to not only my grades but my view of the subject. Her adaptive and attentive teaching style helped me understand more than I was able to in class. I am truly grateful to her for helping me achieve good marks in my final IB exam and strongly recommend her for those who strive to excel in psychology.
Parent testimonial - UWC Singapore: Our daughter chose Psychology as a major specialisation at IB after getting introduced to psychology as a subject in one of her summer schooling programmes. When classes became 100% online in school, understanding of concepts became a challenge and she showed signs of losing interest in the subject. We were really fortunate to get a tutor like Ms. Paulomi. Apart from making the concepts clear, she also helped her gain confidence in the subject which got reflected in her performance. Her friendly approach made my daughter attend her classes regularly and was looking forward to each lesson. I strongly recommend Ms.Paulomi for IB students who are keen to pursue Psychology as a career in their future.
We looked at M's. Paulomi for Psychology tutoring primarily to keep continuity of studies and focus on the subject. Since 12th was an important year - we wanted to provide all the help possible. Please note - our kid did not avail tutoring till 11th Grade. The best thing that happened was the practice & support offered. It was a huge help while we navigated teacher changes and IB portion changes due to COVID. Just having Paulomi available to guide & navigate IB helped in being comfortable. She also helped with IA's, TOK and was super helpful with advice on issues related to preparing & excelling. Paulomi is like a guide to help navigate the IB curriculum. She spends a lot of time in understanding & solving real issues faced by a young adult at school be it teachers, exams, marking or general cohort issues. As a parent, she was a sounding board whenever we needed advice.