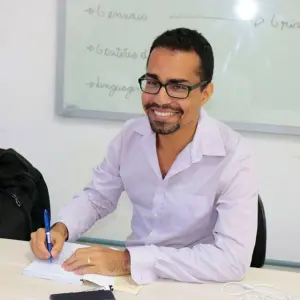 Online Sociology Tutor
Thiago 5.0

139 classes
Federal University of Bahia - PhD. Social Theory - PhD.
I am a college teacher (Ph.D.) with 10 years of experience, two books already published, and a new book coming out soon. So, it does not matter who you are, how old you are, or where you come from, you can count on me anytime :)
Recent Students:

3

Total Hours:

184

Last Online:

25 Jun 2022

All-time Students:

76

Total Classes:

139

Signed Up:

12 Oct 2020
About Me
I am a college teacher (Ph.D.) with more than 10 years of experience. I am also a writer and a passionate reader. Besides my love for teaching, I also like meeting new students from different countries and backgrounds. It is always a pleasure to find new experiences and be affected by them. In my opinion, that is the essence of any kind of teaching.


Tutor Experience
I love teaching, especially because it has always been a part of my life, even before entering university. I also have 10 years of experience in Teaching, Lecturing, and Researching. I was a visiting researcher at Sci-Arc (Los Angeles, United States) where I worked with philosopher and Social Theorist Graham Harman, one of the most important thinkers nowadays.

I am currently tutoring college students in areas like "Social Sciences", "Social Work", "Philosophy", "Research Methods", "Essay", "Dissertation", etc. I am also a Social Theory teacher at Federal University of Bahia. I was a philosophy teacher at the Federal University of Pernambuco. Besides that, I was also a teacher of Communication and Academic Writing at the UCSAL and Visconde de Cairu.

I also have two books already published and one book coming out this year:
The First One (Philosophy): "Decentering the language" (Zart, 2018).
The Second One (Political Science and Sociology): "Symptoms: Brief essays on a disoriented society" (Paco, 2019).
The Third One (Social Theory and Methodology): "Towards an Alternative Social Theory (A.S.T)"

Topic Expertise
Social Sciences, Social Theory, Philosophy, Methodology, Dissertation, Essay and Thesis

Client Reviews
Very helpful 👌 and clear explanation
Odile

-
Social Work
Great feedback helped me get back on track with my work.
Marie-claire

-
Sociology
The feedback is very thorough and clear. Mr. Thiago doesn't just tell you what you are doing wrong, but he offers clear solutions and suggestions for your writing. You can clearly see from his feedback that he takes his time and puts a lot of effort in what he writes down.
Ilinca

-
Theory of Knowledge
Thiago gave me awesome feedback that covered every possible facet of my Theory of Knowledge Essay. He is very specific and concise in his feedback in a way that will help your comprehension but at the same time allows for flexibility. His experience and track record truly shines through by the way he gives the feedback in a very student-friendly way, definitely would recommend!
Marco

-
Theory of Knowledge
Great comments on my Essay:)
Lily

-
Theory of Knowledge
Great comments, really useful and gives a lot of material and feedback to keep on working and in what direction, the comments are clear and meaning full, they're not confusing. Amazing!
Wiktor

-
Extended Essay
Natalie

-
Philosophy
Great feedback! Thanks for the help Thiago!
António

-
Theory of Knowledge
Great and illuminating lesson!
Eduarda

-
Essay
Thiago is an excellent tutor, very easy to talk. He guided me through my proposal dissertation,
Tanya

-
Social Work
Testimonials
Hi! I have received my IB grades and I got an A in TOK. This is ALL thanks to you and I am so grateful. You were amazing and you LITERALLY SAVED ME. 😂 Thank you for everything!!! - Ilinca, Essay
"Very attentive teacher. Great teaching methodology. Explains super well. Helped me a lot to improve my performance. Super satisfied!" - Valeria, Academic Writing
"Yes it went very well. I got a first-class grade" - Anson, Sociology
"I just had my lesson, Thiago was very useful and informative, he left comments on my essay which are so helpful to help me understand what I should do next. I was not so confident about my TOK essay beforehand, but with his help and tips, I feel much better. Thank you Thiago" Sean, TOK.
"Extremely helpful and really well at explaining things. I cannot wait to see all the help Thiago can provide to me" - Alley, Dissertation
"Thiago came prepared to the lesson with powerpoint slides specific to my needs. This was really helpful. He described the information clearly to me in a context that iIcould understand. " - Phoebe, Dissertation
"Thiago was very helpful and gave a lot information about the areas of the Topics that could be covered. He was very thorough at covering all of the materials that needed to be looked at during future lessons and had a clear plan. He offered options which we could look at which made us feel part of the learning experience"- Sarita, A-Level Sociology
"I highly advise you to hire Thiago. He is attentive, straightforward, professional and helpful"/"Amazing teacher"- Mara, Research Methods
"The class has been very useful to settle fears about my current essay and to discuss ideas. Thiago is able to confirm and explain the current knowledge I had about the subject. " - Laura, Research Methods
"Great lesson! Got back to me straight away and really helped me understand how I can improve my essay. Thank you" - Amalie, TOK
"Hi Thiago, just wanted to let you know I got a first in the assignment you helped me with!! thank you so much for all the help :)" - Caris, Politics
"Thiago is a perfect tutor. He is very nice and patient." Rose, TOK
"Thiago reassured me on my dissertation progress and laid out a clear structure to aim for. This has helped structure ongoing progress" Anton, Dissertation.