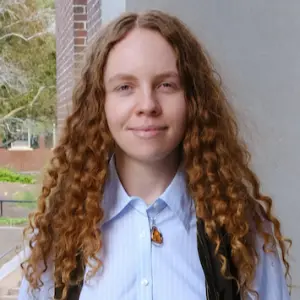 Online Academic Writing Tutor Alice
Alice 5.0

333 classes
Harvard University - Comparative Literature - B.A.
English Language and Literature Teacher with experience teaching students in France, East Asia, and the U.S. I specialize in assisting students with perfecting their academic writing and learning English as well as with Ivy League and Oxbridge undergraduate and graduate admissions.
Recent Students:

0

Total Hours:

332

Last Online:

18 Dec 2022

All-time Students:

48

Total Classes:

333

Signed Up:

30 Jun 2021
About Me
I am currently finishing my translation of works by French poet Cécile Sauvage before I begin working part time as an English language assistant in Grenoble.

I beat my own path both in terms of where I live and work. Before university, I saved up to move countries and teach in France before crossing the Atlantic to attend Harvard . Since then, I have not stopped traveling. While moving around, I have worked in a variety of part-time roles while tutoring such as a film extra with big name actors as well as a pizza chef.

I also share in your struggle as a student myself! I am continuing to make progress with learning French and Chinese while also working on improving my critical and creative writing.

My most recently published article appeared in the 2021 issue for the Columbia Journal for Literary Criticism entitled ""My Body Knows Unheard-Of Songs":
Variations of Maternal Intimacy in the Works of Cécile Sauvage, Hélène Cixous, and Maggie Nelson
Tutor Experience
I have tutored 1:1 part-time for six years and taught within reputable educational institutions globally (HSYLC, Showa Women's University, Institution St. Jude Business School). I have lead conferences for secondary school students and university-level students in academic and creative writing, English as a foreign language (IELTS), UCAS, and U.S.A. university admissions.

Some highlights:
• One student successfully admitted to Harvard; another to Williams College, the top liberal arts college in the U.S.A
♦ Tutored several dozen business professionals, academics, and graduate students based in East Asia to overcome their language plateau and perfect their conversational and professional English to meet their academic/career goals
♦ Provided last minute IELTS speaking preparation for two students in preparation for entrance to LSE undergraduate business programs and Oxford graduate programs
♦ Seminar Leader at Harvard Summit for Young Leaders in China (HSYLC), China's largest High School conference, where I developed my own English Literature course and interviewed prospective Chinese applicants to Harvard.

I believe in the importance of working together to set clear goals and make steps toward them each lesson. I check in regularly throughout the lesson to ensure my feedback is helpful and discuss manageable targets to attain before our next lesson. We can also work on tailoring techniques to build exam confidence.

My pedagogy stems from a position of empathy. I have completed my fair share of studying in my time -- from my 11+ for grammar school, attaining straight 12 A stars at GCSE, taking 4 Highers at IB, to studying for the ACT and applying to Cambridge and US universities -- and it certainly wasn't all easy! Via a process of trial-and-error and self-drilling, I overcame my personal hurdles one-by-one and now aim to help students discover their own enjoyable pathways to learning success.

Topic Expertise
English Literature, (IB Higher Level, A Level, GCSE)
IELTS, English as a Foreign Language
History
U.S.A and U.K. Admissions (inc. Ivy and Oxbridge)

I have personal experience of having taken History, English, French, and Philosophy IB Higher Level, received an offer from King's College Cambridge, and attended Harvard University.


Client Reviews
Alice has been really helpful in teaching me how to structure an english essay. Highly recommend.
Marita

-
History
Great class with Alice looking at short stories. Alice is polite and eloquent, and evidently put time and effort into a valuable lesson.
Harry

-
Creative Writing
Alice is an absolutely fantastic tutor.
Candida

-
ACT
Alice is amazing. Calm and well prepared. For each lesson as well as incredibly supportive and encouraging.
Candida

-
ACT
Outstanding touter, every new class I learn something new,I wish if I started with her earlier to improve my grade .many thanks
Mohammed

-
Academic Writing
Genuinely a very good and kind person to talk to!
Jerry

-
Essay
Had such an amazing and productive session with Alice!
Mackenzie

-
English
Alice was incredibly helpful in providing analysis for my IO texts.
Mariam

-
English
So nice! And very helpful!! Will guide you through the process.
Iria

-
UCAS
friendly teacher, helpful session
amer

-
Academic Writing
Testimonials
Isabelle Refouni, Institut St. Jude It's my pleasure to provide this recommendation for Alice Donnellan. As Alice's former direct manager at Institution Saint Jude (a technical college in Northern France), I worked closely with her during one year. Our school was looking for an English assistant and Alice proved crucially efficient at every level. Alice showed impressive communication skills for her young age and consistently exceeded all our expectations. On a personal level, I can remember an outgoing, nice and particularly trustworthy young person, 3 qualities that served her well in her role as a teaching assistant. Hardworking and brilliant, Alice left us to continue her studies at Harvard University. All of us at Saint Jude were sad to see such a valuable person go. Alice brought great value to our English classes by consistently exceeding expectations and adequately advising the students. She quickly learned how to handle a group of students and contributed to their success at the exam. Alice had (and still has I assume) the combination of teaching acumen and communication skills that made her an outstanding language assistant and person. I would like to express my great admiration for Alice's brilliant academic career, sense of adaptation, open-mindedness and culture.
Luisa Z.: Subject:English Literature It is a great pleasure to write a reference for Alice. I worked with her in Harvard AUSCR for Young Leaders in China (HSYLC). She taught three classes there with more than 60 high school students, and was one of the most popular teachers in the program. She is always patient, energetic and well-organised. Also, she has the capability to teach in a relax and enjoyable way. Therefore, I am fully convinced that she is a great fit to be a tutor.
Iria: Alice helped me edit and improve my personal statement a significant amount which has led me to be accepted in UCL and various other universities. I will be forever thankful for her help, and I am glad to say that I recommend her because of her attention to detail.
Ka Won: I was supremely lucky to meet Alice as my tutor. She is kind and passionate. I find her class very helpful in every aspects. She knows wide range of academic expressions and she paraphrases my sentences into perfectly sophisticated sentences. At the end of the session, she points out the things I can improve which are accurate and useful. I cannot thank you enough Alice!