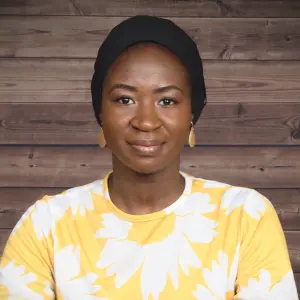 Online Biological Sciences Tutor Rashida
Rashida 5.0

47 classes
University of Illinois, Chicago - Cell and Molecular Biology - PhD
A highly motivated results-driven educator who enjoys teaching/tutoring biology related courses
Recent Students:

0

Total Hours:

56

Last Online:

17 Apr 2023

All-time Students:

9

Total Classes:

47

Signed Up:

16 Dec 2020
About Me
I hold a Doctorate in Biology from the University of Illinois, Chicago. I am a self-motivated, results driven individual with strong leadership and interpersonal skills and the ability to work with students of all stages and from diverse backgrounds. My life's goal is to help improve the lives of people through biologics discovery, Teaching and Philanthropy. I strive to achieve these goals through research, teaching/tutoring, and managing my Charity Foundation. In my spare time, I watch TV shows, hung out with friends, cook or read novels.
Tutor Experience
I have over 4 years' experience teaching college level biology courses in classroom (as a teaching assistant) and in private tutoring settings. As a teaching assistant, I plan and lead discussion sections in Mendelian and Molecular Genetics, Biochemistry, and Cell Biology. I create worksheets and practice questions to help student prepare for exams. As a private tutor, I guide students to understand and master course concepts in the above-mentioned courses as well as in research methods, and dissertation writing . I have helped improve students' grades, self-confidence and study skills. I achieved these successes in part through motivating students and practicing constructivist teaching/learning approaches.
Topic Expertise
Cell and Molecular Biology, Mendelian and Molecular Genetics, Biochemistry (metabolism, cellular respiration, photosynthesis, etc)
Client Reviews
Wonderful teaching techniques and beneficial tips!
Samrudhi

-
Biological Sciences
Very useful lesson with questions and helpful information!
Samrudhi

-
Biological Sciences
Rashida was a very helpful tutor you can tell she knows her stuff and makes you feel comfortable asking any question no matter how silly you think it is she is a must have!
James

-
Biological Sciences
Rashida was very helpful in her advice, thorough and precise in helping me prood read my thesis. Highly recommend
James

-
Biological Sciences
Rashida is a very helpful and patience tutor. we faced some of technical issues with the audio, But rashida tried to fix it
sara

-
Biological Sciences
Rashida is a very friendly tutor, with a patient approach. She has identified after our first lesson where I need help and has helped me grasp and look at questions from a different angle. The best tutors are those who make it simplistic and make you wonder how could I have not known that!! Highly recommended tutor and a true credit to Spires.
Omar

-
Biological Sciences
Rashida does a great job with explaining concepts that often may seem daunting but all it takes is a little more application. She makes learning new concepts and ideas simpler as well as challenges a person to work through problems on their own too, which I find is very helpful.
Hadia

-
Biochemistry
The lesson went smooth, communication was clear and effective. Rashida helped me understand my work better. I will definitely work with her again.
Vickie

-
Biological Sciences
Testimonials
"Rashida challenges you to understand the material and provides examples along the way. She is straight to the point but elaborates on minor details to help you understand the major details." "Absolutely great! Great tutor and had so much patience and took her time to explain all my questions!" "Rashida helped me out with this genetics problem set that was just so hard to get and she took the time to explain every step for me to get ready for my first Exam! She was really good at responding to all my questions accurately! Thank you so much!" "She was extremely thorough when explaining the problems and very helpful! I really liked how she explained things! Extremely helpful!!" "Rashida did an excellent job laying out the foundational understanding needed to solve a question. She then followed up by connecting the material to the question and was able to answer questions that I had to follow up. She was concise, used visual teaching methods, and presented great knowledge in her answers." "She is very patient and helpful. She provides detailed explanations! She breaks down tough topics to help me understand better." "Rashida was amazing! She went through multiple complicated questions with me and explained them in a very clear and simple way." "Gave plenty of examples and thoroughly explained them. Always made sure that you understood before going on, very helpful! Also very patient! Highly recommend her as a tutor!" "Super patient. We spent HOURS working on problems and she really explained all of them in depth. She is my go-to tutor for biology! Great expertise and wonderful tutor! She is very resourceful as well and willing to work around you. HIGHLY recommend." "Very awesome, she not only looked over my work for me but helped me find external resources to help me solve my questions. She walked me through the questions that I had and showed supporting evidence at all times. She seems very considerate of time and your knowledge level and I would recommend coming to her with any problems!" "She is the best and went above and beyond in explaining and providing help for someone who is FGLI." "First time using Chegg tutor needing help in biochemistry and Rashida A was wonderful! She was very helpful and respectful!" "I had her to help me with some Genetics Questions and she was Amazing! Very informative lessons and was by far the best Chegg tutor I've seen. Highly recommend Rashida!" "Rashida was able to create a great visual for me and explained it via audio (requested), which I greatly appreciated. She was very nice and made sure that I did not need any extra help. I definitely have a favorite tutor now! lol"
"Rashida challenges you to understand the material and provides examples along the way. She is straight to the point but elaborates on minor details to help you understand the major details."