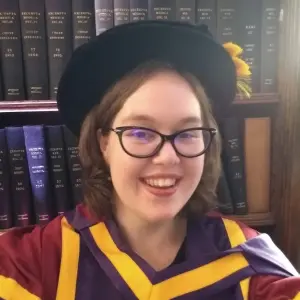 Online English Tutor Eleanor
Eleanor 5.0
University of Manchester - English Literature - PhD English Literature
Highly qualified and experienced tutor of English and the Humanities with a PhD in English Literature and Creative Writing from the University of Manchester.
Recent Students:

0

Total Hours:

0

Last Online:

06 Sep 2022

All-time Students:

0

Total Classes:

0

Signed Up:

23 May 2019
About Me
I have a Masters in Medical Humanities from Kings College London, and a First Class Honours BA(Hons) from The University of Kent in English and American Literature with Creative Writing alongside my PhD in Creative Writing and Disability Studies.

I am a published writer and have been published in a variety of magazines and books, as well as winning many prizes for my poetry. I can teach creative writing, as well as give advice on where and when to submit work.

I also offer proofreading and editing work. I can read essays and provide commentary on how to improve your work for a better mark. I can also edit books, essays and other work.

What really makes me different is that tutoring is my full-time job. I spend each day concentrating on lesson planning and preparation for the individual needs of my students, before teaching in the evenings. This means I always arrive at the lessons well-prepared to start making progress with you and your child.

I have taught a lot of different students with a lot of different needs and I know how to get the best out of the students that I teach. Many parents comment on how much more confidence their children have, which is translated into improved grades.
Tutor Experience
I am a highly qualified and experienced tutor of English and the Humanities with a PhD in English Literature and Creative Writing from the University of Manchester.

I have experience tutoring all humanities and social science subjects to a high standard up to degree level. I have a lot of experience preparing students for exams and an exemplary record in improving their grades and confidence quickly. This year on average my GCSE students improved by more than 2 grades.

Many of my students are being home educated, or need some extra support aside from exams, and I specialise in being a flexible tutor, who can teach a variety of subjects in engaging ways. I have designed curriculum for home educated students and figured out ways to incorporate education into games, projects and experiments. I love working with parents and children to find what they need from education.

I also particularly focus on special needs tutoring, including home-schooled students, and those with a variety of additional needs. I have many students with dyslexia and other specific learning difficulties. Additionally, I have a lot of academic experience in Disability Studies. I have a Dyslexia Training Certificate, a Certificate in Specific Learning Difficulties and have passed the core modules from The National Autistic Society.
Topic Expertise
I am a vastly experienced tutor and have taught English GCSE, A-Level and degree level specifications, I really enjoy tutoring and am an enthusiastic teacher.

I teach very flexibly, and always adapt my lessons to the individual needs of the student, making sure we focus on the curriculum, while also concentrating on the weaknesses and strengths of the tutee. My first session also involves me taking an assessment of the student's progress and any weaknesses, and a chat with the student and parents about what would be the best areas to focus on and what the goals of tuition are.

Exam skills are often the most integral things we learn together, and can also improve their attainment in other subjects outside of the Humanities. For a lot of my students, some focus on general exam skills improves their grades across the board.

If they are not preparing for exams, I will focus on other goals, and I like to incorporate wide-ranging learning, which means I can challenge students about their opinion in English (improving their English skills), but also making them think about sociological concepts or political ideas for example. I believe a good education should incorporate learning from everywhere!
Testimonials
Over the last 6 months my son, has had many English Lessons with Eleanor. His English has improved exponentially as a result. I could not recommend any other tutor more strongly. Eleanor is amazing. She is flexible, accommodating and creative in her approach with my daughter, who has complex learning needs. Patient to a fault and ultra reliable we are beginning to see real results. I cannot recommend her highly enough. Eleanor is an experienced tutor. She speaks with confidence and has a clear voice. It is very essential in the tutorial. She explained the points in detail and alert the students what the natural way to write and speak English is.