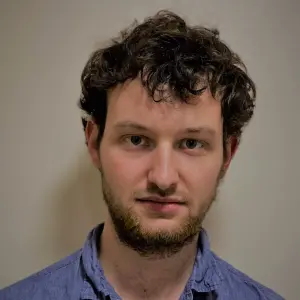 Online Classical Studies Tutor Harry
Harry 5.0

92 classes
University of Oxford - Classics - BA
Enthusiastic and attentive recent graduate with significant experience in tutoring, who has a far-reaching interest in all the humanities, but particularly theatre and classical culture, and who loves to encourage students to expand their knowledge and attain their goals.
Recent Students:

0

Total Hours:

96

Last Online:

22 May 2023

All-time Students:

5

Total Classes:

92

Signed Up:

06 Jul 2021
About Me
I am a 22 year-old Londoner, who has just finished his 4 year BA degree in Classics at Oxford University. Both my parents are teachers, albeit in Mathematics (annoyingly!) and so I have been surrounded from an early age in the excitement and the difficulties of engaging students, learning and tutoring. My father was even a teacher at my old school, which, although not always the easiest, did mean that I have gained significant insight into how syllabuses and examinations function, as well as access to school resources.

I chose to study Classics because of the varied skills and subjects it can encompass. Originally, I intended to study English, but when, aged 17, I discovered a keen interest in Art History, I knew I wanted something that combined Literature, History and Art. Since then, I have done modules in Literature, particularly poetry and drama, Ancient History, Philosophy, and Art and Archaeology. I have developed an interest in Classical Reception, which looks at how ancient cultures have influenced the modern world, and therefore incorporates many modern literary or historical theories.

While at Oxford, I continued to expand my non-academic interests, particularly in drama. Therefore, I acted in numerous plays, as well as writing and directing works myself. This has allowed me to develop my skills in analysing literary texts, particularly Shakespeare, as well as becoming experienced in managing a team and engaging with actors in solo training. In October 2021, I will begin an MFA in Professional Acting at Drama Studio London.

Finally, I have also tried to improve access to Classics, particularly for those with additional needs. Therefore, I volunteer for Keen Oxford, providing weekly workshops in storytelling which often provide an introduction to classical mythology. I hope to continue and expand on this work in the future.
Tutor Experience
2019-2020:
Over the course of 12 months, I tutored approximately 150 hours for a tutoring agency based in China. I taught primarily English, both Literature and Language, up to IGCSE Level. I taught three different students:
- A 12 year-old girl, who wanted to develop her skills in Creative Writing. We focused on the techniques of storytelling, particularly traditional story models such as the Hero's journey.
- A 15 year-old boy, studying for his Cambridge IGCSE in English Literature and English Language. Here, the focus was on Macbeth, particularly to develop an understanding of exactly what Shakespeare's poetry means. Unfortunately, the exam was cancelled due to the Pandemic, but he reported a significant increase in his understanding of the play.
- A 13 year-old boy, who wanted to improve his English language. Here, my education in classics became particularly useful, as it provides me with a very good knowledge of English grammar.

2020
Over the course of 2 months, I taught English Language to a 20 year-old Spanish student, studying at a Swish Catering College. This was focused on developing his language skill so that he could better understand his teachers.

2020
During the Pandemic, I provided free tutoring of approximately 10 hours to A-Level English literature students as part of the Coronavirus Teaching Initiative. As these were one-off lessons, they mostly focused either on the key themes of a text, such as the Tempest or Dracula, or on close analysis of a poem or prose piece.


2021
I have been tutoring a 12 year old boy in Common Entrance Latin for 3 months, and we have seen significant improvement.

2021
I am currently tutoring a 15 year old boy GCSE Greek following the OCR syllabus.
Topic Expertise
Latin
Language: I have a very good knowledge of Latin language, whether working with Unseens or Prose Compositions.
Literature: I can teach most Latin literature as set-texts, but have a particularly good knowledge of Virgil, Ovid, Tacitus and Catullus.

Ancient Greek:
Language: I have a very good knowledge of Greek language, whether working with Unseens or Prose Compositions.
Literature: I can teach all the Ancient Greek texts that are the set texts of the different boards, but have more experience working on Herodotus, the Tragedians, and Plato.

Ancient History: Of the main components of the OCR A-Level, I have a good knowledge of all of them, but particular expertise in The politics and culture of Athens, c.460—399 BC, and The Flavians, AD 68—96.

English GCSE: I have especially good knowledge of the play texts, particularly Shakespeare and modern playwrights, such as Alan Bennett or Delaney.

As a former student of Oxford University, I can also help students through admissions process, particularly in the Personal Statement and practice essays.