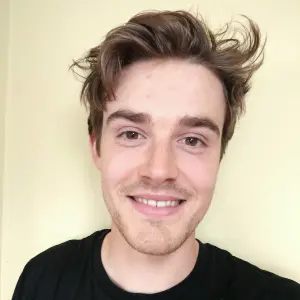 Online Biochemistry Tutor Thomas
Thomas 5.0

9 classes
UCL - Clinical Neuroscience - Master's degree
Qualified neuroscience researcher with experience tutoring Science and English to A-level and university students. I have a history of academic awards and achievements and I'm here to help you do the same.
Recent Students:

0

Total Hours:

9

Last Online:

17 Mar 2023

All-time Students:

5

Total Classes:

9

Signed Up:

06 Jun 2022
About Me
I've spent the last two years conducting Alzheimer's research at the UK Dementia Research Institute at UCL, London. I have been investigating the causes and consequences of neuronal loss in diseased brains. I've co-written three research papers, one of which is published and two of which are currently under revision. I've also peer-reviewed research papers for top journals such as Nature Neuroscience and Journal of Experimental Medicine.

In 2020, I graduated from UCL with a master's degree in Clinical Neuroscience. Before that, I studied Medical Biochemistry for my bachelor's degree. I've consistently received academic awards for graduating top of the class: I was awarded a position on the Dean's List for graduating with the second-highest grade on my master's degree, I was awarded the Ede and Ravenscroft Prize for achieving the highest grade on my bachelor's degree, and I was awarded the Foundation Award for Outstanding A-Level Results for achieving top grades in my A-levels. In between my scientific research and academic studies, I love to teach. I have over two years of experience teaching both English and Science from GCSE to university level. I've always loved academia and I look forward to helping you reach your full potential!

In my spare time, I enjoy reading, meditating, and playing the ukulele. I'm happy to help with whatever you're struggling with and always look forward to meeting new students.
Tutor Experience
I have significant experience tutoring Science and English. I've tutored Biochemistry to university students, Biology, Chemistry and Statistics to A-level students, and Science and Statistics to GCSE students. A number of my A-level students who were predicted Cs went on to achieve As, and nothing is more rewarding than that!

I have a 120-hour in-class TEFL certification and have taught formal business English to Chinese and Korean adults, as well as academic writing to university students speaking English as a second language. I have tutored English independently and through large ESL companies based in South Korea, China, and the US.

My academic and professional expertise in both Science and English makes me well equipped to help you in your academic studies.
Topic Expertise
I can tutor Biology, Chemistry, Physiology, Neuroscience and Biomed from GCSE to University level.

I can tutor English as a second language, focusing either on academic writing, passing English exams, or improving professional business English.

I also have experience writing and reviewing academic papers during my career as a professional research scientist, which I can draw from to improve your essay writing, dissertation writing, and critical analysis skills.

-A-Level-
Exam boards: AQA, OCR
Subjects: Biology, Chemistry, Single Science, Double Science, Statistics

Getting top grades is not just about memorising and regurgitating facts but requires a deeper understanding of the underlying concepts and the ability to apply these concepts in new contexts. I can assist you in understanding core concepts, memorising course content, and perfecting your exam technique. I can also challenge you to apply these concepts in novel scenarios to help consolidate your understanding.

-Degree level-
Subjects: Biology, Biochemistry, Physiology, Neuroscience, Biomed, Academic Writing, Essays, Dissertations

I can aid you in everything from understanding course content to reviewing and critically analysing academic literature to writing effective and persuasive essays and dissertations. I can also review your coursework and provide feedback to help improve your grade.
Testimonials
⭐⭐⭐⭐⭐ 'What a perfect tutoring! Probably the best class that I have ever had! Thanks:D' - Business English student from South Korea
⭐⭐⭐⭐⭐ 'Thomas is so passionate, knowledgeable and meticulous. His corrections were quick, detailed, precise and professional. Really appreciate his help and feedback on my essay.' - Psychology MSc student
⭐⭐⭐⭐⭐ 'He's the best.' - Business English Student from South Korea
⭐⭐⭐⭐⭐ 'Thank you for conducting the class in a dense manner in such a short time. It was good to be able to receive extensive corrections of advanced vocabulary, expressions, and sentence structure. If you ask any questions in between, he will explain in detail.' - Business English student from South Korea
⭐⭐⭐⭐⭐ 'Thomas was one of the best tutors I've met. He was skilled at leading the conversation as he asked many great, interesting questions that made me think deeper about the topic of the conversation. I could see that he feels very passionate about teaching students and that aspect of him made the class more enjoyable. He also gave me detailed feedback on how I can make myself sound more fluent and natural, which I would not have been able to figure out so clearly myself. Thank you for the class Thomas and I look forward to seeing you again soon!' - Business English Student from South Korea