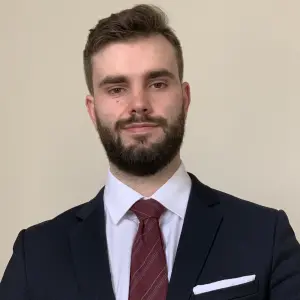 Online Tutor
Jacob 5.0

31 classes
Oxford - BA in PPE, 2:1 -
Recent Students:

0

Total Hours:

33

Last Online:

01 Jun 2022

All-time Students:

9

Total Classes:

31

Signed Up:

17 Oct 2019
About Me
I grew up in Oxfordshire, England, and read Philosophy, Politics, and Economics at Oxford University. I work as a full-time self-employed tutor and consultant. In my spare time I am learning Arabic, and I have been a published author in author on religion and current affairs in two different international periodicals. I have lived in China, Uganda, and Morocco.
Tutor Experience
I have worked as a professional tutor and educational consultant for six years. I have taught dozens of students for thousands of hours in total. I have also worked as a teacher in an independent school in North London.

I have had many successful students; a few examples include:
>Three admitted to study HSPS at Cambridge.
>One admitted to all three of Westminster, Winchester, and St.Paul's for 13+.
>One who gained 84/84 marks in his A-Level Politics Paper 2, which is now being used as an exemplar.
>One who gained an A in A-Level History after being predicted a C.

I believe that the most important virtue in a tutor is the ability to empathise with a student's cognitive position. When teaching I aim to guide a student through the mental steps needed to accomplish the goal of the lesson.

I typically spend much of a lesson in dialogue with the student. I break this up with exercises to embed and reinforce key points, but I always end the lesson with a call to reflection on what the student has learned. I emphasise that knowledge is open-ended and interconnected.
Topic Expertise
I teach all subjects up to age 13, and specialise in humanities and social sciences, including economics, above that level. I have taught political and social sciences up to undergraduate level, and I regularly read academic journals on philosophy, theology, history, and politics.
Client Reviews
We went through Humanitarian Intervention and discussed whereas it was effective or not. He explained me the concepts in it, and the pros and cons of it.
Domingo

-
Global Politics
It was great
Domingo

-
Global Politics
amazing feedback
Edouard

-
Politics
Testimonials
"Jacob has been a tremendous help with my IB studies. He can explain the content clearly and has a detailed understanding on the syllabus and assessment requirements. He has also provided very focused and helpful feedback on my internal assessment working, which has really helped me to understand how to increase my marks". IB Global Politics student on Spires
"I'm still trying to peel my son off the ceiling. He got 3 A*s! His politics marks were 'off the chart' and his papers are being used as exemplars for next year; he has been advised...that his marks for Paper 2 were 84/84...he is thrilled with the achievement and we would like to thank you for helping him achieve it" Mother of an A-Level Politics Student "Jacob was a great help for my son during his A-level studies. He was able to make the topics simple and easy to understand and had a wealth of knowledge in the subject, which he communicated with patience and empathy. My son was very pleased with his final grade." Mother of an A Level Student "Jacob was a tremendous help with my son's A Level Politics. He had been predicted poor grades by his teachers and was feeling extremely confused at the feedback he had received. Jacob was able to help him organise and structure his revision and make the essay-writing process clear and transparent. I am delighted that my son was able to get an A in his final exams with Jacob's help." Mother of an A-Level Student "[Our son] was predicted a C to begin with - and then an aspirational B and with your outstanding tutoring - received an A! It was one of ours and his highlights of 2019! We have spoken to Edinburgh and they said his A-levels (AAB) were def. strong enough to now get an offer at Edinburgh. Again, thank you for all your help! We have 2 more boys coming up the ranks and will def. be reaching out again for your tremendous tutoring." Parent of an A-Level History student "I really do not know how to thank you enough. I have never done so well in Politics; I am truly over the moon. You did not just help me achieve this but you also made me develop a passion for it, I have grown strong convictions for my views and am able to justify them...I am forever indebted to you" A-Level Student "Jacob tutored myself and my friend together. We would not have been able to get into our chosen university without him! He had a wealth of knowledge and communicated it brilliantly to help us ace the exams needed for admission. Thanks again!" Applicant to King's College London "Jacob has a fantastic knowledge of the UK education system and his advice is invaluable. He was a great help in securing places for my son at his first choice of the most exclusive schools, and he really understands the subtle things that distinguish a good candidate from a great one". Mother of applicant to Westminster, Winchester, and St. Paul's at 13+ "Jacob took the time to understand our son's needs in the context of the schools we are applying for and their entry requirements. He did an excellent job at filling the gaps in our son's knowledge and boosting both his academic attainment and his confidence. Not only did our son receive offers from all three top tier schools that we applied for, but he is now thriving at school. Jacob was instrumental in helping our son achieve this." Parent of applicant to Tonbridge, Sevenoaks, and Charterhouse at 13+ ''We have been very pleased indeed with the work [Jacob has] organised and carried out with [our son] both in his subjects for A Level and in his application to read PPE at Oxford. We have been lucky to have met [Jacob] and we appreciate enormously the work he has provided and the manner in which he provided it.'' Father of Oxford applicant ''Jacob provided focused, engaging mentoring in preparing for my son's Oxbridge application, and in helping him finish an essay to be entered in a major competition. He found Jacob's lessons to be extremely stimulating and greatly enjoyed talking to him. I would very much recommend.'' Mother of Year 11 student ''Jacob reliably prepared well-planned and creative lessons for my four children, and was an invaluable help in preparing them for 13+ scholarship, GCSE, A-level, and undergraduate exams. I would very much recommend!'' Mother of four students of different ages ''Jacob really helped with analysis of sources and developing a critical argument for my pre-university History dissertation and had a range of academic sources at his fingertips'' A-level history student ''Angelika has really been enjoying her lessons with Jacob – she has made huge progress, and received an A in her recent exam. We are very thankful to Jacob for his dedicated and enthusiastic tutoring. Thank you!'' Parent, London ''Jacob has been the most amazing, and inspiring tutor for my daughter for her A-Level Economics. I cannot recommend him highly enough for his total dedication and ability to tutor in an encouraging and confidence-building way. Anna seems to really enjoy their sessions and even asked for more sessions over the holidays. I really believe Jacob is going to push her toward A* in her final exam this year.'' Mother of an A-level student, London ''Jacob has been helping my son with his personal statement this year. His feedback and comments were very valuable, and I found Jacob to be a very conscientious and knowledgeable tutor. He has given my son so much helpful information regarding the application process and interviews that now my son feels much more confident. Jacob put in a lot of effort and we are now waiting for the last offer from university!'' Parents of A-levels student, London