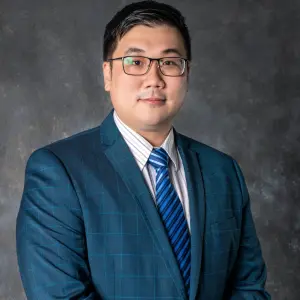 Online Mechanical Engineering Tutor
Dr. Man Djun 4.9

35 classes
Doctor of Philosophy (Ph.D. in Mechanical Engineering) - B. Eng (Mechanical Engineering) Hons. - CEng, MIMechE, FHEA, P. Tech, M.I.M.M.
First Class Honours in BEng (Mechanical Engineering), PhD (Mechanical Engineering) holder with more than 5 years experience as mechanical engineering lecturer, Fellow in Higher Education Academy (FHEA) and Chartered Engineer (CEng) from the Institution of Mechanical Engineers (IMechE). The Recipient of Young Developing Engineer Award 2021 from the Institution of Mechanical Engineers. I can provide you with academic and practical examples to help you to understand more in your studies.
Recent Students:

0

Total Hours:

43

Last Online:

11 Feb 2022

All-time Students:

12

Total Classes:

35

Signed Up:

19 Oct 2021
About Me
I have more than 5 years of experience working as lecturer in different universities, which enable me to adapt to changes quite easily. I am very familiar with the UK higher education system frameworks, evident by my Fellowship in Higher Education Academy (FHEA) and I always improve my teaching via experimentations with my classes to give better learning experience to the students. Apart from that, I am able to convince students that I am qualified to teach in the field of mechanical engineering as I am a Chartered Engineer (CEng) registered with the Engineering Council UK and also Member of the Institution of Mechanical Engineers. I have several other professional memberships in other foreign countries. I have published more than 20 scientific publications in reputed journals, international conference proceedings and book chapters. I have supervised more than 20 undergraduate students and 2 post graduate students in completing their research projects. I am a technology enthusiast, I love to learn about new technologies and even conducting research in it. I won several engineering design awards and filed 2 patents based on my inventions. Recently, I have been awarded with the Young Developing Engineer of the Year 2021 by the Institution of Mechanical Engineers, UK.
Tutor Experience
I have more than 5 years experience working as lecturer. I am familiar with physical and also online teaching with various platforms. I have taught subjects such as Solid Mechanics (Mechanics of Materials), Fluid Mechanics, Engineering Mechanics (Dynamics, Statics, etc.), Thermodynamics, CAD (solidworks, AutoCAD) etc.
Topic Expertise
The subjects that I have taught are: Fluid Mechanics, Engineering Mechanics, Statics, Dynamics, Manufacturing Technology, Thermodynamics, Heat Transfer. Let me know which subject you are interested and I can provide proper learning plan for the whole semester, including time to address assignments, mid term and final examinations. I have past year examination questions from different universities to discuss with you as well if you are interested in preparing for final examinations.
Client Reviews
great explanation, learned a lot!
Abdulrahman

-
Mathematics
Best tutoring experience i have had. I really appreciate the time care and effort you have put into my sessions and the huge support you have been to me during the module. Thank you!
Leah

-
Mechanical Engineering
It was great! Very helpful and intelligent teacher with a kind attitude!
Sofia

-
Other
I had an amazing first lesson. Man Djun explained everything so well and created fantastic materials to teach me with. He was very clear and knowledgeable in mechanical engineering so he made it easy for me to grasp concepts
Leah

-
Mechanical Engineering