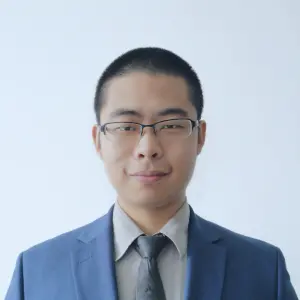 Online Mathematics Tutor Yi
Yi 5.0

3695 classes
King's College London - Mathematics - Master of Science
GCSE and A-Level Maths Tutor
Recent Students:

50

Total Hours:

4029

Last Online:

28 May 2023

All-time Students:

135

Total Classes:

3695

Signed Up:

07 Nov 2020
About Me
I completed my MSc Mathematics degree in 2020 and then worked as a secondary school maths teacher teaching GCSE, A-Level maths and further maths for one year. Currently, I am working full-time as a maths tutor. I like running, reading, basketball and meditation.
Tutor Experience
I started tutoring in 2016, I have been tutoring for 6 years.
I helped many students achieve top grades in their studies. I teach mathematics for all different levels, GCSE, A-Level, IB, Undergraduate and Postgraduate.
I achieved a distinction in MSc Mathematics, a First Class Honours in BSc Mathematics at King's College London and A*s in both Maths and Further Maths at A-level.
To improve my teaching quality and make sure I am fully conversant with the curriculum, I spend one year in 2021 completing the teacher training course and successfully obtaining the QTS.
Topic Expertise
GCSE Maths
Edexcel A-Level Maths
Edexcel A-Level Further Maths (Core Pure, Further Pure, Further Statistics, Further Mechanics, Further Decision)
BSc and MSc Mathematics (Calculus, Number theory, Geometry, Linear Algebra, Abstract algebra, Probability and Statistics, PDE, Real Analysis, Complex Analysis, Fourier Analysis, Discrete mathematics, Group Theory, Rings and Modules, Galois Theory, Topology, Algebraic Number Theory)
MSc Financial Mathematics (Statistics in Finance, Financial Markets, Risk Neutral Valuation, Pricing and Hedging Derivatives)
Client Reviews
helpful
Charles

-
Mathematics
very helpful
Charles

-
Mathematics
Very good explanation
Zhannat

-
Mathematics
Very helpful :)
Varvara

-
Pure Mathematics
The lesson went well, I will continue having online lessons.
Zhannat

-
Mathematics
Very good as always
Kai

-
Mathematics
Very Good
Kai

-
Mathematics
Good
Kuba

-
Mathematics
Very good explanations towards questions I couldn't understand
Nitish

-
Mathematics
helpful and great as always
Kiran

-
Mathematics
Testimonials
Yi takes a very precise and methodical approach to tutoring and offers plenty of opportunities for the student to form their own analyses. Yi started the lesson by presenting key terms to determine the familiarity of the student and how to further pitch the lesson. I liked how he clarified each of the definitions through concise examples done with the student, rather than giving prolonged explanations. In his learning checks, Yi asked not only for the answer but also an explanation from the student as to how they came to certain conclusions. Yi really challenges their understanding and has them think in a step-by-step way. I felt that the pace of the learning was steady and progressive - Yi incorporated more abstract mathematical proofs as the level of the student became more apparent. Yi's clear and broken-down explanations demonstrate his great subject knowledge and ability as a tutor.