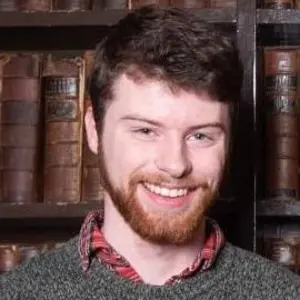 Online Ancient History Tutor Ross
Ross 5.0

104 classes
Oxford University - Ancient and Modern History - BA
I am a recent graduate from Oxford having completed my BA in Ancient and Modern History in 2019. I have also just completed an MPhil in Renaissance Literature at the University of Cambridge. I am passionate about a wide range of humanities subjects and pride myself on promoting interdisciplinary understanding, especially between History, Philosophy, Literature and Politics. As a teacher I have had extensive teaching experience both in the UK and abroad (Hong Kong, Beijing, Kenya) and have a lot of experience teaching international students for whom English is not their first language. I have tutored on both an individual level and taught larger classes in schools, and have taught a wide range of age groups from 11 year olds just starting in secondary school up to undergraduate students of around 20.
Recent Students:

0

Total Hours:

101

Last Online:

14 Apr 2023

All-time Students:

9

Total Classes:

104

Signed Up:

22 Aug 2019
About Me
I have just finished studying for an MPhil in Renaissance Literature at Christ's College, Cambridge, after completing my BA in Ancient and Modern History at Lincoln College, Oxford. I am now studying for an English Taught Master's (EMA) in Chinese History and Culture at Fudan University, Shanghai. I am interested in a wide range of humanities subjects, having taken courses in literature, political theory and philosophy during my undergraduate history degree, which itself was a joint-school between classics and history. I aim in future to continue pursuing research in my areas of interest whilst also exploring teaching as a career path. In my spare time, I love drama and am frequently involved in various theatrical projects in either a directing or acting capacity. I am also a huge football fan, playing regularly for Lincoln College's football team during my time there as an undergraduate.
Tutor Experience
I have been teaching and tutoring for five years now and have acquired a wide range of teaching experiences and skills. I began when I was still at school by tutoring a GCSE history student whilst I was doing my A-Levels. I also volunteered at an after-school homework club. I would tutor the children on an individual basis, helping them with their homework and keeping track of their progress. I also began to take up classroom teaching jobs, going to Kenya in partnership with the charity Hand-in-Hand to teach english, history and politics to 14-17 year old students at Mogonjet School.

At university I continued to pursue teaching opportunities teaching at the Keio Summer School for Japanese university students each summer of my undergraduate degree, in which I taught history, debating and drama. I have also continued to pursue teaching opportunities abroad, completing the six week i-Learner internship in Hong Kong in the summer of 2018, in which I taught 12 to 18 year old's a wide range of topics. In the summer of 2019 I did the Educamp internship in Beijing. I taught at three ten-day camps at Camford Royal School, teaching history, creative writing and sports.

I have also continued as an individual tutor. During the spring of 2019 I worked for CamExpress, an online tutoring company based in Shanghai. I taught online lessons and created online lectures for 16-18 year-old students who were considering applying to Oxbridge for university, as well as giving advice about the Oxford application process. In 2020, I created an online course for CamExpress composed of recorded lectures and one-on-one lessons on a variety of historical topics, intended to give students an introduction to studying history at university.
Topic Expertise
My subject expertise is wide-ranging across a diverse field of humanities subjects. My BA and MPhil are in Ancient and Modern History and English Literature respectively, but I also have an in depth understanding of Politics and Philosophy as well. At A-level I took Ancient History, English Literature, History, Philosophy and Politics, obtaining an A* grade (or Pre-U equivalent) in each subject and I am familiar with the exam structuring for all these exams across both A-level and GCSE over multiple exam boards.
Client Reviews
Fantastic lesson! Clear and focused.
Helen

-
Ancient History
Fantastic! Clear and motivating.
Helen

-
Ancient History
Very helpful and informative. Provided lots of tips and edits for improvement.
Matt

-
Ancient History
Very Helpful, I feel a lot more confident!
Lydia

-
Ancient History
Testimonials
I came across Ross' profile when looking for an ancient history tutor that would help me prepare for my A Level exam. Throughout the entire course Ross went over the exam specifications with me so I could keep in mind what would give me the best marks in the exam. Thanks to this focus on exam technique I knew from lesson number one what I would need to focus on in the upcoming months and each lesson felt structured. This approach also involved me doing a lot of practice questions and quick essay planning, which made me feel prepared for the exam. It was evident Ross had a sense of responsibility for my learning as he never hesitated to provide me with additional resources like video lectures or candidate answers I could use as templates. His knowledge of the subject and cultural context of the events we studied ensured no topic we covered was unclear or without detail. Overall, I am very satisfied with the course and the excellent grade I got thanks to our lessons. - Ida, Ancient History A Level Student (Final Grade: A*)
Price: $52/hr
No Upfront Payments
Passed Our Interview
Only Tutors Online
Background Checks
Verified
Qualifications
Christ's College, Cambridge

MPhil in Renaissance Literature, 2019-2020: Distinction

Lincoln College, Oxford

BA in Ancient and Modern History, 2016-2019: 1st Class

King Edward VI Grammar School, Chelmsford

A levels: Ancient History (A*), Government and Politics (A*), History (A*), Philosophy (A*)
Cambridge Pre-U: English Literature (Distinction 2- A* at A level equivalent)

GCSEs: 6 A*s, 6 As, 1 B, including English Language (A*), English Literature (A*), History (A*) and Maths (A)
Availability
| | Weekdays | Weekends |
| --- | --- | --- |
| Morning | | |
| Afternoon | | |
| Evening | | |