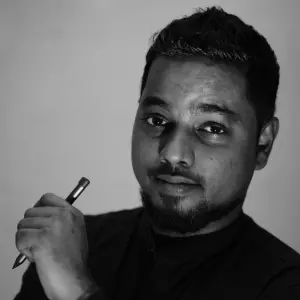 Online Association of Chartered Certified Accountants (ACCA) Tutor
Aravind 5.0
Association of Chartered Certified Accountants (ACCA) - ACCA - ACCA
Full time faculty (currently) with more than 500 hours of online teaching experience, more than 9 years of varied tutoring experience, more than 3 years of working the corporates and about 2 years of being a runaway entrepreneur. ACCA is a piece of cake. Come, let us enjoy some cake!
Recent Students:

0

Total Hours:

0

Last Online:

02 Jan 2022

All-time Students:

0

Total Classes:

0

Signed Up:

05 Jul 2021
About Me
Most students underperform or outright fail because of a lack of understanding fundamental and core topics. Or in simple words, you can't build a house without its foundation. You can't build a foundation without knowing how to mix cement. Most students try to build a house without even knowing what cement is.

Hi, I'm Bob the builder and I'll help you build your house. Just kidding, my name is Aravind Suryadev. I've been teaching various subjects of ACCA and CIMA since 2012. I qualified ACCA back in 2013, in a span of 3 years, topping a few papers in the process. Went on to do CIMA, and I currently hold a CIMA Advanced Diploma in Management Accounting. Also, a Bachelor of Commerce specialized in Taxation.

Most of my 9-year teaching career, involved and still involves teaching in various premier institutions across South India. I've been teaching online for the past 3 years. My style of teaching is amply relaxed but almost absurdly straight to the point. Though, in practice, I model my teaching style around each student's capacity. Quite possibly why I've a 100% pass rate with my one-on-one students. I'm a subject expert with performance and financial management, and I will wrestle any teacher any day to prove that point.

To conclude, I love teaching and as I look forward to completing a decade of doing what I love, come join me on a path of learning. Let's get that bread.
Tutor Experience
Total teaching experience of 9 years. (as on Jan 2021)
Total online teaching experience of ~4 years. (from mid-2017)

January 2012 - December 2015:
Visiting faculty for ISDC to handle combined ACCA/CIMA programme classes. Taught at several premier institutions (like St. Joseph - Bangalore) for college students doing ACCA along with college curriculum. Also, took up weekend classes for working professionals seeking ACCA/CIMA certifications.

January 2016 - Jan 2020
Experimented different teaching styles through one on one tuitions, group revision workshops et cetera. From mid-2017, started online classes for ACCA students. Mostly one on one classes through ad listings and social groups.

Feb 2020 - present
Completely online classes for colleges and international students. Working with ISDC as permanent faculty for ACCA programmes conducted with various premier institutions like UWS and Jain (JGI)college.
Topic Expertise
Every paper in ACCA, except AAA & ATX.

Every paper in CIMA., except case studies.

Particularly sharp with financial accounting, management accounting, financial reporting(IFRS), advanced performance management and advanced financial management.