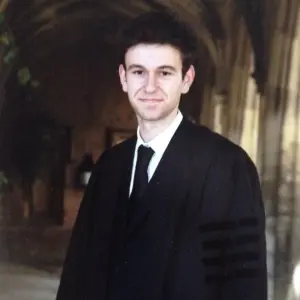 Online Tutor Daniel
Daniel 5.0

42 classes
University of Cambridge and University of Oxford - Modern and Medieval Languages - MSt in Modern Languages - University of Oxford
Experienced Languages and Oxbridge Admissions Tutor
Recent Students:

4

Total Hours:

35

Last Online:

02 Jun 2023

All-time Students:

4

Total Classes:

42

Signed Up:

22 Apr 2020
About Me
I am fascinated by every aspect of languages. In addition to attaining an advanced level in French and Spanish, I have also learnt Italian to intermediate level. I like playing sport, especially tennis, and I really enjoy travelling and seeing the natural world. I also enjoy writing and music.
Tutor Experience
I have been tutoring for over two years for a number of different organisations. I have taught over 1000 hours of private 1-1 lessons, receiving over 70 five-star reviews. I have taught students of various ages and abilities. I have taught KS3 (French and Spanish), GCSE (French and Spanish), Edexcel iGCSE (French and Spanish) Cambridge iGCSE (French and Spanish), A level (French and Spanish), University level (French). I have helped to prepare students for scholarship exams at Winchester College and Eton College. I have also taught French to a student, who was preparing to start his studies at Harrow School. I have helped a student at The London School of Economics prepare for a French oral exam and I have helped a student reading Comparative Literature at University College London. I have helped a number of students prepare for MML interviews at Oxford (French) and Cambridge (French and Spanish). I have taught adults also, including a Cambridge architecture graduate who was looking to improve his French for a project in Switzerland and a Cambridge law graduate, who was preparing for an internship in Brussels. I have taught French to adults for professional purposes also, such as teaching French to a student working in the field of international renewable energy. I have mostly taught 1:1 lessons but I have also taught some groups.

I teach in a very thorough and friendly way. I constantly seek to evaluate the progress of the student and tailor my lessons so that they are successfully adapted to the particular needs of each individual student. I seek to create a relaxed atmosphere so that the student feels comfortable to ask questions and to engage in interactive lessons.
Topic Expertise
I am confident covering all topics and exam boards. I focus on the language side so I do not generally teach literature. However, I can give general guidance pertaining to literary study because I have studied literature to a very advanced level. My master's degree at Oxford was focused solely on engaging with complex literary texts. I am able to prepare prospective applicants for the Modern Languages courses at Cambridge and Oxford. I have experience with private school admissions also and 13+ exams.