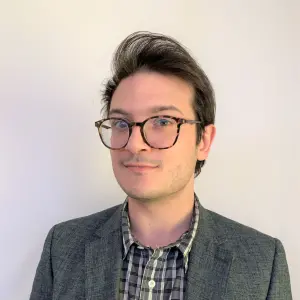 Online Tutor
Francis 4.9

141 classes
University of Birmingham - Philosophy of Mind and Cognitive Science - M.A. (Merit)
Hi, I'm a 26 year old Wulfrunian with over 1000 hours teaching experience in English Literature & Language Studies, CLIL-style ESOL lessons, as well as over 6 years of private academic tutoring experience in Philosophy, Drama, Music, and Essay-writing. Currently a PhD student at the University of Birmingham in the Philosophy of Inquiry.


Recent Students:

3

Total Hours:

154

Last Online:

26 Oct 2021

All-time Students:

35

Total Classes:

141

Signed Up:

24 Jun 2019
About Me
PhD student at the University of Birmingham, and Wulfrinuian without the Yammish accent - I'm a humanties and liberal arts student with a passion for sharing the wonder of my subjects (namely Philosophy, English, Music and Drama) with any and all.

As for myself, I enjoy to read Sci-Fi, play guitar and piano, write contributions and manage my own online philosophy-education project: thephilosophersisland.com.


Tutor Experience
Over 1000 hours teaching experience in the UK and Austria in English, EFL, Philosophy, Drama, and Music in academic environments.

TESOL Senior Teacher (CEFR A0 - C2, ages 10 - 45) with ABCi/ETTC in Vorchdorf, Austria (April '17 - Mar '18)
Private English Tutor (Lower Secondary - GCSE English Literature & Language) with Helping Hands Tuition in Wolverhampton, UK (Jan '15 - Dec '16, Jan '19 - Present)
Private LAMDA Public Speaking and Solo Acting Tutor (Mar '19 - Present)
Private Drama Tutor (LAMDA Level 3 Grade 8 Solo Acting and Public Speaking) with Stagecoach (Apr' 11 - Jun '11)
Private Academic Tutor (Aug '18 - Present)

Topic Expertise
I started academic tutoring over 6 years ago now with a public tuition centre in English GCSE and A-Level, expanding into tutoring philosophy privately after I earned my MA in Philosophy of Mind and Cognitive Science in 2016.

Shortly after my MA, I went to Austria to teach English and earn my Cert-TESOL. It was then that I had to learn formal teaching techniques, lesson structuring methods, and develop my teaching skills further. After gaining my Cert-TESOL, I liked Austria so much that I decided to take a role as Senior Teacher for a year before returning to the UK in preparation for my PhD.

My academic expertise lies within the field of English Language and Literature (particularly the fields of linguistics, sociolinguistics, creative writing and thematic literary analysis) and Philosophy (esp. epistemology, logic studies, semantics, philosophy of mind and erotetics).
Client Reviews
Really Appreciate all the feedback
Nikita

-
Philosophy
A really insightful session. Francis helped me a lot with all my questions.
Olga

-
Linguistics
Francis was really good at explaining things and went the extra mile to ensure that I understood! Very happy with the work we managed to do :)
Nikita

-
Philosophy
amazing
George

-
Philosophy
as always!
Natasha

-
Linguistics
It was a very interesting lesson and I appreciated the new angles on the book that I had never considered.
Maimuna

-
English Literature
Really helped me in knowing where to start with my assignment, as well as the structure of the assignment. Francis also helped finding sources and tried his best to explain things that I was unsure about.
Emily

-
Philosophy
I really enjoy my Philosophy classes with Francis. He is able to explain the complex concepts of the philosophers by comparing them to daily life situations.
Deborah

-
Philosophy
I've only had two sessions with Fran and already have a better command of the subject. After the lesson, I am able to reflect and use what we discussed.
Natasha

-
Linguistics
Very helpful!
Julia

-
Philosophy