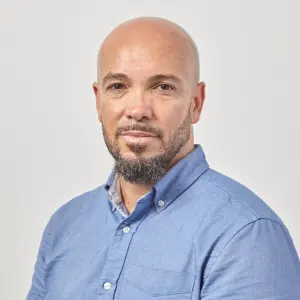 Online Spanish Tutor
David 5.0

127 classes
University of Seville - English language and literature - Bachelors
¡Hola! Ready to boost your Spanish skills?
I have been a tutor for almost twenty years. I am fluent in English and in Spanish. I enjoy teaching my students skills on how to use their own strengths to maximise their potential. Depending on the session, I may use past papers, examination techniques, workbooks, conversational skills, and fun games. I tend to vary the activities in order to keep my students` attention at all times.
Recent Students:

2

Total Hours:

128

Last Online:

04 Dec 2021

All-time Students:

18

Total Classes:

127

Signed Up:

18 Apr 2018
About Me
I am outgoing, charismatic, diligent, and determined. I have a positive attitude even when students are having difficulties on certain topics my optimistic approach makes my students feel comfortable with me. I love sports, music and cinema.
Tutor Experience
I am currently teaching English and Spanish in different companies, language schools and the most renowned tuition agencies in London on a freelance basis and occasionally working as cover supervisor in some schools. I am familiar and experienced with all ages and GCSE and A-Level boards (Edexcel, OCR, AQA, iGGSE Cambridge, IB) and exams (DELE...)

I am flexible with my time. I understand how it feels to learn a language that is completely different from the one you are used to, so I can definitely empathise with your situation and create a learning environment that will hopefully make you feel more at ease.
I encourage students to solve their own problems by guiding them with leading questions as this reaffirms their understanding of the subject matter. This method allows them to apply the same knowledge to different questions as they answer a question using their own words rather than mine.
Testimonials
Before I had lessons with David, my quality of Spanish was very mediocre, however, after many lessons with him, I was able to improve my Spanish to levels I would never have thought of. Both my grammar and vocabulary have improved greatly and because of this, I am achieving higher grades in my Spanish class. If my Spanish ever deteriorates again I know that I should return to his classes since he is able to teach Spanish in ways that I can understand and have fun at the same time. F. Gratil