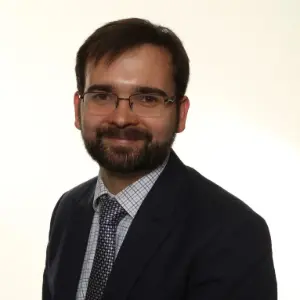 Online Tutor Peter
Peter 5.0

716 classes
Imperial College London - M.Eng Computer Science (Software Engineering) - M. Eng Computer Science; MA in Education
Professionally qualified UK teacher with 15 years' experience supporting student in Computer Science up to post-graduate degree level. Expertise covers wide range of programming languages including R, Haskell, Java, Python, C++, C, SQL & Database systems; theory of algorithms and operating systems.
Recent Students:

26

Total Hours:

960

Last Online:

30 Mar 2023

All-time Students:

79

Total Classes:

739

Signed Up:

25 Jul 2019
About Me
My interest in Computer Science spans a very wide range of topics. The problem solving & logical aspects of all Computer Science topics is of great intrigue to me. I teach Computer Science at a school in London and have several students that I tutor regularly.
Tutor Experience
I have 15 years' experience in teaching and tutoring in Computer Science, from age 9 all the way through to Master's degree. Within Computer Science I have been able to support not only with developing a range of programming skills but also the theory of computer science.
Topic Expertise
Programming - Python, Java, Javascript, CSS, HTML, functional programming + other languages
Theory - Operating systems, computational theory (inc. Turing Machines + FSA), Databases, Networking
Client Reviews
Peter is an excellent tutor and we have no hesitation in recommending him. Our daughter has made great progress under his wing – not just knowledge and understanding, but also confidence. Thank you.
Charlie May

-
Computer Science
Excellent class, tackling areas which were difficult for me, in a clear and patient way. Another great class.
Sean

-
Programming
Consistently excellent lessons. We have been very fortunate to find Peter.
Charlie May

-
Computer Science
Excellent as always!
Lisa

-
Computer Science
Very helpful
Sean

-
Programming
Excellent, punctual, organised, versatile, and actually makes hard concepts make sense.
Tiffany

-
Coding
Very good at teaching.
Tiffany

-
Coding
Extremely patient and kind . Dr.peter boosted my confidence in a module which is considered to be one of the hardest module in my major . 10/10 would highly recommend.
Nawaf

-
Coding
Covered everything needed in the session
UGO

-
Computer Science
Very informing and useful class.
UGO

-
Computer Science
Testimonials
Today was my last lesson Peter. Such a brilliant teacher, I couldn't wish for more professional and ethical tutor. Always punctual, would never overcharge and was always understanding towards my hectic schedule. We had a consultation back in July for my voluminous exam project on C++. I was quite desperate but Peter honestly said that we are going to be on time and had no problem to re-assure me and motivate to finish it. 2 hours a week of productive lessons and I just have to write a report to finish a project. Any questions are clarified and Peter would always check up on me if I'm on board with the material given. Would always contact Peter with upcoming projects and would recommend to take a couple of lessons! (Alessia Sept 2022)
Peter was extremely supportive and a great tutor, he was able to work alongside my difficult timetable; including several 9 am Sunday lessons. His scheduling was sublime with a thorough layout to cover all the topics I found hard. Furthermore Peter gave me several exam like booklets that allowed me to get to grips to what type of exam I should be facing; then we worked on the errors and inconsistencies in my current knowledge which allowed me to get a really great grade at the end of year 12. Hence, allowing me to pursue the subject at university. - Henry (June 2019) It was great working with you and your assistance to help me get through the exams. I am very happy with my exam results - Armand (July 2019)