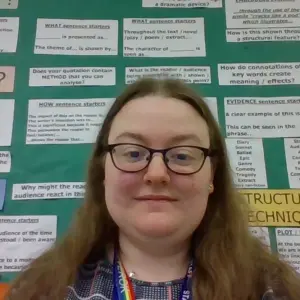 Online English Tutor Katie
Katie 5.0

123 classes
Keele University - English and Creative Writing - Wolverhampton University PGCE
Experienced secondary school English teacher with a love for creative writing. Getting students wholeheartedly engaged with all aspects of reading and writing is my passion!
Recent Students:

6

Total Hours:

118

Last Online:

27 May 2023

All-time Students:

11

Total Classes:

123

Signed Up:

08 Apr 2022
About Me
My name is Kate, I am an English tutor that loves all things reading and writing. I have experience in the English classroom and am comfortable teaching most English topics. So whatever you are currently learning in school we can develop further if that is what you wish to do, or we can look at texts that are more suited to what you like!

I also love to tutor passionate young poets and novelists and have hosted creative writing clubs and workshops in the past!

I also love talking about history and science - horrible histories are an absolute favorite of mine (yes, these are great even for older readers!!)

In my spare time, I love playing video games and doing DIY crafts!
Tutor Experience
I have a wide range of both KS3 and KS4 curriculum knowledge including:
- AQA literature and language exam writing
- Essay writing
- Reading tutoring (reading for pleasure and confidence, as well as curriculum support)
- Low ability English coaching

My style of teaching can be fully tailored to suit the needs of the student - I always aim for sessions to be very personalised and targeted to support students in the areas they are struggling on. I can do this either by building personal lessons to support your child in their school curriculum work or build a separate curriculum to encourage a love for English by engaging the students on topics they will enjoy. For example, if your child has a particular love for an author or topic I can work with them to build writing skills into lessons that are similar to their passion.

While I am a trained secondary English teacher, I am also confident in teaching younger students, especially reading and writing skills. I would be able to build a scheme of work for your child around reading a particular novel or author that suits them.

I am also able to cover any KS3 or Primary maths, science, history and geography and believe in a multi-topic approach to learning. For example: being able to read and understand written maths questions, reading a historical article or a geographical case study. All of these are linked through a detailed understanding of reading; so we can develop your child love of reading through subjects that they really enjoy!

If you have any questions about the kind of things you would like your child to cover, please to do not hesitate to drop me a message and I would be more than happy to arrange a meeting with yourself to discuss options and ideas.
Topic Expertise
I am most experienced with AQA English Langauge and Literature - however, I would feel comfortable researching the necessary criterium for other English examination boards.

I am confident in teaching a wide range of KS3 topics - I am happy to cover any text that your child is covering at school or build a personalised curriculum based on their personal targets and areas for development.
Client Reviews
Katie was very helpful.
Bim

-
English
Katie is preparing my two children for GCSE. She is an amazing tutor who initially formed an excellent rapport with the kids, assessed their level of knowledge and began building their confidence, critical analysis, essay writing and relevant topics for their development and GCSE. The kids love her style of teaching and my son's English teacher at school is impressed with his performance.
Meshach

-
English Language
Very helpful!!
mira

-
Essay
Amazing
mira

-
Essay
Thanks to Katie, I feel ready to sit my first English GCSE exam!
Elena

-
English Language
So nice to learn from Katie. It all sounds so clear and easy to absorb and process!
Elena

-
English Language
Testimonials
Thank you Katie! We feel so lucky to have found you via Spire. I would like to share my thoughts with other parents. When we first made contact with Katie 3 weeks ago, my son , 16 years old and sitting GCSE, had been warned it was very unlikely he would pass his exams as his English grade was below 3. He had never been good at English and hat totally lost confidence in himself. My son's English mocks were a series of white pages. From the very first lesson my young boy clicked with Katie and from there on it has been a success story. Two days ago, he finished his 4th and last English paper. He has completed all papers and felt satisfied to have done well enough to be promoted. Teaching is a skill and a passion and Katie is super passionate about teaching. Katie has been able to pass all her enthusiasm down to our young boy. We are so grateful to you. Thank you again Katie!