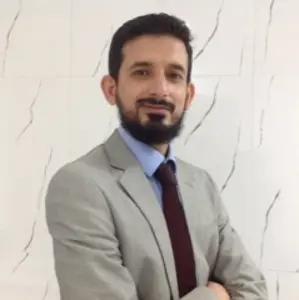 Online Mathematics Tutor Adnan
Adnan 5.0
Institute of Education UCL , University of Strathclyde , Glasgow Caledonian University - Senior School Leadership, PGDE Secondary Mathematics, MSc Actuarial Science - MSc Actuarial Science
I have been a fully qualified Maths teacher (with QTS) with over 15 years of experience with an extensive subject knowledge and a passion for Mathematics. I am also a part qualified actuary and qualified senior secondary school leader (NPQSL), UK. I have worked as a mathematics teacher, senior school leader, and Instructional Designer at school, college and university level in England, Scotland, Saudi Arabia and United Arab Emirates.


Recent Students:

0

Total Hours:

0

Last Online:

16 May 2022

All-time Students:

0

Total Classes:

0

Signed Up:

13 Sep 2021
About Me
I have a strong passion for teaching and helping students to succeed. I am fortunate that my passions align with my profession. I have strong footing in Mathematics. I can create a teaching environment that is unique in character and designed to meet the needs of a specific location. I consider myself to be at the forefront of contemporary educational practice and am someone who can easily engage with students, teachers, parents and community leaders alike in a manner that is open and inclusive. I am currently working as an Education Advisor for Edtech companies.
I enjoy learning new things, Volunteering & fundraising, sports, foreign languages, and web design.

Tutor Experience
I hold MSc Actuarial Science, PGDE Secondary Maths, and BSc Maths & Physics. I hold fully qualified Mathematics teacher (with QTS) and qualified senior school leader (NPQSL) status, UK. I am also a Part Qualified Actuary with Institute and Faculty of Actuaries, UK. In my most recent post, I had worked as a Mathematics Assistant Professor and Instructional Design Specialist for University of New Haven, USA. I am an outstanding Mathematics/Statistics/Economics teacher at (Key Stages 3 -5), Scottish Curriculum for Excellence Secondary Mathematics, USA Middle & High school Maths, Advance Placement Exams, vocational qualifications such as AS-Levels & NVQs, and University level to act as a role model for students. I have over 15 years' experience teaching at the secondary, vocational & training institute and university level in British and an American-style education. I have very good experience of using Excel, Google Data Studio, Gephi and statistical packages SPSS, Minitab and STATISTICA.
I draw on a range of representations and tools to support my students' mathematical development. I support my students in creating connections between different ways of solving problems, between mathematical representations and topics, and between mathematics and everyday experiences. I am expert at assessment and the tracking of student progress with appropriate support and intervention based upon a detailed knowledge of individual students

Topic Expertise
Secondary Mathematics (KS3)
GCSE / IGCSE Mathematics

A Level Further Mathematics , Mathematics , Pure Mathematics , Statistics

Scottish Curriculum for Excellence Mathematics National 4, National 5, Higher (new), Advance Higher (new)
United States Middle and High School Core Curriculum Mathematics, Statistics

Advanced Placement (AP) Courses Calculus AB, Calculus BC, Macroeconomics, Microeconomics, Statistics

IB Mathematical Studies , Mathematics , Mathematics: Analysis and Approaches , Mathematics: Applications and Interpretations

University Mathematics , Probability and Statistics, Economics, Actuarial Science Subjects, Financial Mathematics, Statistical Methods, Education, Teacher and Training, Education Leadership and Management