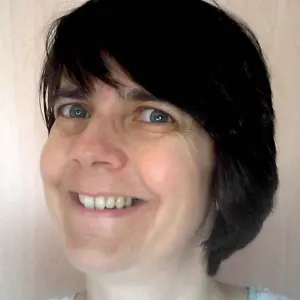 Online Mathematics Tutor Lindsay
Lindsay 5.0

537 classes
University of Cambridge - Mathematics - MA
I am a professional, specialist maths tutor with over 30 years of experience in tutoring all ages up to A-level.
Recent Students:

4

Total Hours:

518

Last Online:

07 Jun 2023

All-time Students:

30

Total Classes:

537

Signed Up:

05 Dec 2016
About Me
For A level students I work through past exam questions to help improve understanding. People tell me what topics they feel they need help with and we work on those. While we are doing this I will identify any other issues that need to be worked on. I am happy to assist with particular questions you may be having problems with if they are sent to me with plenty of notice.

I use powerpoints so that you can see the questions on your screen and a graphics tablet so that you can see my working out as we work through a question. I also have access to the relevant Edexcel textbooks so I can explain examples and questions that you need help with.





Tutor Experience
I am a very experienced online maths tutor who has worked with many A level and GCSE students to improve their grades. Recently I have supported many students online throughout lockdown and helped to minimise the disruption to their education. As we work through the next year I can provide the extra boost you need to understand and learn maths by identifying gaps in your knowledge and working to fill them in.

I teach A-level maths and further maths, GCSE and AQA further maths GCSE, iGCSE, OCR FSMQ, the QTS Numeracy test and the TMUA. For further maths A level I can assist with Edexcel CP1, CP2, FM1, FM2 and FP1. I am particularly experienced with both mechanics modules.

I have been a professional tutor for over 30 years and have taught online for 12 years. I have helped to improve the results and confidence of many different types of students. Often I have been asked to tutor younger siblings and get new students via recommendations.




Topic Expertise
GCSE Maths & Preparation for A level maths courses

A level Maths and Further Maths, Mechanics

Edexcel further maths modules core pure 1 and 2, further mechanics 1 and 2, further pure 1

AQA further maths GCSE

Client Reviews
Very helpful, thank you!
wenjing amber

-
Mathematics
Lindsay is really patient and goes at the pace that is right for me. She explains things very well and it is obvious that she really enjoys maths. She has been great at working with me on difficult questions and has sent answers during the week in between our regular sessions which has been reassuring - especially when i have been getting worried and frustrated with questions that are poorly worded or when the answers in the book were incorrect! I would highly recommend her.
Nicki

-
Further Mathematics
I really enjoyed today class, the teacher is very chill and supportive! I'm glad I got a chance to meet her
Salama

-
Mathematics
I really liked how the teacher was understanding that I take time until I grasp the knowledge and I think I'm way more comfortable with this chapter than ever
Salama

-
Mathematics
Really nice teacher. :)
Salim

-
Mathematics
She was very helpful . I have totally understand the whole topic
Munib

-
Mathematics
Testimonials
AD says Thanks for all your efforts in tutoring both E****** and A****. You gave El****** the confidence she lacked in Maths, and this enabled her to achieve a fantastic A grade in her A level. You have also helped A**** to stretch himself in both his Maths and Further Maths A levels and no doubt will continue to do so in his final year to his exams next summer - and in STEP/MAT exams, if he decides to apply for Maths at University.
SB says Helped me massively! I've had tutoring from Linzi throughout my whole 2 year GCSE course, and she has helped me achieve the highest grades in the subject. Her teaching is simple but effective and both me and my brother used Linzi for our GCSE's. My confidence has increased massively and I feel a lot more at ease with maths, and have even started to enjoy it - something which I would never have imagined when I was younger! I hope to carry on with Linzi for A level maths as my brother found her equally as helpful throughout Sixth Form. I highly recommend Linzi to anyone who needs to improve their confidence and/or overall understanding of maths. She's an excellent tutor! TB says Lindsay has tutored me through GCSE and A-Level Maths, where I subsequently achieved an A* at both levels. Her deep knowledge of the subject, vast library of past paper questions and methodological approach helped me attain such grades. I therefore highly recommend Linzi and her quality of teaching. JW says Linzi was very approachable and managed to help our daughter who was having some last minute troubles before GCSE mocks. This enabled her to go into the exams confident with what she knew and able to achieve her full potential. We found Linzi very helpful and our daughter took to her right away and found her able to explain things simply and get her back on track. MF says 'You may not realise this but your help has enabled A*** to cope far more easily with ALL her subjects. Her self-confidence has improved and this has improved everything else at school.' DS says 'Thank you for the immense amount of work you have put in over the last couple of years, it will surely pay dividends. We much appreciate it.' CC says 'Thank you for all your help and patience with E***. The change is amazing. ST says Thank you ever so much for all the extra maths help. I really have a better understanding for maths now. I feel confident going into this maths exam, you have helped so much.