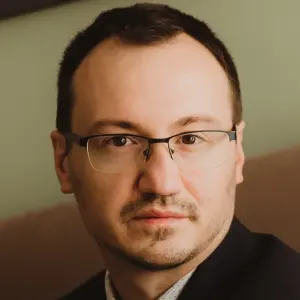 Online Mathematics Tutor Paul
Paul 5.0

139 classes
University of Warsaw - Mathematics (MA) - Mathematics
♣ Highly experienced (18 years) HighSchool teacher
♣ A successful in-home/online tutor.
♣ ♣ Teaching Mathematics is my passion I would like to share with my students.
♣ ♣ I make every topic easy to understand.
Recent Students:

1

Total Hours:

173

Last Online:

08 Jun 2023

All-time Students:

14

Total Classes:

139

Signed Up:

23 Nov 2021
About Me
♣ Coming from a family of science teachers (Maths, Physics and Biology), it was my dream to become a Maths teacher.

♣ I started teaching at a very young age. In primary school, I would stay after school to explain difficult (from a child's perspective, of course :)) concepts to my classmates. When I was 14, I created a science club at my school where I would help my friends (struggling with Maths) prepare for tests and exams (they all passed).

♣ I discovered quite early in life I wanted to help others perceive mathematics not as a problem but as a solutions to other problems, and to show my students how easy maths can be when properly explained.

♣ That is why I became a teacher.

♣ While not teaching, I love spending time with my family: my lovely wife and my two beautiful sons.

♣ I also love learning new languages, history and engineering. My goal is to become the world's best teacher (fingers crossed :)
Tutor Experience
I've been a highschool teacher since 2015, and a qualified tutor for over 18 years.

I have conducted 16 000 tuition hours and successfully prepared over 1 000 students for their exams.

I specialise in preparing students for A-Levels, IB, GCSE exams and numerous competitions.

Having two kids of my own, I'm great with young children and teenagers (they love my sense of humour :)

I am very CONSISTENT: I've never called off a lesson and I've never lost a student.

I use past papers, mock exams, numerous workbooks plus my own materials tailored to my students' individual needs,

My engaging explanations render any mathematical problem easy to understand.
Topic Expertise
A Levels, IB, GCSE, iGCSE, GRE, GMAT, Olympiads, Math Kangaroo, Matura, and more.
Client Reviews
very good teacher, listens, and does his best to raise the level of the student
Halimi

-
Mathematics
very attentive to the student and his needs. very present
Halimi

-
Mathematics
Such an amazing tutor! I struggle a lot with maths, but despite this, I find all my sessions with Paul to be very enjoyable! He is great at simplifying advanced concepts, so that they can be more easily understood and provides great resources! Additionally, he is very reliable and generous with his time!
jacqueline

-
Mathematics
Girls were happy and seemed to have enjoyed the class 😊👍🏼
Antonia

-
Mathematics
makes maths fun and easy especially before exams :)
Zaman

-
Mathematics
so helpful before my exam!
Zaman

-
Mathematics
Easy to understand and simplifies hard concepts!
jacqueline

-
Mathematics
I wasn't present during the class my daughters took (30 min each) but from what I gathered, it helped them understand the topics discussed and it sounded like they were properly engaged.
Antonia

-
Mathematics
Testimonials
Makes maths fun and easy especially before exams :) -- Zaman
Such an amazing tutor! I struggle a lot with maths, but despite this, I find all my sessions with Paul to be very enjoyable! He is great at simplifying advanced concepts, so that they can be more easily understood and provides great resources! Additionally, he is very reliable and generous with his time! -- Isabella
Paul is a great teacher, he actually listens to the problem you have and tailor the tutoring sessions to your needs. He even does all the exercices by himself before the session in order to have the most efficient tutoring lesson possible (you can directly skip to the part you struggle with). Paul is a great fit for everyone, his mastery of mathematics enables him to explain concepts from different angles until you understand them. -- Martin