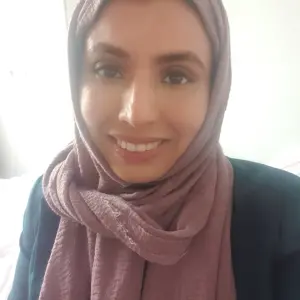 Online Sociology Tutor Hafsah
Hafsah 5.0

45 classes
UCLAN - PGCE (Cardiff), Sociology (BA Hons), Religion, Culture & Society (MA) - Associate Lecturer
Teaching is not just a profession for me, but a passion. Sociology is my area of expertise. I break down complex concepts and teach in a manner that is relatable and easy to comprehend.

Due to my fervour for teaching, and desire to see students succeed, I go the extra mile providing resources, time and energy all at an affordable price!
Recent Students:

0

Total Hours:

46

Last Online:

07 Oct 2022

All-time Students:

16

Total Classes:

45

Signed Up:

14 Nov 2018
About Me
My teaching journey began after I completed by BA in Sociology, where I was constantly recommended by family and peers to go into the area, due to my evident knowledge and passion.

I love keeping up to date with current affairs so I can make sure the knowledge I provide within my lessons reflects this.

I am also a creative person who loves to cook, write poetry and constantly learn and engage in critical thinking.

Tutor Experience
I am an associate lecturer in the University of Central Lancashire lecturing Religion Culture and Society.

With over 10 years experience with Sociology and teaching it in schools, sixth forms and colleges, you can ensure full confidence in gaining a comprehensive understanding of the subject with me. I have taught both GCSE and A level and possess experience and material for various exam boards e.g. WJEC, Edexcel, Equdas, AQA and OCR. Lecturing Sociology to mature students doing an access course and now lecturing BA students at the University continues to display my dynamic range of teaching expertise.

Rest assured, topics such as Families, Education, Research Methods, Culture as well as Crime and Deviance, Beliefs, Health etc can all be taught with confidence, using ample resources and materials.

I use a varied range of memorable teaching methods to ensure I tailor to students' varied needs.
Topic Expertise
I have many years experience both studying and teaching Sociology and Religion. These topics are not merely subjects for me, but have become hobbies to think sociologically, through the analysis of society in a critical manner.
Client Reviews
Great!
Aisha

-
Sociology
Great session!,
Aisha

-
Sociology
very knowledgeable, helped us with the structure.
Charlotte

-
Sociology
Great and highly informative lesson! I really enjoy my sessions.
Innes

-
Sociology
Really helpful and informative lesson.
Innes

-
Sociology
Hafsah was really helpful. She provided a very detailed and structural guide on how to go about answering my examination questions.
shen

-
Sociology
Another great session with Hafsah, would definitely recommend, she is very knowledgeable and has really helped me prepare for my upcoming assessments!
Isabella

-
Sociology
Overall a good session
Afsana

-
Sociology
Today was my first session with Hafsah and my first time using Spires. The session was really informative and has made me feel more secure with my understanding of how to tackle the exam questions and has given me some confidence for my upcoming assessment. Would definitely recommend!
Isabella

-
Sociology
Great session
Afsana

-
Sociology
Testimonials
I thought your teaching was excellent – you have always encouraged me to do my best and adapted your way of teaching to suit my needs. Every lesson was different and I always looked forward to them. You gave very interesting and engaging lessons and provided me with lots of resources that were beneficial for individual study at home. You were also very supportive and helped me become more confident in the subject. Megan
I learn so much from Hafsah from the way she articulates material and it is clear and easy to understand. Her delivery is interesting and passionate not robotic and complicated. I really enjoy her ways teaching and making sociology interesting - sabeela
Hafsah is an extremely passionate teacher who has a broad and in-depth subject knowledge which she conveys in an approachable and animated manner. Anita