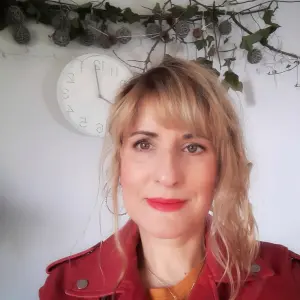 Online Spanish Tutor Silvia
Silvia 5.0

140 classes
UNIVERSITY OF MANCHESTER - Academic Writing Coach for the Humanities, the Social Sciences, and the Arts. Spanish L2 Cambridge Examiner and QTS Teacher and University Professor - Doctorate
Experienced Qualified Teacher and Cambridge Examiner up to A-levels, and University Language and Literature Lecturer with a Ph D in Education (Teaching of Languages and Literatures, University of Barcelona, Spain).
At graduate level, I specialized in Academic Writing for the Humanities, the Social Sciences, and the Arts, both in English and Spanish, and I have helped dozens of students, including Psychology, Dance Studies, Anthropology, Social Work, Applied Linguistics, Education, Political Science, to rank at the top tier of their class. I am passionate, rigorous and very quick in setting a plan and help you work independently with your essay or research paper. My hourly rate reflects that fact. In less time, with less investment, you will obtain the same benefit that you will with another method of teaching Academic Writing. It is just fair that I don't get punished for being efficient. My rates confirm that, and I have dozens of testimonials to prove it, should you need me to send them to you.
Recent Students:

6

Total Hours:

127

Last Online:

29 Mar 2023

All-time Students:

24

Total Classes:

142

Signed Up:

24 Sep 2019
About Me
I am a passionate University-level Spanish Lecturer and Assistant Professor. I do enjoy teaching all ages, for all types of intelligence, and levels of mastery.

I enjoy working with students of all ages, and levels of proficiency, even absolute beginners. I taught GCSE, A-Level, and a variety of University-level Spanish Language, Literature, and Compositions courses. I have been teaching for 10 years, three at Duke University (North Carolina, US), two more at Clemson University (SC, US), one at Syracuse University (NY, US), and three more as an Spanish Tutor for the University of North Carolina in Chapel Hill, at the Writing Center (North Carolina, US), where I assisted tutees with their English and Spanish Writing research or independent study papers.

I also assisted a number of Literature (Spanish and English) post-docs to be reviewed favourably and published in peer-review Journals, etc. I am an Award-Winning (2015, Corda Foundation, NY, US) Literary Translator, published and Award-winning Fiction-Literature Writer (https://www.amazon.co.uk/Sin-Prisa-Otros-Relatos-Premiados/dp/8436243358), and Proofreader with 7 years of experience at Penguin-Random House, RBA Editores, Círculo de Lectores, ADI grup editorial, and Océano, etc.

I am currently writing Poetry for children in Spanish and teaching Spanish to tutees from THE PROFS, and to my regular students at the University of Manchester as a Spanish Tutor, where I hold a permanent position. Before, I taught at King's College London, the London Business School and Durham University in the UK. How I love my job!
Tutor Experience
I have been successfully tutoring in the UK since November of 2017, assisting college-level, IGCSE, and GCSE-A Level students of Spanish to prepare for end-of-term exams, as well as IB/A Level final/Board exams. I am a Cambridge examiner for GCSE, IGCSE, and A levels, and a Qualified Spanish teacher, and native speaker of the language.
I love to reinforce personal modes of learning while encouraging learner´s autonomy. My goal is to provide you with a variety of proven strategies that work with different kind of learners, being an expert in teaching the Language, the Literature, and the Culture. I have a Doctoral degree in Teaching Languages and Literatures, having focused my post-graduate research on Second Language Acquisition. That means that I know a bit more about what goes into learning a new language than the average teacher does. It involves much more than learning the grammar and memorising vocabulary, the boring stuff, as you will discover very soon.

I have been a University Spanish Lecturer since 2004, in the US and the UK, having worked with wonderful students from all backgrounds, origin, and levels of proficiency, and at top Universities like Duke University in the US, King´s College London, Durham University, and presently at the University of Manchester, UK. I am looking forward to working with you.
Topic Expertise
Academic Writing Coach for the Humanities at undergraduate and post-graduate levels (in English and Spanish). Research, essays, thesis, etc.
Spanish Language for IB/ A-Levels
Spanish post-A Levels
GCSE Spanish
Spanish Literature
Spanish Culture

Client Reviews
The class was amazing and extremely helpful! Thank you Silvia :)
Sarah

-
Iberian Languages
Price: $65/hr
No Upfront Payments
Passed Our Interview
Only Tutors Online
Background Checks
Verified
Qualifications
University of Barcelona, Barcelona, Spain 2010 - 2015
• Ph D, Teaching Languages and Literatures

University Pompeu Fabra, Barcelona, Spain 2008 - 2010
• MA Creative Writing

University of Barcelona, Barcelona, Spain 2003 - 2004
• MA, Program for National Certification as a Spanish Teacher (QTS)

National University of Education at Distance (UNED), Madrid, Spain 1995 - 2002 BA Spanish Philology (Honors)

Universitat de Barcelona, Barcelona (Spain) and Duke University, North Carolina (US).
• Ph D Teaching Languages and Literatures
Dissertation: Intercultural Competence Acquisition in a Content-based Second Language Classroom.
Director: Professor Juli Palou, Universitat de Barcelona, Spain.
Visiting Scholar during the Research Period at Duke University, NC, US.
Doctoral Courses:
• Lecture period: Second Language Acquisition, Speech input and output, Introduction to Language and Literature Research, Student and Teacher Discourses, Teaching Literary Genres, Languages in Contact: Derived Linguistic Phenomena, Spanish Phonetics and Phonology and teaching of pronunciation.
• Research period: Didactic Projection of Intertextual Relationships, Analysis of Linguistic Outputs.



Availability
| | Weekdays | Weekends |
| --- | --- | --- |
| Morning | | |
| Afternoon | | |
| Evening | | |