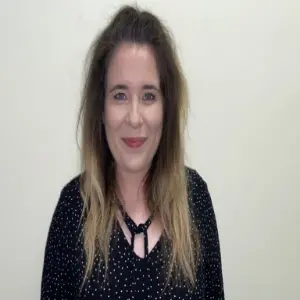 Online Geography Tutor Maria
Maria 5.0
Trinity College Dublin & Ulster University - Geography, Sociology and Religious Education - Post Graduate Degree
I am a passionate teacher who specialises in Geography, Religion and Citizenship. I love to teach and I love to learn and I want my students to be engaged and excited to expand their minds and reach their goals. I hope that my calm and fun learning environment can help you achieve your very best!
Recent Students:

0

Total Hours:

0

Last Online:

17 Apr 2023

All-time Students:

0

Total Classes:

0

Signed Up:

30 Jan 2023
About Me
I graduated Secondary school in Derry, Northern Ireland and moved to Dublin to attend Trinity College. I graduated with a 2:1 BA in Geography and Sociology in 2014 and I was keen to see the world. I decided to move to Seoul, South Korea to teach English for a year. This is where my passion for teaching began. I loved working with children and being part of their learning journey. I knew I wanted to be a teacher so I decided to move back home to gain my Post Graduate in Education in Ulster University.

I now had two passions. Teaching and travelling. I decided to relocate again and I moved to Doha, Qatar where I stayed for four years teaching Geography and Global Citizenship. My teaching career flourished here and I was recruited by Edexcel to create an iGCSE textbook.

I now live back in my hometown and I continue to teach Geography in a secondary school. My passion for teaching and travelling remain and I love to work with young people from a range of backgrounds.

I am also a keen musician who plays clarinet, guitar and tin whistle. I study psychology in an evening college and I am environmental coordinator for my current school.
Tutor Experience
I am a highly motivated teacher with 7 years teaching experience in an array of humanities subjects and age groups. I have developed a unique skill and I am eager and excited to build and develop my skills even further. I am an enthusiastic, hardworking, and conscientious person who can work efficiently and effectively and provide an outstanding learning experience. Since my teaching career has started, I have consistently achieved outstanding status in my classroom observations.

During my time in Qatar, I tutored both online and offline for four years. I specialise in KS3-KS4 Geography and have taught multiple exam boards. (Edexcel, CCEA , OCR and OCN). I have also taught and tutored Global Citizenship KS3-KS4 . My students meet and exceed their target grades through formative/summative assessment, various forms of feedback, active learning strategies and constructive and informative teacher feedback.
Topic Expertise
Geography KS3-KS5
Exam boards: Edexcel, OCR, OCN & CCEA

Religious Education KS3-KS4
Exam boards: Edexcel, CCEA

Citizenship KS3-KS5
Exam boards: Edexcel, OCR, OCN & CCEA