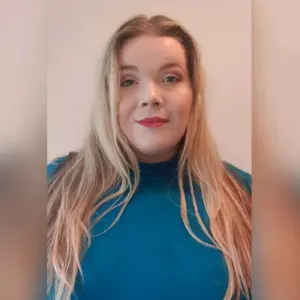 Online Psychology Tutor
Harriet 5.0

113 classes
University of Huddersfield - Psychology PhD - Undertaking PhD
Experienced Psychology Tutor, currently undertaking a PhD in Psychology, looking into Emotional Labour and Boundaries in Care Workers! I would love to help you with Psychology, looking forward to hearing from you!
Recent Students:

8

Total Hours:

161

Last Online:

26 Jan 2022

All-time Students:

16

Total Classes:

113

Signed Up:

18 Mar 2021
About Me
I am a hardworking, trustworthy individual and a quick learner. I am ready for a challenge and enjoy learning. I am caring, and intuitive person and would like to pursue a career working with people.

I graduated (July 2016) with a First-Class Degree from the University of Huddersfield in Psychology with Counselling BSc (Hons). I enrolled on a Masters in September 2017; I transferred from this onto a PhD in Psychology in May 2018, following the success of my first-year Viva and Progress Monitoring. For both of these courses, I have been awarded fee waivers and a bursary for my PhD.

I work as a teaching assistant with first-year students, teaching Introduction to Qualitative Data Analysis. This occurs bi-weekly and includes working with students in the classroom and remotely, offering online support through the portal and marking work submitted. I strive to give positive, albeit constructive, critiques to my students, to assist them to improve their work. I am hoping to pursue a career in lecturing after I have finished my PhD.

I spent a year working at a local engineering college, doing mechanics and engineering. I assisted with teaching English and occasional Personal Tutor sessions when needed. These experiences have allowed me to acquire an understanding and appreciation of different learning needs. I believe this is vital in anyone delivering educational materials as it allows engagement in all learners.

I enjoy reading, drawing, and cooking. I like spending time with family and friends. I enjoy documentaries, particularly history, psychology and crime ones. I am currently teaching myself French. I like to travel, see new cultures and learn about history. I have a full UK driving license; I enjoy driving and I am comfortable driving long distances.

Tutor Experience
After completing my Bachelor's degree, I was employed by a supply teaching agency. During this time, I worked as a teaching assistant at high schools, colleges, and SEN schools. I worked predominantly in an Engineering college, on a long-term contract, working with both engineering and mechanics students; with students from E3 to Level 3. During this time, I covered English classes and personal tutor sessions. I was involved in meetings for students' Education Health and Care Plans and the implementation of further assistance for students. Moreover, I was also involved in the organisation of other teaching assistants and their schedules. At this time, I undertook employment as a care worker. In this role, I was involved in the mentoring of other care workers and teaching them about clients and their care plans.

I have worked as a Teaching Assistant, on an Introduction to Qualitative and Quantitative Data course for first-year students. In this role, I work alongside the lecturer to teach students how to collect qualitative data, the basis on ontological and epistemological perspectives and how to conduct a Theoretical Thematic Analysis. These sessions occur every two weeks (during term-time) and during the past year, these sessions have taken place online. Generally, I take a session a year, as the main lecturer, with usual main lecturer overseeing my teaching. I have also been marking on this module for four years and on the social psychology module for a year.

I worked as a tutor, between September 2020 and March 2021, teaching an A-Level student, remotely, about Psychology (AQA). The sessions focused mainly on Research Methods, Issues and Debates in Psychology, Gender and Schizophrenia. The student has gone from a D/E grade to an A/B grade, with his more recent examinations being scored as 80% and 83%.
Topic Expertise
Psychology GCSE to University Level
A-Level Psychology AQA
Qualitative Methodology
Research Methods
Health Psychology
Social Psychology
Sociology A-Level
History of Mental Health
Client Reviews
Harriet was really helpful. She was really easy to talk to as well as knowledgeable about IPA. I was able to talk through my research and was given some helpful advice. I definitely felt a higher level of confidence due to the encouragement received.
Anna

-
Psychology
So helpful! Clear and detailed feedback.
Orla

-
Psychology
Excellent! Thank you
Orla

-
Psychology
Fantastic Overview and discussion about the Psychodynamic Approach
Isabella

-
Psychology
Really helpful guidance in how to go about answering exam questions
Isabella

-
Psychology
perfect
Tony

-
Psychology
great
Tony

-
Psychology
Price: $78/hr
No Upfront Payments
Passed Our Interview
Only Tutors Online
Background Checks
Verified
Qualifications
University of Huddersfield, School of Human and Health Sciences
2018-2022
PhD in Psychology (Funded by University)
Thesis Title: 'Learning not to love, but to just 'care'': An in-depth analysis of carers' experiences of administering care and being employed in a social care setting
Brief Synopsis: I am currently undertaking a PhD surrounding the experiences of care workers. My research is split into two main sections. The first section being the emotional experiences care workers face whilst employed, data was collected using diaries and semi-structured interviews and has been analysed using Template Analysis. The second stage of research is surrounding boundaries and boundary management in care workers. This involves the boundaries (such as policies, procedures, and social boundaries, e.g. professionalism and use of touch) managed by care workers during employment. This data was collected using pre-interview prompts and semi-structured interviews and will be analysed using Interpretative Phenomenological Analysis.

Masters in Psychology (by Research) (Funded by University)
2017-2018
Thesis Title: Client, Carer and Company; an in-depth analysis of carer's experiences of administering care and being employed in a social care setting.
This course was funded on a VC Scholarship, due to achieving First Class Honours. Transferred onto PhD part way through this course. Awarded Scholarship and Bursary to undertake PhD Programme.

Degree Psychology with Counselling BSc (Hons)
2013 – 2016
First Class Degree with Honours

Greenhead College, Huddersfield
A-Levels
2011 – 2013
3 A-Levels – Sociology, General Studies and English Literature and Language
2 AS Levels – Psychology and Extended Project Qualification
Availability
| | Weekdays | Weekends |
| --- | --- | --- |
| Morning | | |
| Afternoon | | |
| Evening | | |