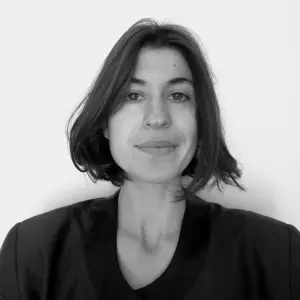 Online Architecture Tutor Flavie
Flavie 5.0

117 classes
AA, CSM, UCL - Architect - ARB/RIBA Part 3
Professional Architect and passionate Tutor.

I believe we have something to learn from each other, with the hope to challenge the understanding of our profession on multiple fronts.

I would love to help you discover these moments of inspiration, intuition and collaborative participation.
Recent Students:

11

Total Hours:

118

Last Online:

07 Jun 2023

All-time Students:

12

Total Classes:

117

Signed Up:

30 Jun 2022
About Me
My journey to becoming an architect has been challenging yet one of the most inspiring things I have done. I started off my BA degree at Central Saint Martins, UAL, an art school that greatly formed part of my interests and knowledge of the creative world. Following this, I decided to work during my year out in Athens, London and Barcelona, always very eager to experience new places and cultures. I then went back to London to continue my Masters degree at the Bartlett School of Architecture, UCL.

With an eagerness to continue learning and developing in my field, I simultaneously took on the Professional Practice course at the Architectural Association, which gave me the opportunity to qualify as a fully certified Architect, becoming part of the Architect's Registration Board.

Throughout all these experiences, being part of such a diverse group of people and institutions, I understood that the idea of learning and sharing these ideas is what really intrigued me. The notion of curiosity, discovery and engagement was pinnacle to taking on a more active role in teaching.

You can see my architecture work on Instagram under the name notationbyf.
Tutor Experience
I have over 6 years of experience and involvement with students at university level. From taking on a range of roles and responsibilities, I commenced as a Visiting Critic at Central Saint Martins, attending the BA Architecture students reviews, providing constructive feedback, informative references and critique of the students design work. I then took on a more active role as Graduate Teaching Assistant. This involved me carrying out a series of full day portfolio workshops to help the students collate, organize and curate their drawings, content and layout, in preparation for their final design submission at the end of the year.

My relationship and responsibilities expanded even further within the institution as I was eager and passionate to teach on a more regular basis. In 2020 I went on to becoming a Full - time Tutor , collaborating with my teaching Partner to run one of the Vertical Design Studios of the BA Architecture course. This involved us carrying out weekly 1:1 design tutorials with a cohort of 18 students, a mix of 2nd & 3rd year.

Since December 2021, I have been tutoring a range of students who are taking the IB exams. I am helping them develop their knowledge, skills and techniques in line with what is required as part of the Visual Arts Higher exam. Specifically, I have provided further insight to prepare them for university; working on conceptual ideas, providing references and theoretical material to enhance critical thinking.

Experience: 2015-present
Topic Expertise
Architecture
Design
History & Theory/Writing
Academic Research
Professional Practice

Portfolio and Interview preparation for:
Visual Arts - IB level
Architecture - Undergraduate/Postgraduate

Assessment of Undergraduate Submission Papers:
Knowledge on the profession of architecture
Critical Appraisals

Preparation for a Job in practice:
CV/Cover letter/Porfolio/ Future mapping
Client Reviews
Very knowledgeable, excellent tutor I can see a huge difference in my work since we began tuition together
Lailan

-
Architecture
very informative, all directions clearly explained
Lailan

-
Architecture
Testimonials
"My experience with Flavie as my tutor was incredible. She helped me a lot with my personal statement, giving me ideas and thus improving the writing. After the personal statement, we started working on my portfolio and Flavie was amazing. She helped me come up with ideas for new projects and also for working on existing projects. Flavie was essential to my application and helped me a lot with it." Maria Q, Tutoring from 2022-2023
"During the overwhelming process of college admissions, I had the chance to work with Flavie. We researched many artistic topics and artists, to finally decide which ones to use for my art portfolio. I remember being anxious about my college applications, as I wanted to apply to Parsons and other competitive and prestigious art schools in the US, however, with her help I feel more than sure and confident with what I've created. Furthermore, she helped me generate my essay for NYU, Yale, and other Ivy League schools and to open up as much as I can to write an amazingly impressive essay. I would definitely recommend her not only because the results of our work are amazing, but also because it's really fun and interesting working with her." Christos L, Tutoring from 2022-2023
Price: $84/hr
No Upfront Payments
Passed Our Interview
Only Tutors Online
Background Checks
Verified
Qualifications
ARB/RIBA Part 3: Professional Practice
The Architectural Association School of Architecture, London
(Jan 2019 - May 2019)
Grade: Pass

ARB/RIBA Part 2: MArch Diploma
The Bartlett School of Architecture, UCL
(Sep 2014 -July 2016)
Grade: Distinction

ARB/RIBA Part 1: BA Architecture
Central Saint Martins, UAL
(Sep 2010 - July 2013)
Grade: First Class Honours

International Baccalaureate
The Moraitis School, Athens, Greece
(Sep 2008 - July 2010)


Availability
| | Weekdays | Weekends |
| --- | --- | --- |
| Morning | | |
| Afternoon | | |
| Evening | | |