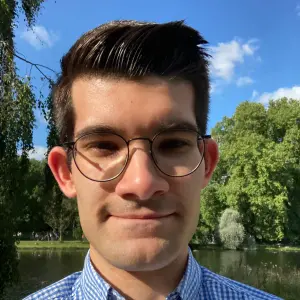 Online Economics Tutor Thomas
Thomas 5.0

93 classes
London School of Economics - Economics and Economic History - BSc
Experienced tutor specialising in Maths, Economics, History, Politics and Oxbridge admissions. I set out to help you grow your confidence in the subject, focusing on really understanding it, so you can realise your potential.
Recent Students:

2

Total Hours:

107

Last Online:

25 Mar 2023

All-time Students:

10

Total Classes:

93

Signed Up:

02 Sep 2021
About Me
Hello! I'm Tom, an economist working in the Treasury for the last four years. For a long time at school I was listless, not knowing what I was good at or what I wanted to do; then I had a set of fantastic teachers who transformed my confidence. From them, I grew interested in maths and economics - and, in particular, in applying it to the real world - which saw me take it to university and now the Treasury, working on national economic policy.

I'm friendly, supportive and encouraging, keen to offer the same support I was fortunate enough to receive all those years ago. There are few things more fulfilling than making a difference: seeing something change for the better because of your effort.
Tutor Experience
I've been tutoring for 5 years across several subjects - Maths, Economics and History. Teaching is my passion; having myself experienced the transformational impact a great teacher can have, I love to do the same for others, building their confidence and understanding of the subject so they can realise their potential. Rather than rote-learning from the textbook, I encourage and push my tutees to engage with the subject, equipping them to excel independently in the future.

I've taught dozens students for A-levels, all of whom saw their grades rise - usually by at least two (and once, four). I supported them in university applications as well, including for Oxbridge where I advised on the History Aptitude Test and interview. All my tutees secured their first choice of university and I have stayed in contact with many, providing advice and support for degree studies and careers. To me, a tutee is much more than a client: they are someone to support and mentor, that relationship evolving as the tutee grows and develops.
Topic Expertise
Economics: whole A-level syllabus; all exam boards
Maths: whole A-level syllabus; all exam boards
Further Maths: Pure; all exam boards
Politics: whole A-level syllabus; all exam boards
History: expertise in Russia, British India, and the United States 1820-76 but can cover all syllabi; all exam boards
Oxbridge admissions: HAT and interviews for Humanities subjects.
Client Reviews
Starting to make me find some interests for this subject that I used to hate ! ahahah
Charlotte

-
Economics
super useful class !! thanks for your help with this awful topic !!
Charlotte

-
Economics
Very helpful session, as usual.
Nadya

-
History
Testimonials
"Your support with the HAT and interviews were invaluable, Tom - I really couldn't have done it without you. You were so engaging and conveyed what I needed to do perfectly. Thanks to your help I got the place at Oxford, which I've dreamed about for years. Thank you so much." - James
"Hi Tom, just wanted to let you know that I got an A overall in Economics. I'm so pleased - not bad considering I started at a D! Got an A in Maths too. That means I got into Bristol, my first choice! Once again, thank you for all your time and effort." - Drew
"You were absolutely brilliant with Oli and completely turned his lack of confidence and ability at the time around to a genuine love for economics. Without your great teaching - and endless patience - he may not have got the grade he needed. We will be forever grateful." - Vanessa