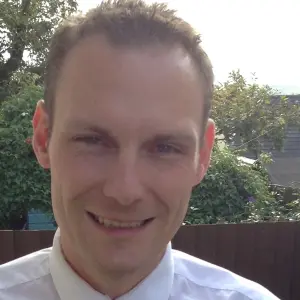 Online Economics Tutor Trevor
Trevor 5.0

1038 classes
Nottingham University - Business and Economics - BA Hons
I am an A Level teacher and examiner for both Business Studies and Economics. I have been teaching for over 15 years and have vast experience in tutoring students both online and face to face. Please see my reviews below or via LinkedIn. Trevor Brittain
Recent Students:

8

Total Hours:

1084

Last Online:

06 Jun 2023

All-time Students:

97

Total Classes:

1038

Signed Up:

14 Feb 2018
About Me
When I'm not tutoring I enjoy my sports, F1 racing as well as ballroom dancing and coaching football.
Tutor Experience
I passionately believe in students achieving their potential and enjoy the role of personal tutoring to further aid students learning. I graduated with a BA (Hons) in Business and Economics (2:1) and have worked for a number of large organisations offering a variety of depth and experience. Online tutoring is about helping students form around the world to access education via the platform of the internet, to help them succeed at their studies. Firstly, I like to make an initial meeting to understand the needs and objectives of the personal tutoring before developing a detailed plan of the outline of personal tutoring support. I am keen to ensure that both parents and students alike are happy with the service and will accommodate additional requests. I like to ensure that the learner is both enthused and engaged in the tutoring sessions and have a range of resources and assessment techniques.

Subjects and levels taught:
Economics: A Level and GCSE (Pearson, AQA and OCR)
Business Studies: A Level and GCSE (Pearson, AQA, OCR and WJEC)
BTEC Business: Level 2 and Level 3
Cambridge Technicals: Level 2 and Level 3
Topic Expertise
I teach and examine for both Business and Economics. I am familiar with all the key exam boards and can help with exam structure, technique and revision of topics as required.
Client Reviews
Very good first lesson look forward to ongoing tuition
Matthew

-
Economics
Excellent. Thank you Trevor, super helpful and enjoyable lesson.
Georgina

-
Economics
Excellent. Really great tutor, clear and concise and able to help out on all areas needed.
Georgina

-
Economics
initial chat went really well!
Victoria

-
Business Studies
Went through the whole syllabus and Trevor was able to answer every question I had with an in depth response :)
Dirk

-
Economics
Difficult topic but I think when I go over Trevor's tutorial again it will get easier.
Toby

-
Business
Very good as always. The lessons are helping build my confidence and understanding. Thank you.
Toby

-
Business
Trevor, was really clear and explained all that I didn't understand. Throughout he would ask me questions to make sure I understood it fully. Engaging and useful!
Margherita

-
Economics
👍
Leonid

-
Economics
great tutor
Rashekala

-
Economics and Business
Testimonials
Rebecca's Comments: 24/01/2018 (First Tutors) Rating: 5/5 Comments: Trevor tutored my son before his Business Studies A Level exam, he found him extremely helpful. Jon's Comments: 11/05/2017 (HST Tutoring, Cornwall) "Trevor is absolutely first-rate and could not be bettered. He sought information well in advance, with which to very thoroughly prepare; offered a helpful follow-up service; and was articulate, highly experienced and knowledgeable about A2 & AS syllabus/exams; professional throughout and good-value too." Sarah's Comments 22/02/18 (Titanium Tutors) Trevor taught a stellar lesson. He had prepared in extraordinary detail, picked a topic that I found relevant and interesting, and timed it down to the last second. He had a clear lesson objective and a strong structure, getting me to do most of the work and keeping up a constant dialogue. He pitched the lesson well, and when he realised I was very familiar with his opening exercise, skipped on to the newer and more difficult section. He clearly knew his subject, had a calm, pleasant and fun teaching manner, and gave a deservedly confident but thoughtful self-assessment.