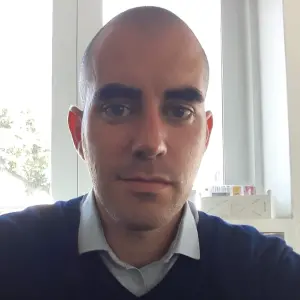 Online English Literature Tutor Alex
Alex 5.0

558 classes
Manchester Metropolitan University - Creative Writing and Film Studies - BA Honours
Full-time (Scottish) teacher of English language and literature to international students in High Schools on four continents over the last 14 years. I really enjoy the study of literature and spend my days talking to people about it and encouraging their ideas. I have experience of a wide range of High School courses and have had great success in helping students attain top exam scores while also developing a love of the English language. Currently available weekdays and (most) weekends.
Recent Students:

42

Total Hours:

578

Last Online:

05 Feb 2023

All-time Students:

70

Total Classes:

563

Signed Up:

03 Feb 2022
About Me
I am a dedicated teacher - and student - of literature. I enjoy encouraging the speed of learning in students through engaging them with the key messages of texts and their implications in the world of their context and the world of today. I have an excellent record of success across a wide range of courses and qualification bodies during the 13 years of my teaching, and many of my students have gone on to study English literature at university level. I am currently looking to develop the online learning experience for students through a range of methodology and software such as Miro, Google Classroom, Teams and a range of other tools.
Tutor Experience
I have taught internationally in schools in Jakarta, Lima, Istanbul and Budapest for fourteen years and have tutored students privately, both in person and online, throughout this time. I enjoy literature immensely and believe that teaching students to understand literature is a subject they can excel in is the best way to instill this enjoyment in their own minds. I am very motivated and look to incorporate online study tools in order to quickly develop - and retain - student learning in preparation for key tests and exams.
Topic Expertise
I have taught both IBDP Language and Literature and the Literature-only SL/HL course since 2014. I have also taught A-level English literature for ten years in schools and through personal tuition. In addition I have taught MYP and IGCSE courses, Theory of Knowledge and a variety of non-examination English, Film and Literature courses. I have had particular success in teaching a wide range of Shakespeare texts (Macbeth, King Lear, Measure for Measure, Hamlet, and many others) and have also taught Romantic poetry (Keats, Wordsworth, Blake, etc) over the last few years. I have a very wide range of interest in literature however, and am happy to read, teach and discuss hundreds of literature texts. It's a real passion of mine and I enjoy speaking with students and encouraging their own literature study and ideas.

Currently, I am teaching Hamlet, A Streetcar Named Desire, The Glass Menagerie, The Picture of Dorian Gray, Macbeth, The Joy Luck Club, Romantic poetry, 21st Century poetry, A View from the Bridge, Beloved, The Catcher in the Rye, Richard II... and many more texts through private tuition. I am happy to teach new texts as well as a wide range of exam courses and curricula, and open to teaching any literature or language classes.
Client Reviews
fantastic teacher
Halimi

-
English Language
very positive and motivated teacher
Halimi

-
English Language
Fantastic final preparation for my exam!
Tiffany

-
Language A: Literature and Language
An extremely helpful class working on paper 1 for the IBDP language and literature, Alex clearly explains what is needed + what the assessors look for in a kind and clear manner. I 100% recommend his classes for anyone of any skill level, you will see yourself improve overtime. This teacher simply knows what he is doing!
Nandi

-
Language A: Literature and Language
Very helpful with the TOK essay. I would 100% recommend Alex to any TOK student who needs help with their essay.
Aaryan

-
Theory of Knowledge
Alex is the perfect tutor for me. He is very familiar with the IGCSE exam board, and knows exactly what a student needs to achieve a high grade. Therefore I would highly recommend him as an English tutor.
Kevin

-
English Language
Testimonials
Alex has recently helped my daughter in preparation for her IGCSE English language paper. She has thoroughly enjoyed her lessons - which is the most important thing. She found his teaching methods interesting and engaging and has learnt a great deal. He was also available to answer any questions that she may have had in between lessons. The experience was an enjoyable one and she used to look forward to her classes. What more can I say? Without hesitation we recommend Alex! Alicia - 10th January 2023
I worked with Alex for about a month and a half. Alex helped me with my IB Higher Level English Language and Literature exam. Besides being transparent, understanding and friendly, he was a prepared and committed teacher. Alex always understood what I needed to work on, sometimes better than I did. Furthermore, his experience in the field helped me understand the perspective of an examiner, which was my biggest ask of him. On top of that, Alex was always punctual, consistently checked in on me and my work and made our lessons fun and enjoyable. I wouldn't have felt as confident as I did going into the exam without Alex's help and I'm confident in saying he was the perfect teacher for me and my needs. Argi - 2nd December 2022
I had around 6 online tutoring sessions with Alex before my final IB Language and Literature exam for the November 2022 session. The classes were very organised with an outline of things that would be beneficial to discuss in the lesson but was also open to anything I wished to specifically work on. Alex provided information on the exam and requirements and helped me in every aspect including looking through practice exams I had completed. These sessions were extremely helpful and I am very thankful for all of Alex's support. Tiffany - 2nd December 2022
TOK was a subject that I found particularly challenging, and I needed help understanding some of the key concepts. After only a few lessons with Alex, I had a much better grasp of the subject and learnt how to structure my answers and ideas better. The classes were very enjoyable, and he could explain everything clearly and patiently, which helped improve my confidence in the subject. I appreciated that he was highly prepared for every lesson with helpful materials that made the concepts much easier to understand as well. Thank you Alex! Marcus - 1st December 2022
Mr. Alexander is an excellent English tutor, and I would recommend him to both pupils doing English in school and independent English learners. He is incredibly patient, which is something everybody learning a language needs, he explains things in a way that is easy to understand also providing helpful resources as well as feedback to focus on. I heartily suggest him. Omar Albhaisi - 30th November 2022
I reached out to Alex quite late on in my academic year when I was struggling with my English literature course and scoring low Cs in my work. I was getting anxious about the lack of improvement in my grade and was worried I'd left it too late to see any change. I struggled most with reading exam questions and decoding what they were asking of me, so Alex walked me through each area of my topics and taught me how to address the questions and access the highest possible marks. At the end of our month or so of tutoring, he helped me achieve an A in my A level English literature exams and i got into my dream university. Alex helped achieved targets I didnt think I could achieve with his flexible hours and constant feedback. Thank you so much Alex ! Tiger Lily - 31st August 2022
Alex has been extremely helpful in helping my daughter understand concepts in her study of 12th night and Orwell's 1984. He helped her to appreciate the analysis of the books from each of the characters. Alex was also excellent in helping with exam technique, helping to structure the answers to maximise the marks available. He was very flexible and willing to give extra feedback and help with homework if needed, his help led to my daughter becoming more confident and getting A* in English language and 9 in English Literature. Thank you so much Alex! Mohamed - 25th August 2022