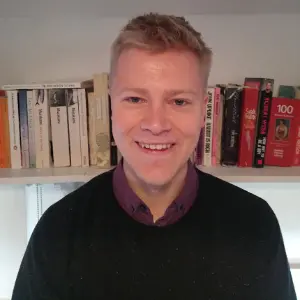 Online English Literature Tutor Samuel
Samuel
University of Oxford - History and English - BA
Engaging and enthusiastic Oxford grad available to tutor History and English (Lang + Lit) at all levels, as well as Maths and Science to GCSE.
Recent Students:

0

Total Hours:

15

Last Online:

27 Aug 2021

All-time Students:

0

Total Classes:

16

Signed Up:

02 Dec 2016
About Me
I graduated from Balliol College, Oxford in 2018 and am now looking for work in TV or film production. I loved my time at Balliol and still visit occasionally. My other interests include sport (especially football), music, and of course film.
Tutor Experience
Many years' tutoring experience from 11+ entrance exams up to A-Level, both in person and online. Previously employed by Oxford Educational Partnership.
Client Reviews
Sam is an outstanding teacher demonstrated a deep knowledge and understanding of my son's history project. He was able to provide plenty of resources for my son to work on his own at the same time guiding him to finalize somewhat challenging if he had done it by himself. Couldn't be more happy with him
jeung

-
History
Sam helps so much with my writing and the structure of my essays. He knows both how to present the information that I want, and is also very knowledgable in the topic of history that I'm discussing. He's also very helpful when it comes to finding sources to use when writing and how to search for texts such as articles online. Sam is always accommodating for timing and makes a huge effort to set up regular meetings.
jeung

-
History
Testimonials
'Sam is so patient, funny, and generally lovely. He made our daughter interested in maths at a time when this seemed an impossible task! A superb influence.' (Mother of GCSE student)