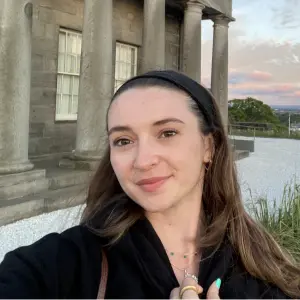 Online English Literature Tutor Sofia
Sofia 5.0

6 classes
Middlebury College - English Literature, Theatre Studies - BA
Experienced tutor specialising in preparing students for the 11+ and GCSE and A Level Humanities. My passion is English literature and I especially love working with A Level students! I also have 4 years experience helping UK students apply to US colleges with excellent results.
Recent Students:

0

Total Hours:

6

Last Online:

11 Apr 2023

All-time Students:

2

Total Classes:

6

Signed Up:

26 Jun 2021
About Me
I am a Spanish/American tutor raised in London. My favorite subjects to teach are 11+ admissions, English Literature and College Admissions. I am bilingual and as well as having 8 years worth of tutoring experience, I am also a songwriter for major label artists. I am a big believer that every student is unique and try to adapt my teaching methods to fit each student and their goals!
Tutor Experience
Tutor for multiple London based tutoring agencies September 2018 - Present • Teaching 7+ , 11+, English Literature, Spanish, Music GCSE/A Level
• Past 11+ students were admitted to St Paul's, Ibstock, King's College Wimbledon, The Harrodian
• Past A Level English Literature students improved from a C grade to an A.
USA and UK University Admissions tutor - September 2020 - Present
• Helped students applying to the USA with SAT and ACT practice and Common Application essays
• Helped students applying to UK with personal statements and UCAS
• Past students accepted to Brown, Tufts, Colgate, NYU, Amherst, King's College and UCL Assistant to Head of Music at The Harrodian School - October 2018 - March 2020
• Helping with the organisation of Music department events (e.g Battle of The Bands/House Music)
• Working backstage or as a musical judge
Tutor in Theatre Studies and History of Art (A Levels) - February - June 2018- May 2019. • Helped student with their Theatre coursework receive A*/9 in mocks via Skype
Spanish Language Tutor at Middlebury College Vermont, USA- September - June 2016-2018

• Planned and carried out private lessons for students taking lessons within the Spanish department at Middlebury College 

• Helped students with conversation, written assignments

Topic Expertise
- English Literature
- Spanish
- 11+ Maths, English, Non-Verbal and Verbal Reasoning
- Spanish
- History of Art

Client Reviews
Sofia was very thorough in her analysis and provided some very useful insights for additional areas to explore. Thank you!
Sofia

-
History of Art
I wanted to thank Sofia for offering me so much help with my essay plan! I feel as though it's a lot better now and I couldn't have done that without her! Thank you.
Sofia

-
History of Art
Price: $60-70/hr
No Upfront Payments
Passed Our Interview
Only Tutors Online
Background Checks
Verified
Qualifications
Middlebury College of Liberal Arts - Vermont. Class of 2018 BA in English Literature/ Theatre (Directing), Minor in Music (Summa Cum Laude and Departmental Honors) Focus in Directing and Songwriting 

NYU Steinhardt - June 2015

Songwriters Seminar Advanced

Grade 8 Voice (ABRSM) - May 2014 (Distinction) 

The Harrodian School, London England

A Levels: Music (A), History of Art (A*), English Literature (A*) and Spanish (A*)
AS Levels: Music (A), History of Art (A*), English Literature (A*), Spanish (A*), Drama (A), Maths (A)
Availability
| | Weekdays | Weekends |
| --- | --- | --- |
| Morning | | |
| Afternoon | | |
| Evening | | |