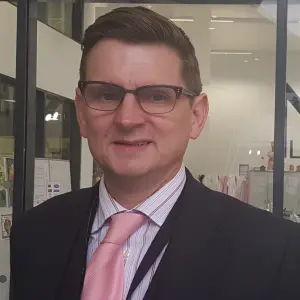 Online History Tutor Jon
Jon 5.0

214 classes
Swansea - Politics - PGCE Secondary History
Experienced History, Politics and RE teacher and tutor. I am passionate about my subjects and helping young people learn.
Recent Students:

0

Total Hours:

180

Last Online:

03 Aug 2022

All-time Students:

20

Total Classes:

214

Signed Up:

26 Nov 2020
About Me
There are two reasons why I am a teacher and a tutor. Firstly, a love of my subjects (History, Politics and RE). Secondly, a passion for helping young people to achieve and be the best they can be. I have been fortunate to work with so many amazing students and helping them improve is a joy.

Away from teaching and tutoring, you will probably find me playing my drums or ukulele, on the golf course or squash court, or just spending time with my family.


Tutor Experience
I have successfully taught and tutored GCSE and A Level History for over 20 years, plus GCSE RE and A Level Politics. I have a strong academic background in my subjects and I am fully qualified teacher (PGCE). Since beginning my teaching career in 1998, I have successfully taught in six secondary schools in London and South-East, and I have wide knowledge and experience of all GCSE and iGCSE and A Level in History, RE , and Politics, plus IB.

I am an experienced tutor, and my tutees have always accelerated their learning and their grades. We start by finding out exactly what you want from the sessions and what areas you want to focus on. We then put together a programme of sessions that are specifically tailored to your needs. It is vital that we fully utilise the one to one aspect of tutoring and the personalisation that this brings.

So if you require help in any of these areas, it would be great to hear from you.
Topic Expertise
I have wide subject expertise in my subjects. I have taught GCSE/iGCSE and/or A Level for all the exam boards (OCR, Edexcel, AQA, WJEC). I have also tutored International Baccalaureate (IB) students.
Client Reviews
Jon prepared me so much for my exams, i feel confident.
Maria

-
History
Excellent session where we covered everything I needed to prepare me for my upcoming exam
Isabella

-
History
Great coverage of content and useful criticism that is helping me to develop my answers and get to the point quickly
Isabella

-
History
Detailed and useful feedback.
Imogen

-
History
Really helpful class giving me lots more detail on the Watergate scandal. I feel much more confident answering questions on this topic now and really enjoyed the clips and videos shown in the session.
Kate

-
History
Useful and detailed feedback.
Imogen

-
History
The class was very interesting and enjoyable. It also helped me understand exactly what the examiners wanted when answering exam questions.
Kate

-
History