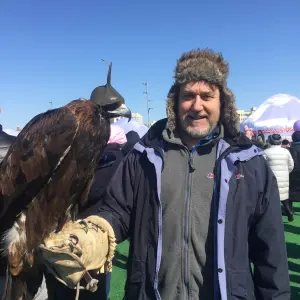 Online Tutor Phil
Phil 4.9

346 classes
University of Cambridge, UK - BA/MA - Masters
Thirty years of empowering students to reach their full potential.
Recent Students:

27

Total Hours:

312

Last Online:

08 Jun 2023

All-time Students:

108

Total Classes:

346

Signed Up:

16 Sep 2020
About Me
I am a French national living in the UK since 1984 and although I started my professional life as a chef I soon discovered I was more interested in eating food than preparing it. Teaching although my second career is what I love doing and whilst semi-retired I wish to make the most of my time, skills and expertise to help students address any issues they might have with their studies.
Tutor Experience
IB- TOK, Philosophy, Anthropology, EEs / A Levels - Religious Studies, Philosophy / GCSEs - Religious Studies.

I place the needs of individual students at the heart of what I do and have an excellent record at enabling each student to achieve their potential and often to exceed their own expectations.

I have taught in secondary schools for 30 years in the UK and abroad, and have significant experience of one to one tutoring in my main subjects as well as academic skills and time management, as well as long standing experience supporting students' university applications.

Topic Expertise
As a Cambridge graduate I have always aimed for the highest possible academic and intellectual standards in every subject I have taught.

Most of my career has been spent teaching Religious Studies and Philosophy for GCSE and A Level qualifications. I have now significant experience of teaching IB Diploma Theory of Knowledge, Philosophy and, Social and Cultural Anthropology.

I have also have a Cambridge Certificate for teaching English (CELTA).
Client Reviews
Phil had a methodical approach to the class which thoroughly covered the content and possible points of evaluation. He often asked questions to test my understanding and he was an engaging and encouraging teacher. His knowledge about IB philosophy was also very helpful. Thank you Phil!
Fenella

-
Philosophy
Fantastic super useful feedback ! Very kind person as well.
Marcel

-
Theory of Knowledge
a little bit expensive for the feedback that was provided
Tiffany

-
Theory of Knowledge
It was a great lesson, with great help!
Yuvraj

-
Theory of Knowledge
Extremely prompt and comprehensive feedback. I could not have asked for anything more.
Advait

-
Theory of Knowledge
All the comments Phil made to my essay were really thoughtful and helpful. They really helped me reflect and improve weaknesses in my arguments, as well as improving my structure and examples. Thank you!
Francisca

-
Theory of Knowledge
Great lesson!
John

-
Theory of Knowledge
Great teacher, very nice
Juri

-
Theory of Knowledge
very detailed and thoughtful feedback
Anastasia

-
Theory of Knowledge
The best TOK teacher; puts 100% effort in all sessions.
Mariam

-
Theory of Knowledge
Testimonials
Dear Sir/Madam Testimonial – Mr Philippe Mathieu It has been a delight to have Philippe in the Religious Studies and Philosophy Department at Haileybury over the past academic year. From our first meeting it was clear that he has an incredible subject knowledge and could turn his hand to any course or subject. He is a true intellectual and I have never failed to be humbled by his intelligence and well-rounded knowledge; from Philosophy, History, Literature, Art, Politics and Social Anthropology. Philippe has been in charge of the majority of IB teaching within our department and he is a natural Diploma teacher. He has worked incredibly hard to immerse himself in the Diploma and he embodies the Learner Profile. As a Head of Department, it has been a joy to witness Philippe teaching the IB as I have been confident that our pupils have received the best possible IB teaching. I am sure that Philippe would be an excellent IB Diploma Coordinator. His experience of teaching Option 3 and TOK, and his supervision of Extended Essays proves that he has a detailed understanding of the Diploma. Philippe has a genuine love of the IB and this has been evident and inspiring to the pupils he has taught. All pupils that have been taught by Philippe have enjoyed his teaching and shown great progress and development under his care. Philippe will always help any pupils in need of extra tuition. He is kind hearted, with a good sense of humour; he has built excellent relationships, particularly with Sixth Formers, who he has pushed to achieve their optimum. Philippe's natural and supportive way with pupils, combined with his extensive knowledge and experience of University applications would make him a superb University Counsellor. Philippe has also taught GCSE World Religions and GCE A level Philosophy of Religion and Ethics. Again, these have been taught to a superb standard and I have no doubt that he would be an excellent iGCSE teacher. Philippe is organised, thorough, incredibly hard working and capable. He will work tirelessly to ensure that he has done every task perfectly. As a colleague, he is supportive, enthusiastic and flexible. He has a genuine love of learning and academia and this is inspiring to all who work with him. Philippe has an excellent record of management and pastoral care from his previous employers and these skills are constantly present in his day-to-day teaching and management of his classes, pastoral and extra-curricular contributions to the wider school. Philippe is a hard-working individual and I am sure that he would be a superb IB Diploma Coordinator and University Counsellor. Yours faithfully, Sarah