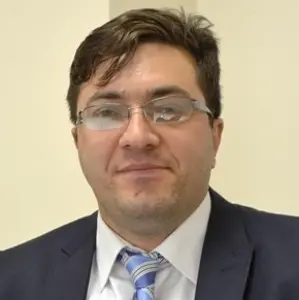 Online Computer Science Tutor Vahid
Vahid 5.0

112 classes
Queen's University Belfast, UK - Computer Science / Software Engineering - PhD
Experienced Top-Rated Computer Science University Professor, Lecturer, and Tutor since 2001. I also have years of industrial Software Engineering experience. My areas of expertise include: Programming (in different languages), Computer Science, Software Development / Engineering, Software Testing, and databases. I am passionate to pass my knowledge in these areas onto my students in inspiring and engaging ways.
Recent Students:

20

Total Hours:

117

Last Online:

29 Mar 2023

All-time Students:

21

Total Classes:

119

Signed Up:

09 Dec 2022
About Me
I am an Associate Professor (Senior Lecturer) of Computer Science / Software Engineering in the Queen's University Belfast, UK. My areas of expertise in teach and research include: programming, databases, software engineering, and software testing.

In parallel to my academic career, I am also a practicing software engineering consultant and coach, and actively provides consultancy and corporate training services in the areas of software testing and quality assurance.

I received my PhD in Software Engineering in Carleton University, Canada, in 2006; MSc in Computer Engineering, from the University of Waterloo, Canada, in 2003; and BSc in Software Engineering, from Sharif University of Technology, Iran, in 2000.
Tutor Experience
I have been teaching various Computer Science and Software Engineering courses since year 2000, as a professor, a tutor and also as a corporate trainer. Furthermore, I have more than 20 years of industry experience in Software Engineering.

Some of the past/current courses that I have taught include: Programming (in Python, Java, C/C++, PHP, BASIC), Object-oriented (OO) programming, algorithms, data structures, database design and SQL language, Software Testing, Software Project Management, research methods (for MSc and PhD students).

My classes and courses have regularly received very positive evaluations by students. In quantitative terms, all my courses have received at least the rating of 5.0 on a 7-point scale.

Furthemore, I have supervised and actively supervise a large number of research-based MSc and PhD students. I can thus train and tutor MSc and PhD students to plan and conduct their research thesis.

I have earned a number of prestigous teaching certificate, including: (1) Faculty Teaching Certificate (FTC), offered by the Teaching & Learning Centre, University of Calgary, Canada, Nov. 2008; which is equivalent to the Fellowship certificate of the UK Higher Education Academy (HEA); (2) Instructional skills workshop (ISW), Teaching & Learning Centre, University of Calgary, Canada, Sept. 2007; and (3) Training Program for Trainers, Hacettepe University, Ankara, Turkey, 2015

Work experience:
Associate Professor in Queen's University Belfast, UK (2019-now)
Freelance Software Engineering Senior Consultant, Trainer, Coach, Mentor and Tutor, (have operated in: UK, Canada, Turkey), (since 2000-)
Associate Professor in Wageningen University, the Netherlands (2017-2019)
Associate Professor in Hacettepe University, Turkey (2015-2017)
Assistant / Associate Professor in University of Calgary, in Canada (2006-2014)
Topic Expertise
Computer Science
Programming (languages: Python, Java, C/C++, PHP, BASIC)
Object-oriented (OO) programming
Software Engineering
Software Development
Software Testing
Algorithms
Data structures
Database design and SQL language
Research Methods
Client Reviews
Vahid is really helpful in giving really descriptive definitions, I would definitely recommend and wouldn't go to anyone else :)
Layla

-
Research Methods
Excellent
Adam

-
Computer Science
Debugging
Adam

-
Computer Science
Testimonials
Over the years (since 2006), I have taught to over 5,000+ university students in several countries (UK , Netherlands, Turkey, and Canada). Many of my students have provided kind / positive feedbacks about my teaching style, via university course evaluation systems, or directly by email. Some are shown below as verbatim: From one of my students in the course Programming in Python (CSC1024), Fall 2019 in Queen's University Belfast: "It was our pleasure to have Dr. Vahid as our lecture. He is very helpful all the time. He is available to approach all the time when student are in need. And the most important things is that we could see his passion on teaching!!! He is like our shield, always support us when we are in need. But we are all thanks for having him as our tutor!" From three of my students in the course Software Testing (CSC3056), Spring 2020: "One of the best lecturers at Queens! Queens should be proud to have him as part of the staff" "Vahid is always willing to help and is very friendly to approach, always willing to go the extra mile for his students. His lectures are very interesting and he makes sure to give resources and advice on what we are learning in the module." "Vahid is such a nice , approachable person. He really enjoys teaching and wants to see his students do well. He always makes me feel calm if I go to him with any concerns. I really like the way he sends voice notes in the teams chat as well as messages - the voice notes add a personal touch and you can gage the tone of the response etc. He's very contactable and often stays up late to help his students."
Price: $60-70/hr
No Upfront Payments
Passed Our Interview
Only Tutors Online
Background Checks
Verified
Qualifications
PhD in Software Engineering/Computer Science, Carleton University, Ottawa, Canada, 2006
MSc in Computer Engineering, University of Waterloo, Canada, 2003
BSc in Computer Science, Sharif University of Technology, Tehran, Iran, 2000

Teaching Certificates:
Holder of the "Faculty Teaching Certificate (FTC)", issued by the Teaching & Learning Centre (TLC), University of Calgary, Canada, in November 2008. This certificates is equivalent to the Fellowship certificate of the UK Higher Education Academy (HEA)
Availability
| | Weekdays | Weekends |
| --- | --- | --- |
| Morning | | |
| Afternoon | | |
| Evening | | |