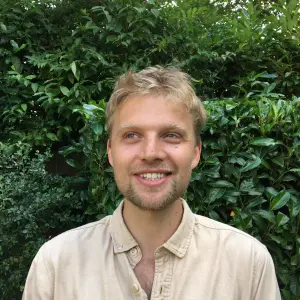 Online English Tutor William
William 5.0

22 classes
University of California, Berkeley - English Literature - PhD ongoing
UC Berkeley PhD Student and Oxford University Graduate, with experience tutoring English and History from 7+ to Undergraduate Level.
Recent Students:

0

Total Hours:

21

Last Online:

03 Jun 2023

All-time Students:

10

Total Classes:

22

Signed Up:

17 Jun 2021
About Me
I am currently a PhD student and Graduate Instructor at the University of California, Berkeley. I grew up in North West London, and attended Merchant Taylors School, and then the University of Oxford for my BA. I research 20th Century Anglophone, French and German literature focusing on the post-45 period. I also write creatively, poetry and essays, love to cook and be outdoors.

As a tutor I am dedicated to tailoring my approach to the needs of each individual student. I find it is much more important to ask how something can be learnt than it is to focus exclusively on what has to be learnt. In this way, whilst aiding with the specifics of an exam or subject, my goal is always to teach more portable learning skills. Ultimately, I would like to help each student to a place of self-confidence and intellectual curiosity from which they no longer need my input. In this way, whilst providing expertise that I have gained from the last seven years of university education and teaching, it is ultimately the uniqueness of each student that governs each session.
Tutor Experience
Whilst I am currently employed by UC Berkeley as a PhD Student, researching 20th Century Anglophone Literature and teaching core undergraduate English modules, I have had extensive experience teaching GCSE/iGCSE and A Level History, English Language, English Literature from all major exam boards.

I have also helped secondary school students with coursework and extended essays in a range of subjects. I have experience and have had success as an Oxbridge application, interview and ELAT coach for English Literature and Language.

Furthermore, I have had experience teaching research techniques and dissertation writing skills at an undergraduate level. I would also be available for GRE language preparation, and PhD applications for English Literature at American Graduate Schools.
Topic Expertise
English Literature & Language 7+ to A-Level
History 7+ to A-Level
Creative Writing
Coursework/Dissertation Writing
ELAT Examination
Oxbridge Interview Prep
Personal Statement Prep
GRE Language Examination
US Graduate School Application (English Lit. only)

Client Reviews
I received extremely helpful feedback on a very confusing 3k word essay
Christine Rhiannon

-
English