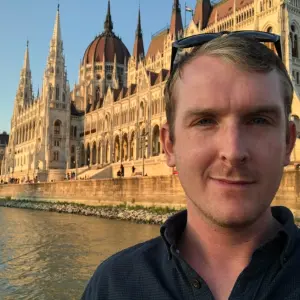 Online Geography Tutor Jamie
Jamie 5.0

141 classes
University of St. Andrews - Geography - MA Hons
Experienced Geography Teacher and Examiner with extensive experience tutoring in English. I currently work as a Geography and Physics teacher in an international school. I hope to make others love Geography and English as much as I do!
Recent Students:

9

Total Hours:

143

Last Online:

07 Jun 2023

All-time Students:

13

Total Classes:

141

Signed Up:

22 Mar 2022
About Me
I am a teacher passionate about passing on my love of learning to my students. I love discussing theoretical issues in Geography, English or other related fields but more so I love exploring how these ideas look in the real world - whether through case studies in Geography or through close textual analysis in English Literature for example. Even though I help my students to achieve the best possible results in exams, I believe teaching is about more than just learning what to write in an exam and nurturing a genuine curiosity for the subject is of tantamount importance. I tailor my sessions to the interests of my students but I also hope to introduce students to new concepts, such as Glaciation, Globalisation or Fin de Siècle Literature, where possible and ignite a lifelong interest of questioning how they fit into the broader picture of our complex, intriguing world.
Tutor Experience
I have taught in a number of schools in the last several years, including a top-performing grammar school in West Yorkshire and an English international school in Budapest. I have taught and tutored in person and online for a wide range of student abilities, from students who wanted help with essay structure and exam technique to others who wanted to achieve the very highest grades to prepare themselves for university. I also work as an examiner for AQA and will be marking the Physical Geography GCSE paper this coming summer.
Topic Expertise
I predominantly teach A Level and have significant experience teaching both Human and Physical Geography for the A Level and International A Level. I currently teach Cambridge International A Level and iGCSE though I have previously taught AQA and continue to mark for the exam board. In addition, I am familiar with WJEC, Edexcel and OCR examinations.

I have very successfully tutored in GCSE/iGCSE/MYP English Literature for a number of years and have much experience with A Level and International A Level, particularly Cambridge and AQA. I have tutored a wide range of texts such as A Woman of No Importance, Regeneration, The World's Wife, Much Ado About Nothing, Blue Remembered Hills, A Room With A View and many others, however I am happy to discuss any texts and I am a voracious reader myself.
Testimonials
"Lessons with Jamie are informative, interesting, and fun! Jamie tutored me geography and he taught me the importance of not only answering the question, but making links to wider ideas within the field of geography. The depth of knowledge Jamie has given me is invaluable and I will always remember them moving forward in my higher education career. Thank you Jamie!" Year 13 Cambridge A Level Geography Student (Summer 2023)