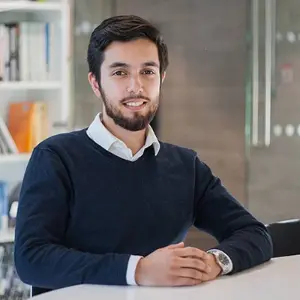 Online Tutor Mustafa
Mustafa 5.0

204 classes
University College London - Civil Engineering -
Recent Students:

0

Total Hours:

225

Last Online:

23 Nov 2022

All-time Students:

11

Total Classes:

204

Signed Up:

14 Apr 2020
About Me
A full time tutor with a masters degree in civil engineering from University College London (ranked 7th in the world) with first-class honours. I am based in London and offer both online and in-person tutoring. I enjoy passing knowledge on to others and inspiring the next generation.

A patient and friendly tutor specialising in mathematics-related subjects. A confidence builder that uses multiple approaches and resources to teach in order to help the student learn

At A-levels, I studied Maths, Further Maths, Economics and Physics. One of my main achievements during my studies was attaining an A* in Maths within one year.

Aside from my tutoring, I have a great interest in cars, watching and playing football and tennis.
Tutor Experience
More than seven years tutoring experience on a part-time basis. More than two years structural design experience in both design and construction. A results-driven professional with a devotion to teaching.

I am a member of two tutoring agencies, namely Harrison Allen and Tavistock tutors. In total, I have carried out more than 500 hours worth of teaching to date.

I have provided tuition non-stop for 7 years and therefore familliar with all major UK examinations boards including Edexcel, AQA and OCR.

A few recent successes of my students include a GCSE Maths student going from a grade 6 to a grade 8, an A-level student obtaining a grade A in Math and an 11+ student getting accepted to Highgate school.
Topic Expertise
Mathematics - Key stage 2 to A-Level
Economics - GCSE and A-Level
Physics - GCSE

11+ Common Entry Examinations

Structural and Civil Engineering - Undergraduate
Client Reviews
Helped build up confidence, explained things well, gave useful and clear resources. Great tutor.
Hannah

-
Civil Engineering