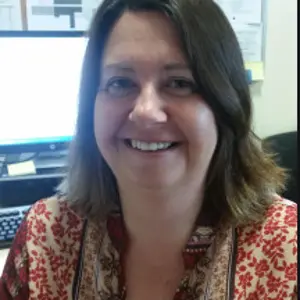 Online Nursing Tutor Lizanne
Lizanne
University Highlands and Islands - Advanced Practice - PhD candidate, MSc ANP, INP, PgCert TLHE, BSc (Hons), RGN, SFHEA
I am willing to provide free 10 minute meeting to determine suitability
- Able to support, guide, collaborate with pre-registration and post-registration healthcare professionals with various topics from anatomy, physiology, consultations, common conditions, clinical diagnostics, realistic medicine, prescribing, research methods, and academic writing for assignments and dissertations
• My advancing career, experience, knowledge, and motivation remain to influence current and future advanced practice with access to a wide range of positive opportunities. I believe that I have the required skill sets coupled with a desire to develop my career into the proactive side of academia and healthcare while being open to a new set of learning skills and challenges to become an effective member of this exciting and continuous adventure of academia.
• Senior Nurse NHS 24 for Advanced Practice
• External Examiner for MSc Advanced Practice Programme, De Monfort University, Leicester and Ribert Gordon University, Aberdeen.
• Reviewer for Nurse Education in Practice.


Recent Students:

0

Total Hours:

366

Last Online:

09 Jun 2023

All-time Students:

0

Total Classes:

310

Signed Up:

10 Jan 2022
About Me
Currently: Senior Nurse for Advanced Clinical Practice within NHS24 and act as an effective change agent audit/research current evidence-based practice and negotiate appropriate changes to practice as per policy drivers and external agencies service needs to provide a high standard of quality, effective and efficient care while complying with clinical governance, quality improvements, and risk management issues. Empower trained and trainee advanced nurse practitioners (ANPs) to have a voice and encourage involvement with various stakeholders while creating innovative projects. Facilitate learning by leading on cross-departmental/ cross-institutional activities and events to promote inclusive and accessible practices while widening participation at a local, national and international levels. As part of the leading advanced practice, encourage the ANPs to raise their profiles with internal and external agencies to collaborate, coproduce with numerous opportunities to demonstrate contemporaneous advanced clinical practice.

Tutor Experience
Academia: In 2015, transitioned into academia utilising 30 years of extensive healthcare experience to led, deliver, and create pre and post registration curriculum, external programmes and specialising within the Advanced Clinical Practice and Prescribing programmes via innovative, creative, and hybrid teaching, learning and assessment strategies. My academic transcript has evolved over 30 years including MSc in Advanced Practice, Senior Fellow Higher Education Academia and currently undertaking professional doctorate (PhD) studies to research the perceptions and values of the advanced nurse practitioner in Scotland.
Research Outputs: while have a record of publications since 2003, recently research
disseminations include presentations at various conferences e.g., The Association of Advanced Practice Educators (APPE) UK, International Conference of Nurses (ICN) and Advanced Care, Advanced Practice (ACAP) (2021) "Organising Spine Chilling Examinations: can virtual OSCEs assess healthcare practitioners"; "Advanced Practice Clinicians: Three Deities or One Deity?"; UWS (University of the West of Scotland) (2020) "Digital Strategies in UWS" and (2019) Case Study: A Practical Guide to the e-marking of Objected Structured Clinical Examination (OSCE); Vygon (2020) conference "Scottish Intravenous Vascular Access Network (SIVAN): where are we and what are our aims"; SAGE (2019) co-wrote three chapters within "Clinical Skills for Nursing Adults, Step by Step"

Topic Expertise
Clinician: Completed registered nurse training within Glasgow Royal Infirmary in 1990 and have continued to work within a vast range of different areas gaining extensive experience, teaching, and advanced clinical skills, as part of an integrated multi-disciplinary team. In 2003, I was the first Chairperson for the NHSGCC Nurse Practitioners, in which I led the educational development and support network for this new and autonomous workforce. I have been able to reduce harmful variations and costs within the healthcare service by implementing project management skills and utilising transformational communication skills to modernise and implement change in various successful projects. I maintain my clinical skills with locum work working within most of the Scottish health boards including islands which highlighted the supplementary requirements for community and remote settings.

Client Reviews
Excellent, helped so much with clarifying my knowledge and has given me more confidence thank you
Catherine

-
Pharmacology And Pharmacy
Very good tutor, Lizanne is clear and a great help with planning an assignment!
Patricia

-
Nursing
Really good useful lesson
Karly

-
Nursing
I am really happy with the provided feedback from Lizanne; the feedback is clear, constructive and has helped me understand what I need to prioritise.
Emma

-
Other
Structured and helpful
Karly

-
Nursing
Great supportive help, thank you
Emma

-
Research Methods
Fabulous.
Emma

-
Research Methods
very helpful
Anne

-
Nursing
very helpful
Anne

-
Nursing
Great feedback and input!
Zainab

-
Dissertations
Testimonials
"Good to recap basic ECG interpretation" "Excellent PowerPoint presentation with lots of very useful information. "Very good quality of slides"