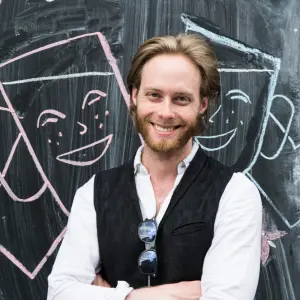 Online Psychology Tutor Alexander
Alexander 5.0

471 classes
Birkbeck, University of London - Cognitive Neuroscience, Health and Clinical Psychology - MSc, BSc
I'm a current Ph.D. student investigating the neural underpinnings of depression and anxiety, and how certain interventions effect them. I love the field and want to help you hone your strengths and love the subject of psychology and the wider sciences!
Recent Students:

31

Total Hours:

408

Last Online:

05 Jun 2023

All-time Students:

79

Total Classes:

471

Signed Up:

03 Feb 2021
About Me
I chose to study psychology a bit later in life, giving up a financially rewarding job to pursue a career in a subject I love. My research interests are the neural underpinnings of anxiety and depression, novel cognitive training interventions and the facets of wellbeing.

I have spoken at conferences and many events about my research and believe in an open, ambitious, excited and methodical approach to work.

Away from work you'll find me going on runs around my park, baking or playing my guitar.

I'm looking forward to working with you!

Tutor Experience
I have had years of experience presenting on my published research, as well as the subject of Stoic philosophy in general. Recently I have worked with many students on their final year psychology essays to great success (2:1 or above).

As a psychologist and researcher, I have gained a breadth of knowledge of research methods, cognitive neuroscience, psychology, and academic writing. I have two publications, one as the first author in a highly regarded journal (Cognitive Therapy and Research), and a book chapter published, with another in preparation, a rarity for people at my current level, and now commonly review academic papers for publication. I have presented my research in several different contexts and have coached many individuals for both academic and professional presentations.
Topic Expertise
Undergraduate and Masters level Psychology, with particular experience in the following areas:
Research Methods, Quantitative Methods, Cognitive and Affective Neuroscience, Intervention Design, Health Psychology, Research Dissertations, Essay writing and structure.
Client Reviews
Alexander was really helpful, patient and informative. Answered my questions and helped me with what I needed. Would recommend his tutoring to others who need help with SPSS.
Grace

-
SPSS
The class was extremely helpful! He understood very quickly what I needed help with and walked me through it whilst making sure I understood the entire process. He is very nice to talk to and has made me feel confident in my understanding. Thank you.
mina

-
Psychology
Alex has been very helpful, went through my dissertation throughly and gave me very good advice. Helped improve my confidence before my submission which I greatly appreciate!
Liv

-
Dissertations
Really helpful!
Grace

-
Research Methods
Alexander is a great tutor and I learnt a lot in the lesson
Naomi

-
Psychology
Alexander is an exceptional tutor and listens well to my questions in a calm manner.
Naomi

-
Psychology
Very helpful and explained well. Definitely knows his stuff!
Aisha

-
Dissertations
Very helpful class with Alexander. He answered all of my queries and helped me with my analyses by encouraging me to look at my data in a novel way.
Liv

-
Dissertations
Alex is clear and helpful.
Kimberly

-
Psychology
very informative and useful - helped my understanding a lot!
Lilly

-
Psychology
Testimonials
Alex is a superb tutor. We had weekly sessions to improve my current piece of work for my 3rd year dissertation. Alex provided quick and effective feedback, including highlighting areas that needed to be expanded and/or made clearer. He helped brainstorm ideas with me and provided efficient support with regards to my stats analysis on SPSS. He was so friendly, understanding, and approachable, which are all qualities that I think are so important in a tutor; therefore, I highly recommend Alex. To top it off, he helped me get a 1st class mark in my dissertation, so all that guidance was clearly worth it. Thank you so much for everything Alex. I will definitely contact you again for any future academic work. - Caitlin, Dissertation and Statistics, 2021
I am an adult student who has been out of post secondary education for over 20 years. Alex is an intuitive tutor, patient and knowledgeable. His approach to statistics unravels complex concepts making them palatable. My work began with Alex the last 2 1/2 weeks of my program. I wish I found him sooner as my grades increased by 18%. I highly recommend selecting Alex as a tutor, if you put in the effort, your success will be guaranteed. - Donna, SPSS and Statistics, 2021
I was in my final few months of my BSc Psychology degree and wanted extra support with my final project and examination essays. I had lost a fair bit of confidence along the way and felt that a private tutor would benefit me. Alex was fantastic from the beginning. Really getting to know my writing style, offering expert guidance and advice, assisting me every step of the way. Alex took time to look through my work methodically and meticulously, guiding me step by step through each section of my quantitative experimental project. We created a work plan together and a routine of weekly sessions to develop and submit my final pieces of work, which resulted in obtaining a distinction and a First Class with Honours degree. Exceptional tutor who is approachable and knowledgeable. I would highly recommend Alex and would certainly work with again. Thank you ever so much. - Vicki, Dissertation and Statistics, 2021
I had the pleasure of working with Alex on my dissertation (statistics + write up) during my final year of uni and he is everything you would want in a tutor. He is patient, kind and encouraging and has excellent subject knowledge which he is able to convey in a simple, easy to understand manner. His friendly personality immediately put me at ease and calmed my anxiety around using SPSS. With his help I was able to move a whole grade boundary up and achieve a 1st in my dissertation, I cannot thank him enough! Highly recommended! - Komal, Dissertation and Statistics, 2021