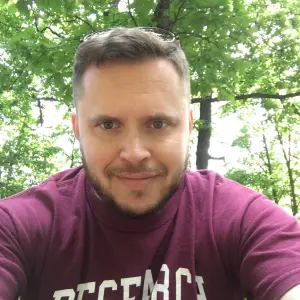 Online Sociology Tutor Robert
Robert 5.0

11 classes
Stony Brook University - Sociology - PhD
An experienced teacher and social scientist with a strong track record of tutoring and mentoring students at GCSE, A-Level, IB and University-level.
Recent Students:

2

Total Hours:

13

Last Online:

29 May 2023

All-time Students:

5

Total Classes:

11

Signed Up:

30 Jul 2022
About Me
I'm very passionate about teaching and have completed extensive training in Higher Education teaching and learning, including online teaching.

Through my teaching and research, I developed a deep understanding of social theory, sociological methods, social justice, inequality, gender and sexualities, globalization, technology, and health. In my work, I apply an interdisciplinary perspective that derives from extensive knowledge and training in sociology, women, gender and sexualities studies, psychology, and human services.

Broadly speaking, my research examines how new technologies and globalization impact culture and sexualities. I constructed an original, extensive, one-of-a-kind dataset of 5000 location-based mobile dating app user-profiles from New York City, London, Vienna, and Tel Aviv, which allowed unique quantitative examination of global and local sexual cultures. Furthermore, during the past two years, I've been working on a research project that explores sexual behavior and risk in the COVID-19 period.

I live with my partner and our two guinea pigs, Peanut and Pistachio, and I'm a huge LEGO fan.
Tutor Experience
I have 12 years of teaching experience in higher education at undergraduate and postgraduate levels. I have led 10 courses in Introduction to Sociology, Sociology of Gender, Sexualities, and American Society, and contributed teaching to a further six courses, which covered Research Methods, Sociological Theory, Race and Ethnicity, and Social Psychology. I ensure effective learning by designing and delivering high-quality, research-led sessions, and using a variety of teaching methods. I have received an average of 4.7 out of 5 on students' evaluation with response rates of above 95% .

During my many years of teaching and service, I have mentored many undergraduate and several graduate students, providing advice on research skills, managing the multiple pressures of academia, and planning a career trajectory. Furthermore, I developed a syllabus for a training course on conducting independent research for eight undergraduate research assistants whom I supervised and mentored.
Topic Expertise
Throughout my Masters and PhD studies, I gained extensive online and in-person teaching experience. These experiences have equipped me with the skills and knowledge to tutor a diverse range of subjects within social sciences including Sociology, Psychology, Anthropology and Research Methods. My expertise enables me to tutor these subjects at GCSE, A-Level, IB and University-level.
Client Reviews
Robert was great, took time to understand what i needed first then came with clear instructions to get me to the next stage. thank you!
sharon

-
Academic Writing
Robert was able to get through the content of a 7-page assignment for my sociology course in a very quick (same day) yet detailed manner. This was my first time utilising Spires' offline proofreading option and am a fan, especially through Robert!
Niccolo

-
Sociology
Robert was super helpful in making me make my essay more concise (the day before the deadline) and understand academic concepts. He was flexible to my timing and academic needs. If you're looking for someone to help when it comes to (online) social data science, he is a super knowledgeable and helpful tutor.
Niccolo

-
Sociology
Robert is a helpful, engaged and structured tutor. He provided detailed feedback on my project and helped me identify the tasks I need to set myself to move forward and gave very helpful, real-world advice on how to follow through. Thank you very much for your support!
Lilli

-
Research Methods