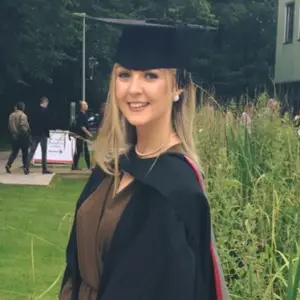 Online Tutor
Holly
UCL - PhD -
Recent Students:

0

Total Hours:

0

Last Online:
All-time Students:

0

Total Classes:

44

Signed Up:
About Me
Holly Bradley :-)
Yorkshire girl living in London with her Scottish Fold kitten Norman. I like running and travelling and reading good books!
Tutor Experience
I have a solid grasp of all core subjects however my expertise lies with psychology, English language and literature. I have been tutoring students of all ages for the past 6 years, ranging from young children to mature adults. In my past experience I have had several students increase by at least two grade boundaries in the target subject. I am able to help with essay writing, exam techniques, understanding difficult concepts and hopefully bring about a love for the subject! I have experience marking and helping students write essays, from GCSE to postgraduate. I have also had experience teaching advanced grammar at different colleges and have given lectures on language development. I have worked at university as a Mandarin Chinese tutor to both English and Chinese students. I am educated to doctoral level in language and psychology and have spent my postdoctoral years mentoring undergraduate students. I have also co-lectured a university module in phonetics.
I have tutored for several years. I was an A level tutor at Greenehad college while a student there; I recieved the highest A level marks for this subject in the country. I have been invited back to Greenhead several times and given lectures/private tuition on advamced grammar and child language acquisition. At Lancaster University I tutored English to native speakers of Mandarin Chinese, I also did this in Beijing China.
Topic Expertise
I have always loved learning new things, it is so satisfying to finally 'get' something that has been confusing for so long. I love helping people in areas they struggle with and watch as their eyes finally light up as they 'get' the concept that they've been battling with. I love watching a student develop academically and see their confidence grow as they approach more challenging aspects of the subject area, this often leads to really enjoyable conversations where they can develop their thoughts about what they have just learnt. I am able to connect with all types of students, this is so important when tutoring as no two students are the same. I like to spend time getting to know not only my student's personality but they ways in which they learn so that I can use the most efficient techniques to help them to understand, and ultimately enjoy, difficult concepts in the subject.
Client Reviews
Brilliant class - really effective and constructive feedback which can be used to improve essay writing.
Emily

-
Psychology
very good
W

-
Psychology
A really helpful and constructive class.
Emily

-
Psychology
Holly is fab and easy to get on with - she made every effort to support me with complex concepts. Thank you!
Tana

-
Linguistics