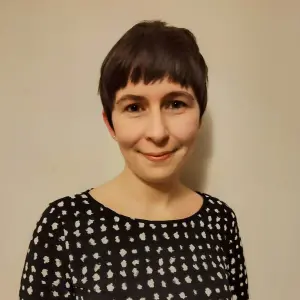 Online Latin Tutor Rebecca
Rebecca 5.0

80 classes
University of Liverpool - Classics - MA
Qualified and experienced teacher: I've been teaching and tutoring for over ten years. Whether you are hoping for a series of lessons or a one-off to tackle something difficult, we can work towards your goals together.
Recent Students:

8

Total Hours:

83

Last Online:

05 Jun 2023

All-time Students:

8

Total Classes:

80

Signed Up:

07 Sep 2021
About Me
As a teacher and your tutor, I am focused on giving you the skills and practice that you need, but with the approach that best suits you. I can give tough feedback if it's needed, but will always remind the student of all the good things they are already doing too! I understand the UK school system and can provide a sympathetic ear and mentoring approach to students who might be feeling overwhelmed as exams approach.

In my spare time, I love reading (obviously!) and travelling. I also enjoy learning something new whenever I have the chance!

Tutor Experience
I qualified as a teacher in 2011 and have been teaching in classrooms and online ever since. As an online tutor, I have loved working with a much wider range of students than in school, teaching all the way from upper primary to adults. I have also enjoyed working with students from all over the world.

My style of teaching is tailored to the learner, and I am always happy to take requests for certain activities or approaches that the student finds useful. I always aim to provide a positive lesson with lots of praise and targeted feedback. I have lots of experience and patience with pupils with additional needs, particularly autism and processing difficulties. I understand how challenging the school environment can be and know the difference that a supportive and kind tutor can make.

Whilst success can take many forms (a student re-engaging with school, achieving their target grade, feeling more confident in lessons), I have worked with students who have achieved some excellent successes in recent years:

2021-2023
4 Grade A's at A level (Latin, Classical Greek and English Literature)
1 A* (EPQ)
6 GCSE strong passes (ranging from 5-9 related to student ability – but all increased 1-2 grades)
4 passes at 11+
2 students achieving offers for Cambridge for Classics

Topic Expertise
English Language and Literature: Are you a GCSE student who needs to improve your grades in Language or Literature? With a clear focus on skills and exam practice, it's not too late to make a difference. I can teach all UK exam boards and any text the student is required to study. Perhaps you are finding the step up to A-level Literature a challenge and need to work on your essay technique. Is the feedback you are getting on your essays so limited it is difficult for your to know how to make progress? Let me work with you to give you the detailed feedback you need and the advice to enable you to succeed in examinations.

Latin: Do you need support with GCSE or A-Level Latin? Have a child sitting the 13+? Perhaps you are an adult who has always wanted to learn, or maybe you have a more able child who needs an exciting challenge. I love teaching this wonderful language. I have experience with all the UK examination boards and have an excellent track record of success with exam candidates.

Essays and Academic writing: Do you keep getting feedback about your essay structure? Do you find introductions and conclusions a challenge? Or would your child benefit from some focused work on formal writing? I can help with techniques and structures that will help your ideas get on the paper where they belong.

Classical Greek: Another wonderful ancient language! I can prepare students for the 13+ Greek paper (a very interesting choice for independent school entrance assessments) as well as support or teach GCSE and A level.

11+ and independent school admissions: Is your child taking the 11+ or another entrance exam? Whether you know exactly what you need or don't know where to start, I can explain the process and guide your child through a structured program of preparation. I can also work with students needing creative writing for all independent entrance exams. Like anything else, directed practice and feedback will ensure they approach this with confidence.

UCAS: I can support many aspects of the university application process, including Oxbridge. I worked as a sixth-form tutor for four years, and during this time and in the years following have assisted many young people in successful applications. I can provide a challenging practice interview with feedback or offer advice about confident personal statement writing.

Client Reviews
Rebecca has been wonderful in the run-up to my son's Classics GCSE. Rebecca was very responsive and flexible about session times and went straight to the nub of what needed to be done in a relatively short timeframe; she really honed his longer question technique and also added lots of detail that he would not have otherwise known. Thank you, Rebecca!
Amanda

-
Classical Civilisation