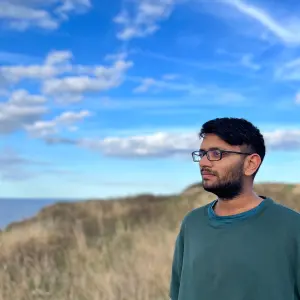 Online Science Tutor Anish
Anish 5.0

44 classes
Cardiff University, University of Warwick and University of Nottingham - Medical Doctor and Qualified Teacher of Chemistry - BMBS(Hons.) , PGCE, BSc(Hons.)
Junior Doctor and Qualified Chemistry Teacher. Passionate and Experienced tutor of GAMSAT, KS3, GCSE, A-Level and IB.
Recent Students:

4

Total Hours:

43

Last Online:

07 Jun 2023

All-time Students:

4

Total Classes:

44

Signed Up:

20 Dec 2022
About Me
I am a current junior doctor working in West Yorkshire. I graduated from Nottingham Medical School (Graduate Entry, 2021). Before medicine, I worked as a qualified chemistry teacher. I hold a degree in neuroscience from Cardiff University and PGCE from the University of Warwick. I have several years of experience in teaching students from Primary to A-Level/IB and have specialist experience in SEN and high attainment students. I have subject-specific teaching experience in Maths, Sciences and the GAMSAT admissions Test.

I deliver lessons in a unique, engaging and informative style to maximize the student's potential. I have helped set up numerous tutoring schools and homework clubs funded by local community organisations to help the promotion of high-class education to underprivileged areas.

I am a globally aware and conscientious individual, inspired by the dedication and determination of individuals, who contribute to the health and happiness of the world. Eager and passionate to participate in any highly valuable projects and to help educate and motivate people about the world. I have strong transferable skills including brilliant public communication, efficient organisation and a great wealth of knowledge about many different areas including science, medicine, education amongst others.

If You have any questions about how sessions work please do drop me a message and we can arrange a free meeting!
Tutor Experience
I am to deliver lessons in a unique, engaging and informative style to maximise each student's potential. I love to see students personally develop and believe in developing their confidence, strengths, and talents.


Topic Expertise
Biology A Level
Chemistry A Level
Human Biology A Level
Biology GCSE
Chemistry GCSE
Human Biology GCSE
Science GCSE
Biology IB
Chemistry IB
BMAT (BioMedical Admissions) University
GAMSAT
UCAT University
Medical School Preparation Mentoring
Oxbridge Preparation Mentoring
Personal Statements Mentoring
Science 13 Plus
Client Reviews
Anish, is a wonderful tutor who really understands the challenges of neurodiversity.
Emma

-
Biology
Good start, approach of tutor seems encouraging. Hoping for a good outcome
Karen

-
Biology
great explanations and feedback, helped improving my interview skills a lot
Gloria

-
Medicine