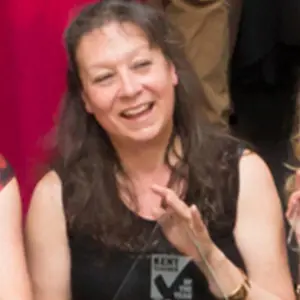 Online Design Tutor Sancha
Sancha 4.6

471 classes
University of Sussex - MA in Media - MA
Highly experienced award-winning educator for creative subjects, university programme leader, course designer, college tutor, researching a PhD in design education.
Recent Students:

14

Total Hours:

516

Last Online:

05 Jun 2023

All-time Students:

56

Total Classes:

471

Signed Up:

06 Apr 2021
About Me
I support creative subject students to reach their potential by helping them to underpin their practical art or design work with the parts they often like less – writing, evaluating, reflecting, understanding and using theory and applying methods. I specialise in supporting the contextual and written side of art and design and helping you make your practical work the better for it.
Tutor Experience
I have taught university and college students creative industry subjects since 1997. My main teaching was, until recently, with university students in my role as programme leader for one of the University of Kent's graphic design courses. Here I taught ideation, problem-solving, how to make analysis of designs, how to write about creative topics and how to painlessly learn theory and embed it into your practical work. I also specialise in helping creative students become sustainable and ethical in practical processes and approaches to making, thereby teaching useful skills for future employability and professional practice. I also currently tutor on a Design Thinking module for the Open University. In 2019 I won a teacher of the year award for setting up exciting projects to support design students to become more socially responsible.
I also taught creative industry subjects, especially design, fashion, art and media to college students for many years. I have taught design and visual communication online for a variety of independent university providers and US MOOCs. I have not only taught on, but also written, several face-to-face and online university and other courses. I have a wide teaching experience, starting in 1985 teaching TEFL abroad, and I've been a tutor in other educational situations, such as a large London art museum (the National Gallery), a home-school co-operative, youth arts worker and guest design expert for National Citizen Service. I am currently completing research for a PhD about educating graphic designers to be socially responsible.
Topic Expertise
Expertise in art, design fashion, media and popular culture in Higher Education (university) and Further Education,
- dissertation and essay research, planning, structuring and writing, literature reviews and methodology;
- art, design and visual communication practical work, context and theory support;
- ideas generation, development and evaluation;
- sustainability and ethics in design and in education
- education practice and methods

Client Reviews
Sancha has been an amazing tutor throughout my undergraduate degree. Would definitely recommend to anyone needing help with writing assignments.
Laura

-
Education
very helpful!
Sophie

-
Design
Really helpful as always!
Nicola

-
Essay
Sancha talked with me about my work and then helped me by feeding back through comments. This was very helpful because Sancha made me think about my writing in a way that is difficult to do subjectively when it's your own writing. I will come back to Sancha for further help with my work.
Rajvinder

-
Education
Very useful and informative class :-)
Francesca

-
Media Studies
Brilliant as always. I would highly recommend Sancha!
Nicola

-
Essay
structural and motivational help:)
Florence

-
Design
fab as always
Florence

-
Design
Very useful with really helpful comments to help me improve my work! Thanks!
Sofia

-
History of Art
I wanted to thank Sancha for offering me so much help with my essay plan! I feel as though it's a lot better now and I couldn't have done that without her! Thank you.
Sofia

-
History of Art
Testimonials
Sancha's extensive knowledge of design history, philosophy and academic texts proved a valuable asset while I was studying for my degree. Her assistance and advice allowed me to explore design further, clarify my thinking and refine my writing – guidance that no doubt contributed to me achieving an 83% on my dissertation and a First overall. I would recommend Sancha as an educator. - Dissertation student
Price: $72/hr
No Upfront Payments
Passed Our Interview
Only Tutors Online
Background Checks
Verified
Qualifications
Post Graduate Certificate of Higher Education, University of Kent, 2010-2012

Post Graduate Certificate of Education, University of Greenwich, 2004-2005

Master's Degree, Media Studies, University of Sussex, 1996-1998:
Dissertation in communication studies: the art and design of subcultures (case study: punk).

BA (Hons) First Class, Open University, 1992-1996
General specialisation in history, philosophy and theory of art and cultural studies


Availability
| | Weekdays | Weekends |
| --- | --- | --- |
| Morning | | |
| Afternoon | | |
| Evening | | |