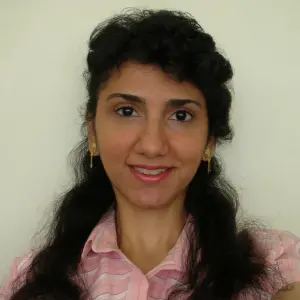 Online Tutor Wafaa
Wafaa 5.0

1123 classes
The University of Leeds - PhD -
Recent Students:

10

Total Hours:

1333

Last Online:

07 Jun 2023

All-time Students:

33

Total Classes:

1123

Signed Up:

06 Oct 2019
About Me
I have a PhD degree in Electronic and Electrical Engineering from The University of Leeds.
I love tutoring . I will try my best to help students to further their understanding and achieve their targeted grade. I will try to make things as simple and as enjoyable as possible by listening to the students' needs and preparing different kind of activities.
Tutor Experience
I can tutor many Electronic and Electrical engineering modules, e..g. Mathematics, signal processing, communication engineering, antennas, propagation, electronics, circuit analysis etc. Of course, depending on the student's specific need, I can assess how and whether I can help.

I have good experience in teaching mathematics and science (physics, chemistry and biology) in secondary schools. I am especially skilled in mathematics and physics. I helped in teaching mathematics in undergraduate engineering. For more than six years, I have been privately tutoring A-level maths and physics students as well as tutoring at KS2, KS3, GCSE, IGCSE, undergraduate and postgraduate. I am also able to support SEN students.

I have more than 4000 hours of tutoring experience and I am quite familiar with the different curriculums and exam boards specifications.
Topic Expertise
I have PhD, MSc and BSc in Electronic and Electrical so I am quite expert in teaching the related subjects to my qualification in undergraduate level. I am also expert in teaching mathematics and physics to A-level or equivalent. Teaching mathematics, physics, chemistry, biology and combined science for GCSE/IGCSE/KS3 is like a second nature.
Client Reviews
Explained well, and confident in vectors and projectile motion
Zack

-
Mathematics
Very well explained and helpful
Zack

-
Mathematics
good willing to explain when it is hard to concentrate
Rash

-
Electrical And Electronic Engineering
everything terrific!
Liza

-
Mathematics
Wafaa was extremely helpful in teaching me mechanics!
Claudia

-
Mathematics
Thank you Wafaa, our sessions are always a delight! Receiving As and Bs in mock exams and recent assessment wouldn't have been possible without our sessions.
Claudia

-
Mathematics
Thank you for your explanation and effort
Mustafa

-
Electrical And Electronic Engineering
Thank you
Mustafa

-
Electrical And Electronic Engineering
My daughter has made so much progress since Wafaa started tutoring her. She enjoys their session and her grades have also improved in school.
M

-
Science
Testimonials
"Wafaa, I cannot express the immense gratitude I have for you and our time together. After 317 classes, I have gained so much knowledge and appreciation for the world of mathematics, all thanks to you. We started during GCSE when I had an absolute hatred for maths, no matter how hard I tried I did not grasp the subject. However, upon starting thee tutoring with you, my view changed; your adaptable approach and extensive knowledge made it extremely easy for me to learn and obtain the material I needed for the exams. With your help, I got a 7 for my GCSE mathematics and an all A's in pure maths 1, pure maths 2, and statistics during the AS levels. I am now finishing my A levels and I am confident in the upcoming results, all thanks to you. We made a wonderful team and I am very disappointed that our time has finished, it has truly been a delight. Despite being a phenomenal teacher, you have also been the kindest supporter and guider, always lending an ear when I needed to talk and always happy to help. I cannot thank you enough!"
"Wafaa, you have truly helped me with my understanding and confidence in maths, to which I cannot thank you enough. Not only did my grades drastically improve, but my perspective on the subject has shifted as well. You have shown how simple maths could really be :) I would also like to thank you a lot for adjusting your teaching methods in a way, that would help me. Im very happy with our progress and am looking forward to see just how many challenging topics I could overcome. Thank you!!"
"My first lesson with Wafaa was extremely informative and enjoyable. As a student who struggles with statistics, Wafaa's approach of teaching made me have a better understanding of this subject. Studying a subject that you struggle with can be extremely challenging and overwhelming. However, thanks to Wafaa's method of teaching, I felt very comfortable. She really not only increased my general understanding of the topic by a step-by-step method; but also focused on the points that I struggled with the most, and made me question why I struggled with them in the first place! Thanks to Wafaa, I am starting to feel more confident in statistics, and I'm looking forward to our future tutorials." "We have now had 3 lessons with Wafaa and have found her helpful and supportive. My son informs me she is very good at explaining when he doesn't get something straightaway and in true 'teenage speak' she 'knows her stuff!!'" "Hi Wafaa, I'm very good - I got an 8!! I am really happy because I was predicted a 7! Thank you so much for everything you have done for me and helped me with. I really would not have been able to get the result without you :)" "A great tutor & with her help & explanation I passed all my required exams even, finals. That topic was a headache for me but, Wafaa made it as easy as any other topic that can be digested. She was the right person for such tooic. She was very helpful and down to earth. Many thanks Wafaa"