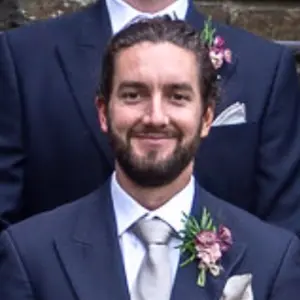 Online Geography Tutor Oliver
Oliver 5.0

41 classes
University of Edinburgh; Imperial College London - BSc Geography; MSc Environmental Technology - Masters - Distinction
Highly experienced career tutor and exam board marker, specialising in GCSE and A-level exam preparation. I also offer University-level support (essay/thesis writing and proofreading), as well as secondary school level generalised support at 11+, CE 13+ and GCSE level across all subjects, helping with revision technique, study support and general mentoring. Helping students in obtaining their best possible results and thereby improving their academic confidence.
Recent Students:

9

Total Hours:

43

Last Online:

07 Jun 2023

All-time Students:

9

Total Classes:

41

Signed Up:

25 Nov 2020
About Me
I grew up in Cambridge, then studied at the University in Edinburgh, which included a year abroad on the Erasmus programme in Spain. After graduating, I worked at a University in central China. Upon returning to the UK and completely my Masters at Imperial College, I have amassed around 12 years of teaching/tutoring experience.

As well as tutoring, I have worked in a variety of jobs, including as a Corporate Investigator, Environmental Consultant, and on the Transport for London graduate scheme in multiple positions (including managing filming and events in central London).

In my free time, I really enjoy playing tennis, cycling, bouldering, skiing/snowboarding, surfing and travelling. In recent years, I have also become a passionate writer, and am part way through writing an autobiographical book concerning the November 2015 Paris Attacks and ongoing court trials which I have attended since (as I was one of the survivors of the Bataclan concert hall massacre).

In 2019, myself and two friends took part in the Mongol Rally, driving from London to Mongolia in 42 days in a 20-year old Nissan Micra to raise money for charity (and for some adventure!).

I have appeared on seven general knowledge-based TV games shows, and have even managed to win a couple (Tipping Point and Revenge of the Egghead)! Watch this space for the next appearance....
Tutor Experience
I have worked with students at a large number of secondary schools and Universities in supporting their studies, focusing on revision, exam preparation, essay and thesis writing. The majority of interaction has been online, and students have ranged from year five in preparation for the 11+ entrance exams, through to last-minute preparations for final-year secondary school students in their A-level exams. Among University students, they have ranged from first-year undergraduates through to nearing completion of their PhD. They have been a variety of English as a Second Language students from many different countries, as well as native English speakers.



Topic Expertise
I specialise in Secondary school-level tutoring, specifically focused in Geography. I also tutor for entrance exams (11+ ISEB and pre-test, 13+ Common Entrance across all subjects) and GCSE (generalist). As well as direct academic tutoring, I work on exam coaching, revision technique, study organisation and general mentoring to improve a student's confidence in their academic ability.

I also specialise in University-level work, specifically offering structured support for essay, dissertation and thesis writing (from undergraduate to PhD) across a range of subjects, as well as proofreading.

Some specific examples include:-
- Tutoring a final-year London School of Economics student with his Geography essay preparation and proofreading, core readings (understanding), revision planning and general essay writing. The student was scoring a 2:2 from 2nd year pre-tutoring, but managed to get a 2:1 based on his final year module results.

- Helping a Masters student at Cass Business School (London) with academic writing, specifically in producing a 25-page business plan relating to consumer markets in his home nation of Mexico. He obtained a Distinction grade for the piece of work, and said that he would not have received the high grade without my support.

- Supporting a PhD Law student at University College London. The student spoke English as a second language, and so had significant issues with academic writing (formulating high-level sentences, academic vocabulary, grammar etc). She also needed general mentoring and confidence boosting, as she had lost her motivation and self-confidence over the several previous years of study.

- Guiding a final-year Kingston University Geography student struggling with Winter-term essays and January exam preparation. The focus was on understanding the course content, essay writing techniques, proofreading essays, and how to summarise core readings into useful notes. The student was on a mid 2:2 grade in December (when we commenced), and graduated with a 2:1 degree.


Client Reviews
Brilliant tutoring
Camille

-
Geography
Testimonials
"Ray's results were amazing. He got that 8 in maths… wow....blimey, these results are just brilliant, from predicted 5's in November for just about everything, to this set of results after working with you. We are so grateful to you Ollie!" (Ray, GCSE generalist student) "Hamish got 78% in his exam = how good is that! Thanks for all your help and we will be in touch in the lead up to his mocks in March for some more help." (Common Entrance for successful entry into Harrow) "Hi Oliver, I just wanted to let you know Sasha's result was 84%, class average 72%. Thank you for all your help." (Common Entrance for successful entry into St. Pauls) "Ollie, thank you so much for your help. You honestly have been of great help to me and I really, really appreciate it." (Aman, final-year undergraduate Geography student) "Ollie, I thought you'd be pleased to hear that Romany's scores were dramatically increased in her recent mocks. Her next set of mocks are after Hilary half-term and I wondered if you would be free to work with her each day from Monday 9th to Friday 13th inclusive. I do hope so!" (Common Entrance for successful entry into Brighton College, then GCSE student too). "Oliver has been tutoring my son Artem in preparation for Common Entrance exams at Wellington College throughout the academic year of year eight and for end of year exams each year since. In tutoring Artem in a range of subjects, including Biology, Physics, Chemistry, Geography, French, Maths, History and English, Oliver has managed to inspire an interest in subjects that Artem previously did not particularly enjoy (especially the Sciences) as well as improve his exam marks significantly. His positive, energetic and patient approach have worked wonders with Artem. Having had several tutor support Artem, he requested further lesson with Oliver - a testament to his ability to inspire and encourage enjoyment in learning. Oliver gets on extremely well with all the other family members, and is more than happy to spend some time after tutorials chatting with the family in the kitchen, or playing table tennis with Artem on the patio" (Common Entrance entry into Wellington College, then GCSE student too).