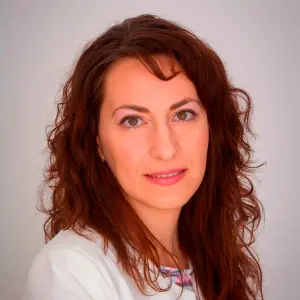 Online Art and Design Tutor STELLA
STELLA 4.8

478 classes
De Montfort University, Leicester, UK - Fine Art & Art History - PhD
I am a very efficient tutor, always clear and to the point, uplifting and highly knowledgeable in my field.
Recent Students:

17

Total Hours:

737

Last Online:

29 May 2023

All-time Students:

94

Total Classes:

478

Signed Up:

08 Nov 2018
About Me
I am a fine artist, art historian, a researcher and art teacher from Cyprus. I hold a Doctorate in Fine Art practice since 2013, from the De Montfort University in UK. Previously to that I studied for my BA in Fine Art & Art History as a Fulbright Scholar in the USA, at the University of Texas, 2001-2005, and my postgraduate studies in the UK, at Central Saint Martins, UAL, 2005-2006, and the University of Northampton, 2007-2008.
Tutor Experience
I have taught both Art History and Fine Art for 8 years and I can guide students to develop their art portfolios for university entry, for IB Diploma Programme visual arts (process portfolio, comparative study and curatorial rationale), GCSE and A Level exams as well degree level.

I can also help with art history essays, academic and creative writing, personal statements, interview skills, university entrance, presentation/public speaking skills, development of proposals and dissertation writing.

Besides that I also work one-on-one with creatives professionals (artists, designers, writers and creative entrepreneurs) and guide them on their professional journey and creative process so they can solve a specific problem and achieve their goals. I can help with creative blocks, idea generating/brainstorming, gaining clarity & focus, motivation, dealing with procrastination, and professional presence.

For more about me you can take a look at my work at www.stellakarageorgi.com

Topic Expertise
Fine Art, Academic Writing, Creative Writing, Design, Dissertations, Essay, History of Art, Research Methods, Visual art projects, Proposals, Professional Development, Creativity coaching
Client Reviews
Stella helped me so much for my CS and PP and I believe it's a lot more better now after all her her help and input. Before my classes with her my work was in a really bad condition. I believe my grades will be better now because of her. She's extremely sweet, understanding and professional and helped me with anything I asked for and helped me a lot before my submission deadlines. I would highly recommend her!!
Jenny

-
Visual Arts
Stella's advice for my written works is very timely and useful. I believe my comparative study and portfolio will score better now with her help :)
Aileen

-
Visual Arts
Very friendly and helpful tutor!!
Aleksandra

-
Essay
The class was amazing! Stella helped me develop my ideas for future artworks and find inspiration. I really appreciate her positivity and openness!
Daria

-
Visual Arts
Very helpful and knowledgeable, not only gave me feedback to make my comparative better, but also gave me examples to look at.
Uttara

-
Visual Arts
Not only helpful but a fun lesson as well:)
Aleksandra

-
Essay
I wanted to thank Stella for offering me so much help with my essay plan! I feel as though it's a lot better now and I couldn't have done that without her! Thank you.
Sofia

-
History of Art
Stella's feedback has been extremely useful! Thank you.
Sofia

-
History of Art
Very helpful feedback and exercises fitting for what I need
Gabriel

-
Art
Stella is a very friendly and eager tutor. She helped me to understand what the purpose and need for a good portfolio is. Not only does she know all the criteria very well, she is an expert in refining and editing. it was a good decision! go for it.
fabrice

-
Visual Arts
Testimonials
"Thank you for all the help, couldn't have done it without you! With the result I got I can apply to the universities I want to!" Matilda
"Hi Stella…I wanted to let you know that I've been offered a place at Sussex on the Art History course! The admissions tutor was very complimentary about my essay. I definitely could not have done it without your help. Thank you so much for your time, rigour and encouragement. You were so responsive and clear in your feedback to me. I wish you all the best for the future and perhaps we will run into each other sometime in the future! All the best to you, Kate." "I was lucky to find Stella as I had not had a proper art teacher in 2 years of my IGCSE course and I was months away from the final exam with only a few pages of work. Stella helped me tremendously by setting out clear guidelines of how to work, helping me with research and whenever I was stuck. I highly recommend her." Saachi "I was really struggling with my art history essay. I had no idea how to start and the deadline was in 10 days. Stella gave me constructive guidance and helped me get my ideas clear and structure my essay. I will definitely come back again in the future. Thanks a lot Stella!" Lucy
Price: $78/hr
No Upfront Payments
Passed Our Interview
Only Tutors Online
Background Checks
Verified
Qualifications
EDUCATION
2009- 2013 PhD in Fine Art, De Montfort University, Leicester, UK
2007-2008 MA in Fine Art with Distinction, University of Northampton, UK
2005-2006 Post Graduate Diploma in Fine Art, Central Saint Martins, UAL, London, UK
2001-2005 BA in Art History & BFA in Studio Art, (Double Degree) with Distinction, University of Texas in Austin, Texas, USA(Fulbright Scholar)
Availability
| | Weekdays | Weekends |
| --- | --- | --- |
| Morning | | |
| Afternoon | | |
| Evening | | |